Nuclear arsenals
According to the Federation of American Scientists, the nine nuclear-armed states retained approximately 13,890 nuclear warheads between them as of May 2019. Of these, 9,335 warheads were deployed or in storage, forming the active stockpile available for use by these states' armed forces. The rest were retired nuclear warheads awaiting dismantlement. The United States and Russia together possess about 93 per cent of the world's nuclear arsenal.
The Ban Monitor's estimate is that the total explosive yield of the nine nuclear-armed states' active stockpiles of nuclear warheads is equivalent to almost 1.9 gigatons (1.9 million kilotons) of TNT. With a world population of 7.7 billion, this means that a minority of nine states have a combined, active nuclear arsenal capable of unleashing firepower equal to around 245 kilograms of TNT per person on earth. The estimated yield of each nuclear- armed state's active arsenal is shown in the figure on the right.[1]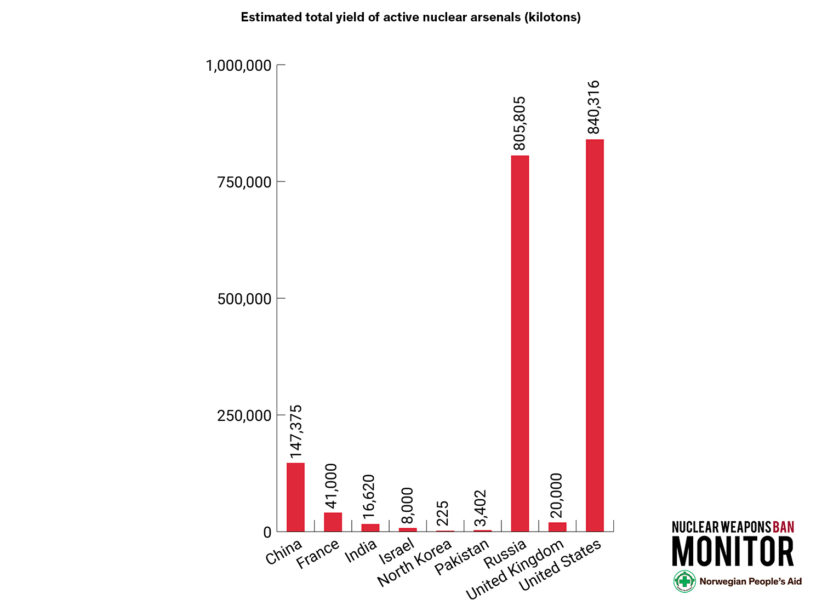 For context, the figure below also translates the estimated yield of the active nuclear arsenals into Hiroshima-bomb equivalents. Most nuclear weapons today have an explosive yield that is many times higher than that of the nuclear weapon dropped on Hiroshima in 1945, whose explosive force was the equivalent of 15 kilotons of TNT and ultimately led to the deaths of an estimated 200,000 people.[2]










A typical nuclear weapon in today's global arsenal has a yield of around 100 kilotons, approximately seven times that of the Hiroshima-bomb. For further context, the figure below provides an overview of the immediate estimated fatalities and injuries which a 100-kiloton nuclear weapon would cause if it were dropped today on Pyongyang, Tehran, New York City, Beijing, or Moscow.[3]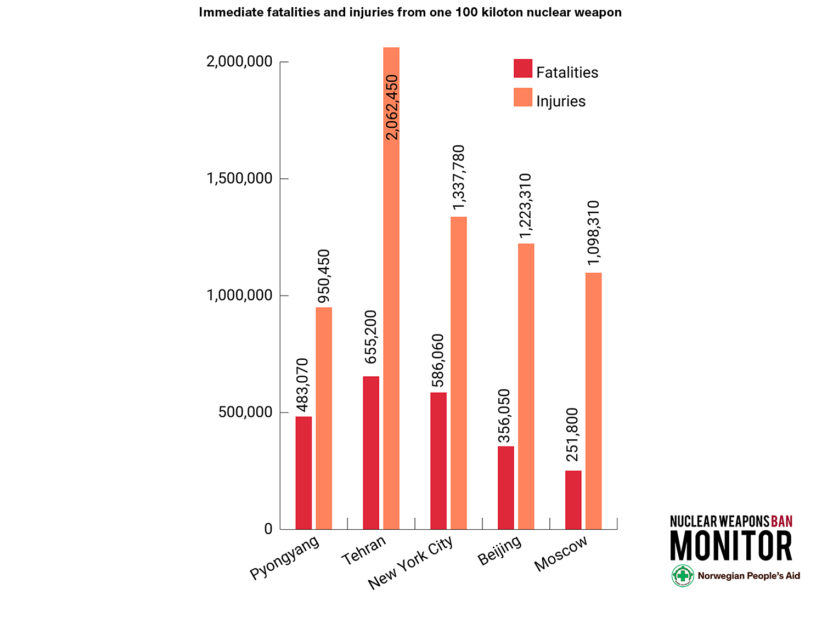 [1] Calculations of explosive yield were largely based on data from the Nuclear Notebooks by Federation of American Scientists. For warheads with a range of yields listed by the Federation of American Scientists, the average yield was used in the calculation. For warheads without previously estimated yields or undefined numbers, a best approximation was made based on average warhead sizes and known information about the country's arsenal. Total arsenals and yield estimates are based on active arsenals and do not include warheads waiting to be retired.
[2] M. Hall, "By the Numbers: World War II's atomic bombs", CNN (6 August 2013).
[3] Statistics on the number of fatalities and injured are from NUKEMAP by Alex Wellerstein, using population density information and nuclear effects information. Fatalities and injuries are based on the immediate impact of the detonation and do not account for long-term radiation deaths and injuries or the lasting environmental impact a large-scale nuclear detonation could cause. All of the detonations calculated were airbursts, not surface detonations.