The history of the TPNW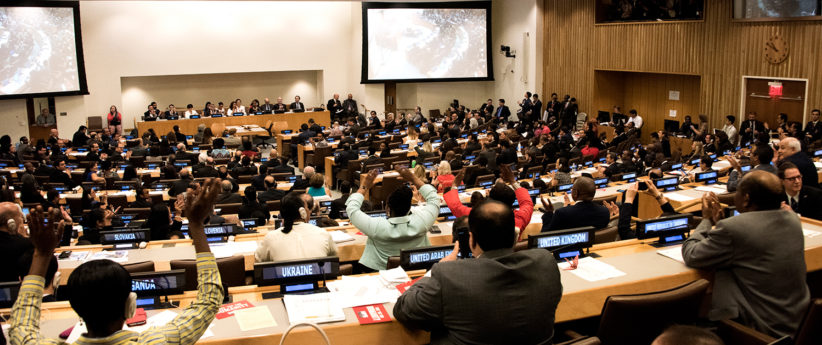 The TPNW was adopted on 7 July 2017 at a diplomatic conference established by the UN General Assembly. A total of 122 states, more than three-fifths of the world's 197 states, voted in favour of the Treaty's adoption. ( Only one state participating in the conference, the Netherlands, voted against, while a second, Singapore, abstained. The Treaty was opened for signature on 20 September 2017, with Brazil becoming its first signatory. It can be signed by any state, also after its entry into force. The TPNW will enter into force 90 days after the 50th state has ratified or acceded to it.
The negotiation and adoption of the TPNW was a result of what has become known as the Humanitarian Initiative, where governments, the International Red Cross and Red Crescent Movement, various United Nations agencies, the International Campaign to Abolish Nuclear Weapons (ICAN) and other non-governmental organizations from 2010 began working together to reframe the debate on nuclear weapons.
The Humanitarian Initiative placed the catastrophic, persistent effects of nuclear weapons on our health, societies and the environment at the centre of the public and diplomatic discussions about nuclear disarmament and non-proliferation. It comprised three major governmental conferences on the humanitarian consequences of nuclear weapons, in Oslo, Norway in March 2013, in Nayarit, Mexico in February 2014, and in Vienna, Austria in December 2014. The Vienna conference, where 158 states participated, concluded with Austria presenting a pledge to cooperate in efforts to "full the legal gap" in the international regime governing nuclear weapons, which became known as the Humanitarian Pledge. The Humanitarian Pledge was endorsed by 127 states in the months to follow.
In 2016 a so-called Open-Ended Working Group in the UN had three sessions with meetings to discuss new legal measures to achieve a world free of nuclear weapons. It recommended the negotiation of a treaty to prohibit nuclear weapons. In December the same year the UN General Assembly adopted by overwhelming majority a resolution to convene a conference in 2017 to negotiate "a legally binding instrument to prohibit nuclear weapons, leading towards their total elimination".