Safeguards and Verification under the TPNW
Articles 3 and 4 of the TPNW concern safeguards agreements to be concluded with the International Atomic Energy Agency (IAEA). The objective of IAEA safeguards is to "deter the spread of nuclear weapons by the early detection of the misuse of nuclear material or technology".[1]
Verification measures include on-site inspections, visits, and ongoing monitoring and evaluation.[2]
A number of states and commentators have claimed that the verification provisions in the TPNW are weaker than those in the NPT. In fact, the reverse is true, as the overview below illustrates.
Comprehensive Safeguards Agreements
Every state party to the TNPW must either conclude and enter into force or maintain in force a specific IAEA Comprehensive Safeguards Agreement: (INFCIRC/153 (Corrected)). This is the most recent version of the IAEA Comprehensive Safeguards Agreement.
Under the NPT, all non-nuclear-weapon states parties are obligated to conclude safeguards agreements with the IAEA (although the precise agreement to be concluded is not specified). This is required in order to verify the respect of that state's NPT duties "with a view to preventing diversion of nuclear energy from peaceful uses to nuclear weapons or other nuclear explosive devices".[3] Such a safeguards agreement must concern "source or special fissionable material whether it is being produced, processed or used in any principal nuclear facility or is outside any such facility".[4] Further, the requisite safeguards must be applied on all such material that is being used in peaceful nuclear activities on any territory under the state's jurisdiction or control.[5]
As of March 2019, the IAEA had safeguards agreements in force with 183 states. The IAEA concludes three types of safeguards agreements: Comprehensive Safeguards Agreements with non-nuclear-weapon states parties to the NPT; "voluntary offer" safeguards agreements with each of the five nuclear-weapon states parties to the NPT recognised under that Treaty; and item-specific safeguards agreements with states not party to the NPT.
The IAEA carries out different types of on-site inspections and visits under the Comprehensive Safeguards Agreements. Routine inspections are the type most frequently used. These may be carried out according to a set schedule or may be "of an unannounced or short- notice character". Ad hoc inspections are typically conducted to verify a state's reports of its nuclear material or of nuclear material being transferred by one state to another. The Agency's right to carry out routine inspections under Comprehensive Safeguards Agreements is limited to those locations within a nuclear facility, or other locations containing nuclear material, through which nuclear material is expected to flow. These are known as strategic points.
The IAEA may carry out special inspections if it considers that information from a particular state is not adequate. Finally, safeguards visits may be made to declared facilities to verify design information pertaining to safeguards. For example, such visits may be carried out during construction to determine the completeness of the declared design information or during a facility decommissioning, to confirm that sensitive equipment was rendered unusable. Activities that IAEA inspectors perform during and in connection with on-site inspections of, or visits to, facilities may include auditing the facility's accounting and operating records and comparing these records with the state's reports to the Agency; verifying the inventory of nuclear material and any changes to it; taking environmental samples; and applying "containment and surveillance" measures, such as seal application or the installation of surveillance equipment.
Additional Protocol to the Comprehensive Safeguards Agreement
The Additional Protocol[6] is a legally binding agreement with the IAEA that grants the Agency additional inspection authority to that provided in Comprehensive Safeguards Agreements. A principal aim is to enable the IAEA inspectorate to provide assurance about the accuracy and completeness of declared activities and the absence of undeclared activities. Under the Protocol, the IAEA is granted expanded rights of access to both information and sites.[7]
The Additional Protocol requires adhering states to provide information about, and grant the IAEA inspector access to, all parts of their nuclear fuel cycle — including uranium mines, fuel fabrication, enrichment plants, and nuclear waste sites — as well as to "any other location where nuclear material is or may be present". Activities carried out during complementary access may include examination of records, visual observation, environmental sampling, use of radiation detection and measurement devices, and the application of seals and other identifying and tamper-indicating devices. Under the Additional Protocol, each state is required to provide information on the manufacture and export of sensitive nuclear-related technologies.
The text of the TPNW does not make explicit reference to the IAEA Additional Protocol. Article 4 of the Treaty, however, requires that all current and former[8]
nuclear-armed states that join the Treaty conclude and bring into force a safeguards agreement with the IAEA sufficient to provide credible assurance of both the non-diversion of declared nuclear material and the absence of undeclared nuclear materials and activities. In practice, this means at least an IAEA Additional Protocol as well as the IAEA Comprehensive Safeguards Agreement. In addition, Article 3(1) of the TPNW provides that if a state party already has an Additional Protocol in force when the TPNW enters into force, it must maintain it in force.[9]
As of September 2019, Additional Protocols were in force with 134 states while a further 14 states had signed an Additional Protocol but had yet to bring it into force. Article 3(1) also stipulates that the obligations to maintain existing safeguards agreements are "without prejudice to any additional relevant instruments that it may adopt in the future". During the negotiation of the TPNW in 2017, a Swedish proposal sought to make it an obligation for all states parties to conclude and enter into force not only a Comprehensive Safeguards Agreement but also an Additional Protocol. Regrettably, the negotiating states did not reach agreement to do so. It is, though, hoped that the First Meeting of States Parties to the TPNW will strongly encourage all states parties which have not yet done so to adopt and bring into force an Additional Protocol.
The NPT does not require that its states parties conclude and bring into force an IAEA Additional Protocol. The 2010 NPT Review Conference Action Plan contains a non-binding call to all states parties which have not yet done so to adopt and bring into force an Additional Protocol. This means that, under the NPT, an Additional Protocol is voluntary for all states parties.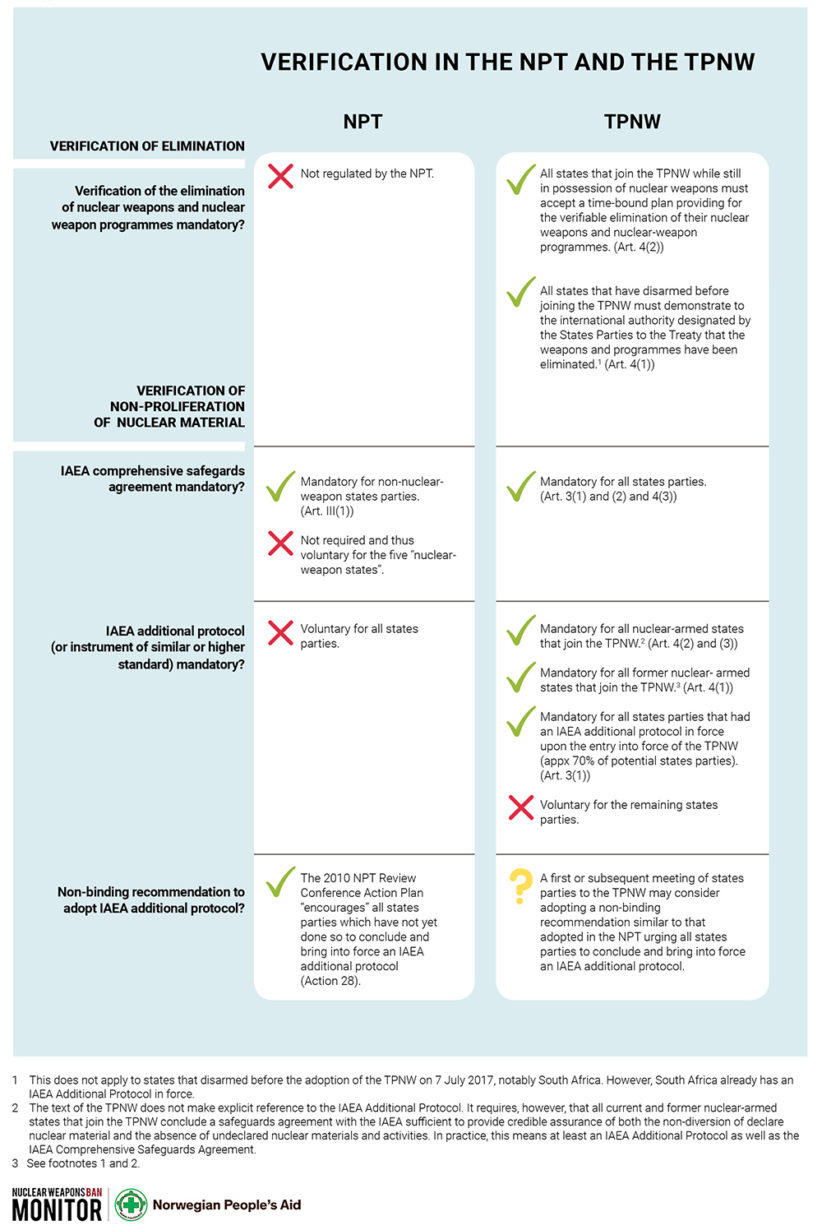 [1] IAEA, "Basics of IAEA Safeguards", 2018, at: bit.ly/2WJPdvC.
[2] IAEA, "IAEA Safeguards Overview", 2019, at: bit.ly/2q2kJGL.
[3] Art. III(1), NPT.
[4] Ibid.
[5] Ibid.
[6] Model Protocol Additional to the Agreement(s) Between State(s) and the International Atomic Energy Agency for the Application of Safeguards, IAEA doc. INFCIRC/540 (Corrected).
[7] IAEA, "IAEA Safeguards Overview", 2019.
[8] This does not apply to states that disarmed before the adoption of the TPNW on 7 July 2017, notably South Africa which disarmed at the end of the 1980s. However, South Africa already has an IAEA Additional Protocol in force.
[9] By the terms of Article 3(1), any state party that has an Additional Protocol in force at the time of entry into force of the Treaty is obliged to maintain it along with its Comprehensive Safeguards Agreement. The obligation in paragraph 1 upon each state party is to "maintain its International Atomic Energy Agency safeguards obligations". See also E. Giorgou, "Safeguards Provisions in the Treaty on the Prohibition of Nuclear Weapons", Blog entry, Arms Control Law, posted 11 April 2018, at: bit.ly/2R3bwK4.