TPNW Compliance status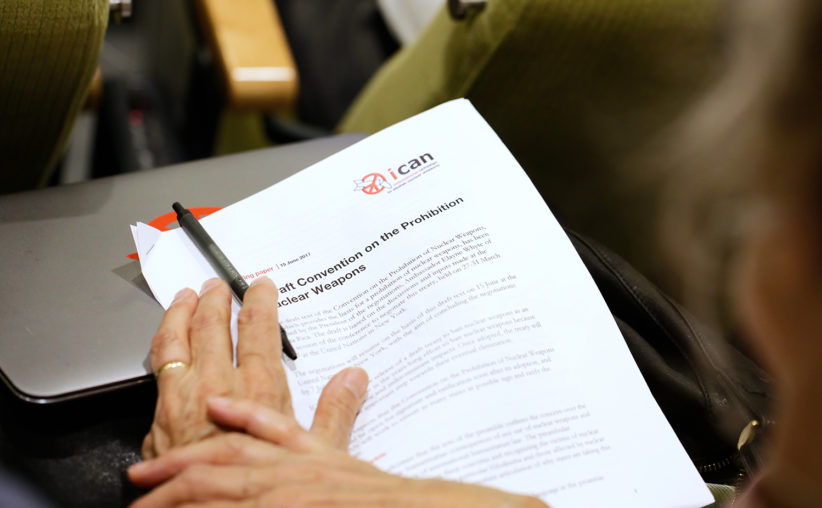 The heart of the TPNW is its Article 1, which contains the Treaty's core prohibitions. The Ban Monitor evaluates the degree to which the world's 197 states – adherents and non-adherents alike – act in accordance with these core prohibitions. The term "compliance" is used in a broad sense to refer to the compatibility of each state's behaviour with the Treaty. Compliance is assessed on the basis of active policies and acts carried out in 2018 and 2019, while reference is also made to certain significant earlier events.

Overall, compliance with the core prohibitions in Article 1 of the TPNW across all states continues to be very high. As illustrated and summarized in the figure and table below, the Ban Monitor finds that a total of 155 states currently maintain policies and practices that are compliant with all the Article 1 prohibitions. These are states that have already signed or adhered to the TPNW and fully comply with its provisions, or which are in a position to adhere without making changes to existing practices or policies.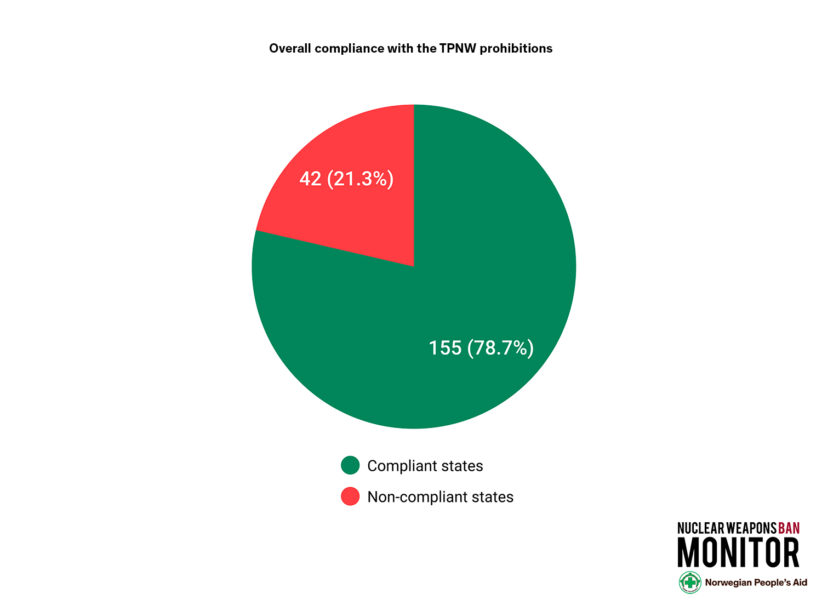 A minority of 42 states were found to currently engage in behaviour that contravenes one or more of the Article 1 prohibitions. The non-compliant states are first and foremost the 9 nuclear-armed states and the 31 states which for the purposes of this report are categorised as "nuclear-weapon-complicit states", but also include 2 states that have rejected any role for nuclear weapons in their security policies: Kazakhstan and the Marshall Islands. Kazakhstan has also signed and ratified the TPNW. The two states are, however, not fully compliant with the TPNW's prohibition on assistance because they host sites where missiles designed to deliver nuclear warheads are periodically tested by foreign powers (Russia and the United States, respectively). For the same reason, Kazakhstan is also contravening the provisions of existing obligations under the regional nuclear-weapon-free-zone to which it is party. Both Kazakhstan and the Marshall Islands can lawfully be states parties to the TPNW, but to become fully compliant they will need to exercise due diligence to ensure that any unlawful testing ends. The other 40 non-compliant states may of course also lawfully sign and ratify the TPNW, but they too would have to make varying degrees of changes to their policies and practices to become compliant.
Overall compliance with Article 1 of the TPNW as of 1 October 2019
| Compliance Status | Total | List of States |
| --- | --- | --- |
| Not compliant | 42 | Albania, Armenia, Australia, Belarus, Belgium, Bulgaria, Canada, China, Croatia, Czechia, Denmark, Estonia, France, Germany, Greece, Hungary, Iceland, India, Israel, Italy, Japan, Kazakhstan, Latvia, Lithuania, Luxembourg, Marshall Islands, Montenegro, Netherlands, North Korea, Norway, Pakistan, Poland, Portugal, Romania, Russia, Slovakia, Slovenia, South Korea, Spain, Turkey, United Kingdom, United States. |
| Compliant | 155 | Afghanistan, Algeria, Andorra, Angola, Antigua and Barbuda, Argentina, Austria, Azerbaijan, Bahamas, Bahrain, Bangladesh, Barbados, Belize, Benin, Bhutan, Bolivia, Bosnia and Herzegovina, Botswana, Brazil, Brunei, Burkina Faso, Burundi, Cabo Verde, Cambodia, Cameroon, Central African Republic, Chad, Chile, Colombia, Comoros, Congo, Cook Islands, Costa Rica, Côte d'Ivoire, Cuba, Cyprus, DR Congo, Djibouti, Dominica, Dominican Republic, Ecuador, Egypt, El Salvador, Equatorial Guinea, Eritrea, Eswatini, Ethiopia, Fiji, Finland, Gabon, Gambia, Georgia, Ghana, Grenada, Guatemala, Guinea, Guinea-Bissau, Guyana, Haiti, Holy See, Honduras, Indonesia, Iran, Iraq, Ireland, Jamaica, Jordan, Kenya, Kiribati, Kuwait, Kyrgyzstan, Lao PDR, Lebanon, Lesotho, Liberia, Libya, Liechtenstein, Madagascar, Malawi, Malaysia, Maldives, Mali, Malta, Mauritania, Mauritius, Mexico, Micronesia, Moldova, Monaco, Mongolia, Morocco, Mozambique, Myanmar, Namibia, Nauru, Nepal, New Zealand, Nicaragua, Niger, Nigeria, Niue, North Macedonia,* Oman, Palau, Palestine, Panama, Papua New Guinea, Paraguay, Peru, Philippines, Qatar, Rwanda, Saint Kitts and Nevis, Saint Lucia, Saint Vincent and the Grenadines, Samoa, San Marino, Sao Tome and Principe, Saudi Arabia, Senegal, Serbia, Seychelles, Sierra Leone, Singapore, Solomon Islands, Somalia, South Africa, South Sudan, Sri Lanka, Sudan, Suriname, Sweden, Switzerland, Syria, Tajikistan, Tanzania, Thailand, Timor-Leste, Togo, Tonga, Trinidad and Tobago, Tunisia, Turkmenistan, Tuvalu, Uganda, Ukraine, United Arab Emirates, Uruguay, Uzbekistan, Vanuatu, Venezuela, Viet Nam, Yemen, Zambia, Zimbabwe. |
* As of writing, North Macedonia was considered to be in full compliance with Art 1 of the TPNW. It was, however, in the process of joining NATO, and if it does so without repudiating the retention and potential use of nuclear weapons on its behalf, it will be deemed to be encouraging assistance with acts prohibited by the TPNW and not in compliance with Art 1(1)(e).