Support by Region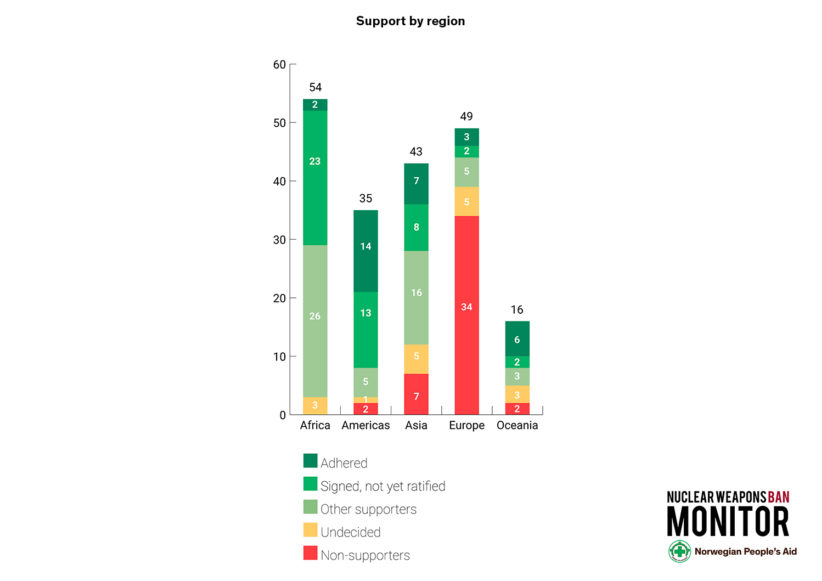 Breaking down the 135 TPNW supporters by region, the Ban Monitor finds that support for the TPNW is already high in all regions apart from Europe, with more than 94% of the states in Africa supporting it by either having adhered, signed, or voted in favour, followed by the Americas with more than 91%, Asia with 72%, and Oceania with almost 69%.
In Europe only three states (Austria, Holy See, and San Marino) have adhered, and two (Liechtenstein and Ireland) have signed but not yet ratified, while another five (Andorra, Azerbaijan, Cyprus, Malta, and Republic of Moldova (Moldova)) have voted in favour of the TPNW at the UN and are in the category of "other supporters".
All regions have a small group of undecided states. There is just 1 undecided state in the Americas (Argentina), 3 in Africa, 3 in Oceania, 5 in Europe, and 5 in Asia.
The highest number of non-supporters is in Europe, where 34 states (69%) currently are opposed to signing the TPNW. There are no non-supporters in Africa, 2 in the Americas, 2 in Oceania, and 7 in Asia.
TPNW support as of 1 October 2019 by region
TPNW support in Africa

TPNW support in the Americas

TPNW support in Asia

TPNW support in Europe

TPNW support in Oceania