Is Kazakhstan assisting Russia's nuclear-weapons programme?
Russian media have reported that on 11 April 2023 its forces launched an intercontinental ballistic missile (ICBM) from Russian territory (Astrakhan) with a training warhead that hit a mock target at the Sary-Shagan test site in Kazakhstan. This raises questions regarding Kazakhstan's compliance with the Treaty on the Prohibition of Nuclear Weapons.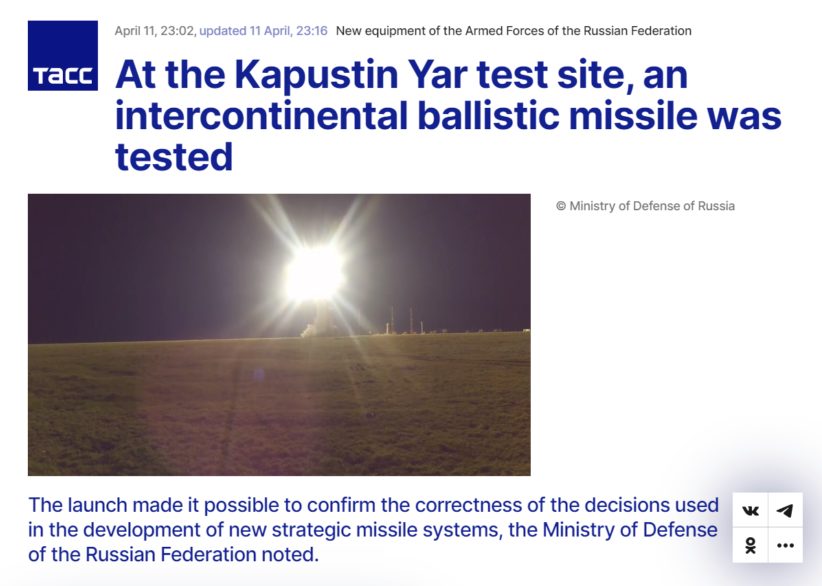 Test launches of missiles that are designed to deliver nuclear warheads are important elements of most nuclear-armed states' ongoing maintenance and development of nuclear weapons. The objective of the Russian missile launch on 11 April was said to be to test certain technical aspects of the nuclear-capable ICBM.1
The Sary-Shagan test site was established by the Soviet government in 1956. The land on which the site is located is leased by Kazakhstan to Russia through a long-term agreement. This is the first time in almost three years that Russia has used the Sary-Shagan test site as the destination point for an ICBM test. Kazakhstan became a state party to the 2017 UN Treaty on the Prohibition of Nuclear Weapons (TPNW) in January 2021.
According to Article 1(1)(e) of the TPNW, each State Party undertakes 'never under any circumstances' to assist 'anyone' in any way to engage in a prohibited activity. Development of nuclear weapons, which encompasses the test-launching of missiles intended to deliver nuclear weapons, is explicitly prohibited under Article 1(1)(a). Allowing such testing to take place therefore constitutes assistance with development of nuclear weapons, and is therefore not consistent with Article 1(1)(e) of the TPNW.
Kazakhstan, a nation that once inherited more than a thousand Soviet nuclear weapons and voluntarily relinquished them, is a long-time advocate of a world free of nuclear weapons. Together with its Central Asian neighbour-states, Kazakhstan established the Central-Asian Nuclear-Weapon Free Zone Treaty, which similarly obligates its member states not to 'assist' the development or manufacture of nuclear weapons.
This is no doubt a difficult situation for Kazakhstan, but it is also an opportunity to demonstrate the significance of the TPNW. As a state committed to the goals of the TPNW and the Central Asian Nuclear-Weapon-Free Zone Treaty, Kazakhstan should communicate its priorities to Russia and request that it refrains from all testing of nuclear-capable missiles at Sary-Shagan.
It is now also necessary, and urgent, for Kazakhstan to clarify the discussions it had with Russia leading up to the test on 11 April. Did it approve the test—which would amount to a serious violation of the TPNW—or did it object but Russia conducted the launch anyway? Or was it unaware of the test? Compliance concerns arise in the implementation of almost every disarmament treaty, and while they may pose issues that are not always possible to resolve in a short time frame, it is important to discuss them in a transparent manner. If Kazakhstan remains silent on this issue, it should be addressed at the TPNW's Second Meeting of States Parties, which is being held in late November of this year at UN headquarters in New York. Through compliance and adherence, the norms established by the TPNW will continue to be strengthened.
According to open-source data collection, which may not be exhaustive, all the nuclear-armed states apart from Israel and the United Kingdom test-launched nuclear-capable missiles in 2022. The United States regularly uses the Ronald Reagan range at Kwajalein Atoll in the Marshall Islands as the destination point for US test launches of ICBMs. The Marshall Islands is not yet a state party to the TPNW.
The Nuclear Weapons Ban Monitor emphasizes that it is not the Sary-Shagan test site in and of itself that conflicts with the TPNW, but Russia's use of it to develop nuclear-weapon missile technology. Any activity with conventional weapons on the test site is fully compatible with the TPNW.