China
Nuclear-armed states
China boycotted the TPNW negotiations and has not adhered to the Treaty. It is a nuclear-armed state and not in compliance with all of the prohibitions in Article 1. China may sign and ratify the TPNW, but will have to make changes to its policies and practices to become compliant.
Latest developments and background
In a joint statement with France, Russia, the United Kingdom, and the United States in 2018, China said: "The TPNW will not be binding on our countries, and we do not accept any claim that it contributes to the development of customary international law; nor does it set any new standards or norms. We call on all countries that are considering supporting the TPNW to reflect seriously on its implications for international peace and security." (bit.ly/2mrUHhO) (bit.ly/2pyMY2S)
Recommendations
China should acknowledge that nuclear deterrence is not a sustainable solution for its own or international security, and that any perceived benefits are far outweighed by the risk of nuclear accidents or war. It should move rapidly to verifiably reduce and eliminate its nuclear arsenal.
China should urgently sign and ratify the TPNW, and encourage other states to adhere to the Treaty. Until it is in a position to do so, it should - in line with its unequivocal undertaking under the NPT to accomplish the total elimination of its nuclear arsenals - welcome the TPNW as a valuable contribution towards the common aspiration of a world without nuclear weapons, attend its meetings of states parties as an observer, and work with its states parties on practical steps towards disarmament.
Compliance with article 1(1) of the TPNW
Art 1(1)(a)
The prohibition on developing, producing, manufacturing, or otherwise acquiring
Not compliant
The prohibition on testing
Compliant
The prohibition on possessing or stockpiling
Not compliant
Art 1(1)(b)
The prohibition on transferring
Compliant
Art 1(1)(c)
The prohibition on receiving transfer or control
Compliant
Art 1(1)(d)
The prohibition on using
Compliant
The prohibition on threatening to use
Compliant
Art 1(1)(e)
The prohibition on assisting prohibited activities
Compliant
The prohibition on encouraging or inducing prohibited activities
Compliant
Art 1(1)(f)
The prohibition on encouraging or inducing prohibited activities
Compliant
Art 1(1)(g)
The prohibition on allowing stationing, installation, or deployment
Compliant
TPNW process
Vote on mandate resolution (A/RES/71/258)
Abstained
Participated in treaty negotiations (% women)
No (N/A)
Vote on adoption of treaty text
N/A
Vote on UNGA resolution 2018
Voted no
Fissile material
Highly enriched uranium stocks
14 t (~933 weapon equivalents)
Civilian plutonium stocks
Fissile material production
Yes (LEU and Pu)
Related treaties and mechanisms
Party to the NPT
Yes
Party to a NWFZ
No
Ratified the CTBT
No (Signed, Annex 2 state)
Party to the PTBT
No
Member of the CD
Yes
IAEA CSA in force
No (Voluntary offer agreement)
IAEA AP in force
Yes (Modified)
Party to the CWC
Yes
Party to the BWC
Yes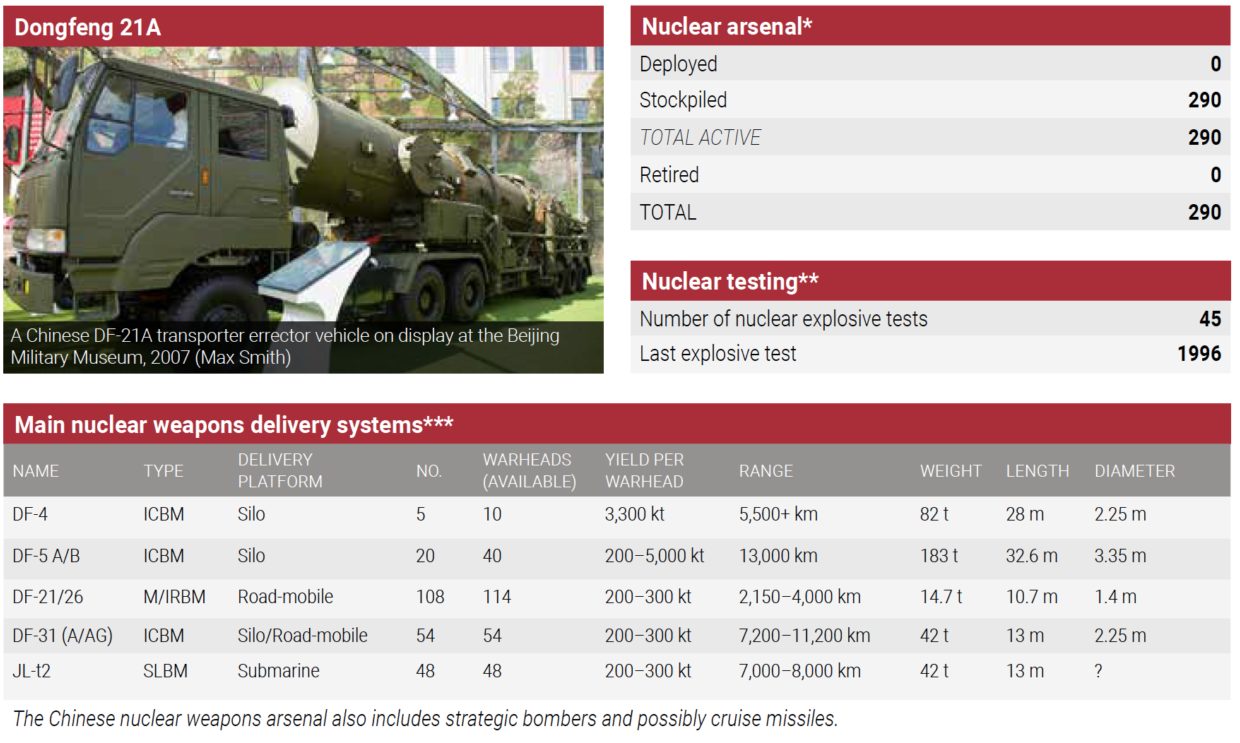 DOCTRINE, POLICIES, AND PRACTICE
China maintains a so-called no-first-use policy, meaning that the Chinese government has declared that it will only use nuclear weapons in response to a nuclear attack. China has long claimed to rely on a "minimum deterrent", but recent developments suggest that China might be in the process of altering its policy. China has traditionally maintained that it will not use nuclear weapons against non-nuclear-weapon states and states in nuclear-weapon-free zones. Having ratified the relevant protocols to the treaties of Tlatelolco, Rarotonga, Pelindaba, and Semipalatinsk, China has legally committed not to use nuclear weapons against the members of the Latin American and Caribbean, South Pacific, African, and Central Asian nuclear-weapon-free zone treaties. China has not ratified the equivalent protocol for the South-East Asian zone.
China is believed not to deploy nuclear warheads on missiles in normal circumstances, but some believe that China has already fitted, or will soon fit, nuclear warheads to missiles on its nascent submarine force. There have also been reports that some Chinese officials are advocating "increasing the readiness of China's nuclear missiles".[1] China routinely conducts nuclear readiness drills. In January 2019, Chinese state media reported that Chinese forces had simulated the launch of a nuclear-armed ICBM against "an imaginary enemy".[2] In a bid to enhance its second-strike capability, China has positioned much of its land-based strategic forces in hardened bunkers deep inside mountains. That said, China does not appear to have yet adopted a "launch on warning" posture, retaining its traditional "ready the forces on warning" posture.[3]
Since the 1990s, China's approach to multilateral nuclear disarmament diplomacy has been one of caution. At the UN, China often choses to abstain on controversial resolutions instead of picking a side, a stance that is probably informed by China's shared history and close relationships with the non-aligned world. In 2016, China was the only permanent member of the UN Security Council to abstain on the vote in the General Assembly that mandated the 2017 negotiation of the TPNW; France, Russia, the United Kingdom, and the United States all voted against.
[1] Hans M. Kristensen and Matt Korda, "Chinese nuclear forces, 2019", Bulletin of the Atomic Scientists 75, no. 4 (2019).
[2] Liu Xuanzun, "China's Rocket Force conducts mock ICBM strike exercise", Global Times (22 January 2019), at.
[3] Hans M. Kristensen and Matt Korda, "The Pentagon's 2019 China Report", Federation of American Scientists (6 May 2019).

* Hans M. Kristensen and Robert S. Norris, "Status of World Nuclear Forces", Federation of American Scientists, at.

** Arms Control Association, "The Nuclear Testing Tally" (updated September 2017).
*** Shannon N. Kile and Hans M. Kristensen , "World Nuclear Forces", SIPRI Yearbook 2018, Chapter 6.