Pakistan
Nuclear-armed states
Pakistan boycotted the TPNW negotiations and has not adhered to the Treaty. It is a nuclear-armed state and not in compliance with all of the prohibitions in Article 1. Pakistan may sign and ratify the TPNW, but will have to make changes to its policies and practices to become compliant.
Latest developments and background
An official spokesperson of the Pakistani government stated in August 2017 that Pakistan "cannot become a party" to the TPNW. "Pakistan does not consider itself bound by any of the obligations enshrined in this Treaty." (bit.ly/2msHhlP)
Recommendations
Pakistan should acknowledge that nuclear deterrence is not a sustainable solution for its own or international security, and that any perceived benefits are far outweighed by the risk of nuclear accidents or war. It should move rapidly to verifiably reduce and eliminate its nuclear arsenal.
Pakistan should urgently sign and ratify the TPNW, and encourage other states to adhere to the Treaty. Until it is in a position to do so, it should welcome the TPNW as a valuable contribution towards the common aspiration of a world without nuclear weapons, attend its meetings of states parties as an observer, and work with its states parties on practical steps towards disarmament.
Compliance with article 1(1) of the TPNW
Art 1(1)(a)
The prohibition on developing, producing, manufacturing, or otherwise acquiring
Not compliant
The prohibition on testing
Compliant
The prohibition on possessing or stockpiling
Not compliant
Art 1(1)(b)
The prohibition on transferring
Compliant
Art 1(1)(c)
The prohibition on receiving transfer or control
Compliant
Art 1(1)(d)
The prohibition on using
Compliant
The prohibition on threatening to use
Compliant
Art 1(1)(e)
The prohibition on assisting prohibited activities
Compliant
The prohibition on encouraging or inducing prohibited activities
Compliant
Art 1(1)(f)
The prohibition on encouraging or inducing prohibited activities
Compliant
Art 1(1)(g)
The prohibition on allowing stationing, installation, or deployment
Compliant
TPNW process
Vote on mandate resolution (A/RES/71/258)
Abstained
Participated in treaty negotiations (% women)
No (N/A)
Vote on adoption of treaty text
N/A
Vote on UNGA resolution 2018
Voted no
Fissile material
Highly enriched uranium stocks
3.4 t (~227 weapon equivalents)
Civilian plutonium stocks
Fissile material production
Yes (uranium and Pu)
Related treaties and mechanisms
Party to the NPT
No
Party to a NWFZ
No
Ratified the CTBT
No (Annex 2 state)
Party to the PTBT
Yes
Member of the CD
Yes
IAEA CSA in force
No (Item-specific agreement)
IAEA AP in force
No
Party to the CWC
Yes
Party to the BWC
Yes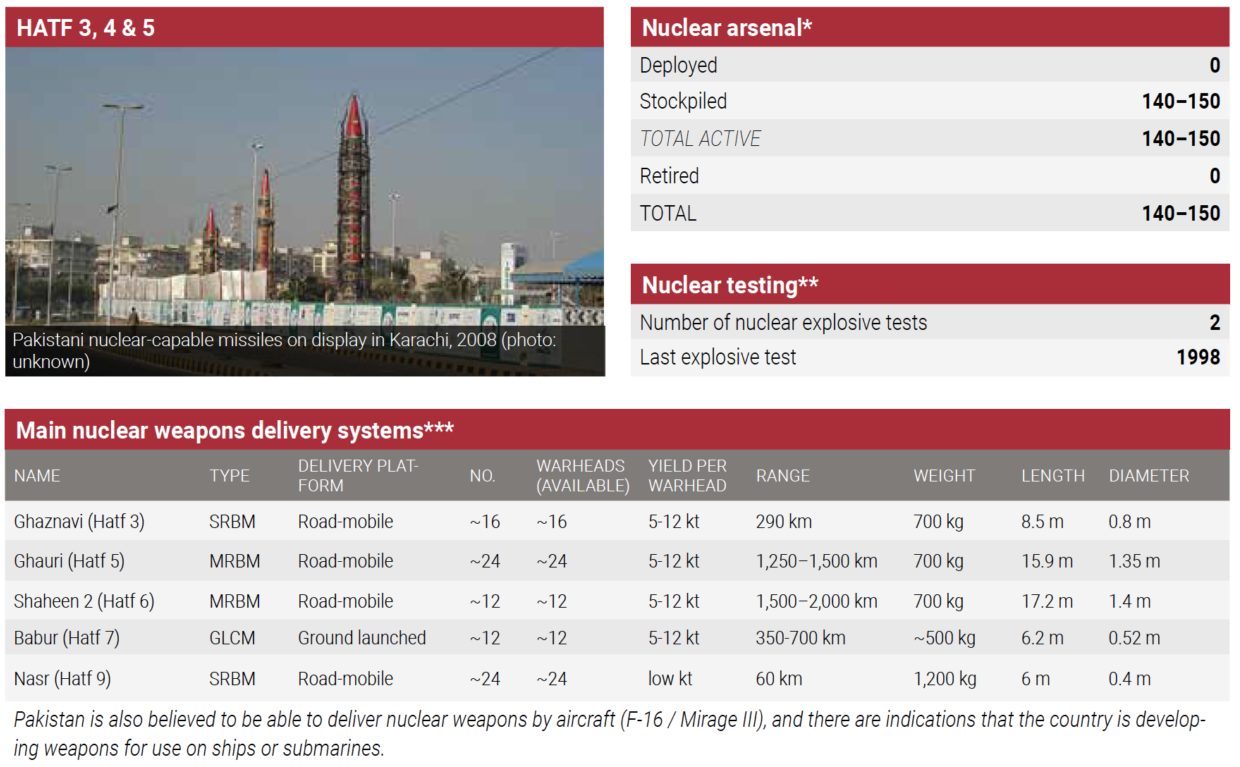 DOCTRINE, POLICIES, AND PRACTICE
The government of Pakistan has pledged "no first use against non-nuclear weapons states", but "Pakistan's policy on first use against states that possess nuclear weapons, particularly India, remains vague."[1] Pakistan has traditionally kept its nuclear warheads "de-mated", meaning that the fissile cores are stored separately from the rest of the warheads. This practice increases the time required to employ the weapons, likely reducing the risk of nuclear strikes following miscalculation or accidents. In recent years, a number of commentators have expressed concern about Pakistan's development of tactical nuclear weapons, which they fear will lower the nuclear threshold.[2]
Pakistan has not offered legally binding security assurances to any state. The protocols to the various nuclear-weapon-freezone treaties containing such assurances are not open for Pakistani accession. Since 1990, however, Pakistan has advocated the negotiation of a global treaty containing negative security assurances for non-nuclear-weapon states.
Pakistan frequently conducts nuclear drills and tests of nuclear-capable missiles. Over the course of 2018 and the first nine months of 2019, Pakistan carried out at least seven nuclear missile tests, including of intermediate-range ballistic missiles (Hatf-5 and Shaheen II), short-range ballistic missiles (Nasr), and a sea-launched cruise missile that likely had nuclear capacity.
Pakistan has long claimed to favour global nuclear disarmament, even after its acquisition of nuclear weapons in the 1990s. In practice, however, Pakistan has expanded its nuclear capabilities and blocked the commencement of negotiations on a Fissile Material (Cut-off) Treaty. Pakistan did not participate in the negotiation of the 2017 TPNW.
[1] Arms Control Association, "Arms Control and Proliferation Profile: Pakistan" (April 2017).
[2] Hans M. Kristensen, Robert S. Norris, and Julia Diamond, "Pakistani nuclear forces, 2018", Bulletin of the Atomic Scientists 74, no. 5 (2018).
* Hans M. Kristensen and Robert S. Norris, "Status of World Nuclear Forces", Federation of American Scientists.
** Arms Control Association, "The Nuclear Testing Tally" (updated September 2017).
*** Shannon N. Kile and Hans M. Kristensen , "World Nuclear Forces", SIPRI Yearbook 2018, Chapter 6.