Democratic People's Republic of Korea
Nuclear-armed states
North Korea boycotted the TPNW negotiations and has not adhered to the Treaty. It is a nuclear-armed state and not in compliance with all of the prohibitions in Article 1. North Korea may sign and ratify the TPNW, but will have to make changes to its policies and practices to become compliant.
Latest developments and background
In 2017, the delegation of North Korea to the UN General Assembly First Committee stated that the North Korean government could not support the TPNW. North Korea "consistently supports the total elimination of nuclear weapons and the efforts for denuclearization of the entire world. However as long as the U.S. who constantly threatens and blackmails the [Democratic People's Republic of Korea] with nuclear weapons rejects the NBT [Nuclear Ban treaty] the DPRK is not in position to accede to the treaty".
Recommendations
North Korea should acknowledge that nuclear deterrence is not a sustainable solution for its own or international security, and that any perceived benefits are far outweighed by the risk of nuclear accidents or war. It should move rapidly to verifiably reduce and eliminate its nuclear arsenal.
North Korea should urgently sign and ratify the TPNW, and encourage other states to adhere to the Treaty. Until it is in a position to do so, it should welcome the TPNW as a valuable contribution towards the common aspiration of a world without nuclear weapons, attend its meetings of states parties as an observer, and work with its states parties on practical steps towards disarmament.
Compliance with article 1(1) of the TPNW
Art 1(1)(a)
The prohibition on developing, producing, manufacturing, or otherwise acquiring
Not compliant
The prohibition on testing
Compliant
The prohibition on possessing or stockpiling
Not compliant
Art 1(1)(b)
The prohibition on transferring
Compliant
Art 1(1)(c)
The prohibition on receiving transfer or control
Compliant
Art 1(1)(d)
The prohibition on using
Compliant
The prohibition on threatening to use
Compliant
Art 1(1)(e)
The prohibition on assisting prohibited activities
Compliant
The prohibition on encouraging or inducing prohibited activities
Compliant
Art 1(1)(f)
The prohibition on encouraging or inducing prohibited activities
Compliant
Art 1(1)(g)
The prohibition on allowing stationing, installation, or deployment
Compliant
TPNW process
Vote on mandate resolution (A/RES/71/258)
Did not vote
Participated in treaty negotiations (% women)
No (N/A)
Vote on adoption of treaty text
N/A
Vote on UNGA resolution 2018
Abstained
Fissile material
Highly enriched uranium stocks
0 t (~0 weapon equivalents)
Civilian plutonium stocks
Fissile material production
Yes (HEU and Pu, suspected)
Related treaties and mechanisms
Party to the NPT
No (1985-2003)
Party to a NWFZ
No
Ratified the CTBT
No (Annex 2 state)
Party to the PTBT
No
Member of the CD
Yes
IAEA CSA in force
Yes (not implemented)
IAEA AP in force
No
Party to the CWC
No
Party to the BWC
Yes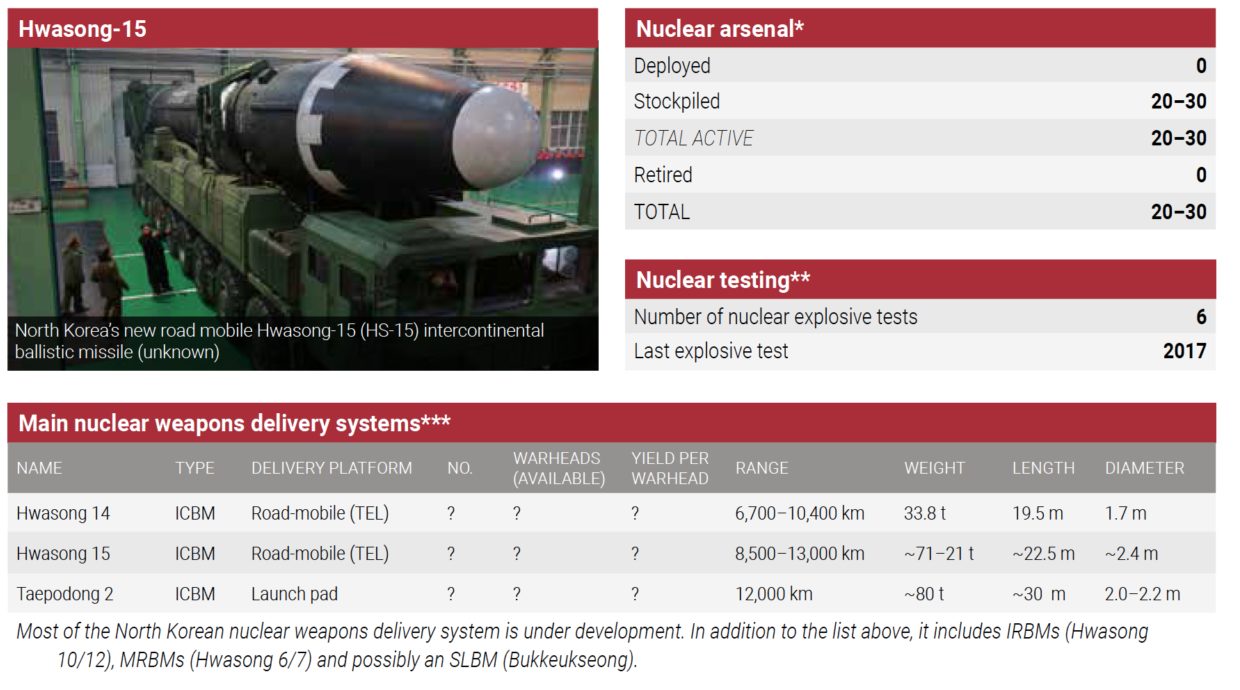 DOCTRINE, POLICIES, AND PRACTICE
North Korean officials have occasionally made statements that have been interpreted to go in the direction of a no-first-use policy. For example, in May 2016, the North Korean news agency quoted Kim Jong-un, the supreme leader of North Korea, as having averred that North Korea will not use a nuclear weapon unless North Korea's sovereignty is "encroached upon by any aggressive hostile forces with nukes".[1] Other statements have suggested that North Korea might be willing to use nuclear weapons preemptively. In March 2016, for example, in reaction to the commencement of a US–South Korean military exercise, North Korea threatened a "pre-emptive nuclear strike of justice" and to turn Washington and Seoul into "flames and ashes".[2] Most analysts believe that the North Korean regime will use nuclear weapons to protect itself against any perceived threat to its survival.
In August 2017, US President Donald Trump contended that North Korea "best not make any more threats to the United States", adding that "they [North Korea] will be met with fire and fury and frankly power, the likes of which this world has never seen before."[3] Many feared war was imminent. Instead, Trump and Kim met for a high-level summit in Singapore on 12 June 2018. North Korea committed to "work toward complete denuclearization of the Korean Peninsula". The US administration represented this as a significant diplomatic victory. In reality, the summit declaration added little if anything to North Korea's standing policy.
North Korea has executed a number of nuclear and missile tests in recent years, attracting widespread criticism from other governments. Over the course of 2018 and 2019, North Korea has conducted at least 9 ballistic missile tests, some of them involving multiple missiles (i.e. multiple missiles launched on a single day). North Korea has not carried out any nuclear or longrange ballistic missile tests since 2017, focusing instead on developing its short-range missiles. North Korea's nuclear-weapon programme should be considered as a nuclear weapon and missile development programme rather than a programme to "modernise" existing forces. Unlike other nuclear-armed states that have used bomber aircraft as their initial delivery means, North Korea has so far concentrated its efforts on the development of ballistic missiles (short, medium, and long-range).
[1] BBC, "North Korea 'will not use nuclear weapons' unless threatened" (8 May 2016).
[2] The Guardian (AP), "North Korea threatens to reduce US and South Korea to 'Flames and Ash'" (7 March 2016).
[3] Peter Baker and Choe Sang-Hun, "Trump Threatens 'Fire and Fury' Against North Korea if It Endangers U.S.", New York Times (8 August 2017).
* Hans M. Kristensen and Robert S. Norris, "Status of World Nuclear Forces", Federation of American Scientists.
** Arms Control Association, "The Nuclear Testing Tally" (updated September 2017).
*** Shannon N. Kile and Hans M. Kristensen , "World Nuclear Forces", SIPRI Yearbook 2018, Chapter 6.