India
Nuclear-armed states
India boycotted the TPNW negotiations and has not adhered to the Treaty. It is a nuclear-armed state and not in compliance with all of the prohibitions in Article 1. India may sign and ratify the TPNW, but will have to make changes to its policies and practices to become compliant.
Latest developments and background
In 2018, the Indian delegation to the UN General Assembly First Committee stated that "the "Treaty on the Prohibition of Nuclear Weapons, negotiated outside the CD, does not create any obligations for India." (bit.ly/2kTNEhi)
Recommendations
India should acknowledge that nuclear deterrence is not a sustainable solution for its own or international security, and that any perceived benefits are far outweighed by the risk of nuclear accidents or war. It should move rapidly to verifiably reduce and eliminate its nuclear arsenal.
India should urgently sign and ratify the TPNW, and encourage other states to adhere to the Treaty. Until it is in a position to do so, it should welcome the TPNW as a valuable contribution towards the common aspiration of a world without nuclear weapons, attend its meetings of states parties as an observer, and work with its states parties on practical steps towards disarmament.
Compliance with article 1(1) of the TPNW
Art 1(1)(a)
The prohibition on developing, producing, manufacturing, or otherwise acquiring
Not compliant
The prohibition on testing
Compliant
The prohibition on possessing or stockpiling
Not compliant
Art 1(1)(b)
The prohibition on transferring
Compliant
Art 1(1)(c)
The prohibition on receiving transfer or control
Compliant
Art 1(1)(d)
The prohibition on using
Compliant
The prohibition on threatening to use
Not compliant
Art 1(1)(e)
The prohibition on assisting prohibited activities
Compliant
The prohibition on encouraging or inducing prohibited activities
Compliant
Art 1(1)(f)
The prohibition on encouraging or inducing prohibited activities
Compliant
Art 1(1)(g)
The prohibition on allowing stationing, installation, or deployment
Compliant
TPNW process
Vote on mandate resolution (A/RES/71/258)
Abstained
Participated in treaty negotiations (% women)
No (N/A)
Vote on adoption of treaty text
N/A
Vote on UNGA resolution 2018
Voted no
Fissile material
Highly enriched uranium stocks
4 t (~267 weapon equivalents)
Civilian plutonium stocks
Fissile material production
Yes (LEU and Pu)
Related treaties and mechanisms
Party to the NPT
No
Party to a NWFZ
No
Ratified the CTBT
No (Annex 2 state)
Party to the PTBT
Yes
Member of the CD
Yes
IAEA CSA in force
No (Item-specific agreement)
IAEA AP in force
Yes (Modified)
Party to the CWC
Yes
Party to the BWC
Yes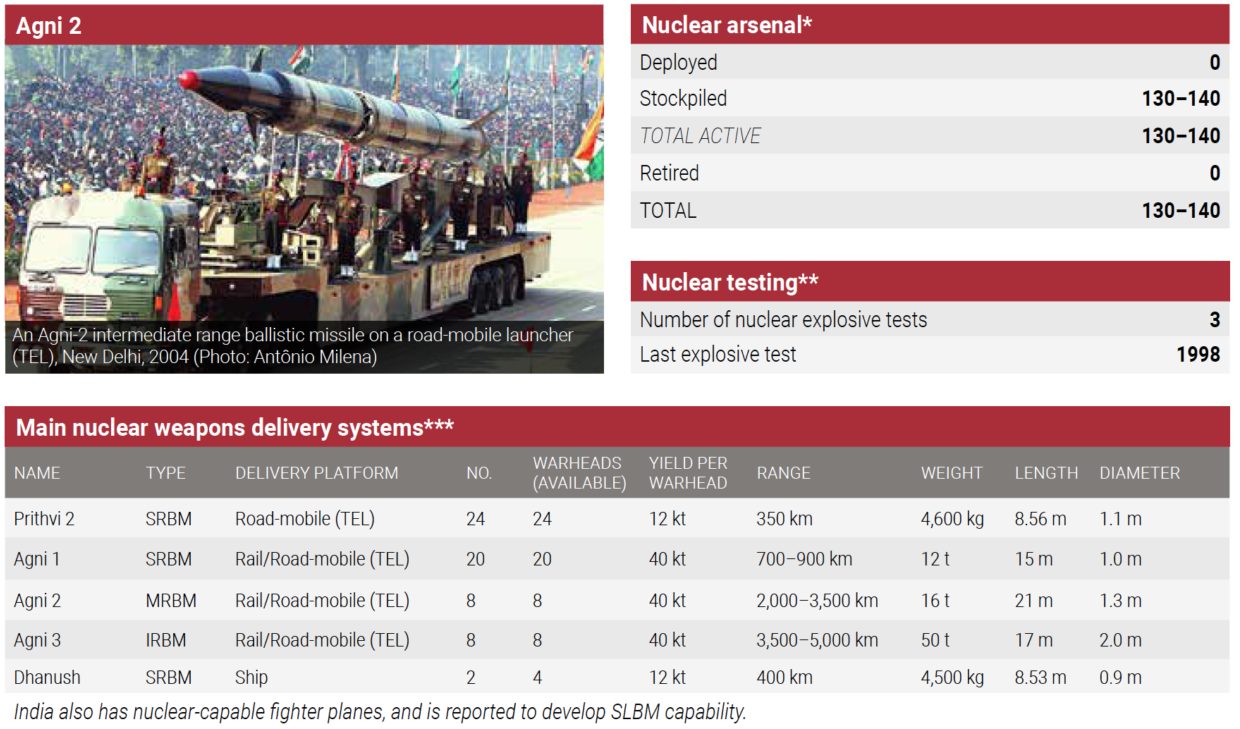 DOCTRINE, POLICIES, AND PRACTICE
India has traditionally maintained a no-first-use policy. According to the Indian government, India will only contemplate the use of nuclear weapons in response to a nuclear, chemical, or biological attack,[1] and India's force structure is based on the principle of a "credible minimum deterrent" designed to provide an "adequate retaliatory capability should deterrence fail." It has therefore usually been assumed that any use of nuclear weapons by India would be retaliatory rather than pre-emptive, and that it will be focused on "counter-value targets" (i.e. the adversary's cities) rather than "counter-force targets" (the adversary's nuclear forces). However, according to certain commentators, India may now be in the process of altering its doctrine. India might attempt a counter-force strike against Pakistan should it believe the latter to be contemplating a nuclear attack against India.[2] According to one set of observers, "India is developing a suite of capabilities and increasingly making statements about preemption and counterforce."[3]
India has not offered legally binding security assurances to any state. The protocols to the various nuclear-weapon-free zone treaties containing such assurances for zone members are not open for Indian accession. India has not signed or ratified the NPT, CTBT, or TPNW, but has on numerous occasions stated that it supports global nuclear disarmament.
While successive Indian governments have claimed to favour nuclear disarmament also after 1998 – the Indian delegation to the UN General Assembly First Committee in 2017 asserted that "India remains committed to the goal of a nuclear weapons free world"[4] – India has gradually expanded its nuclear capabilities. India formally supports the commencement of negotiations on a fissile material cut-off treaty, but has been reluctant to discuss existing stocks of such material, preferring a treaty that would only ban future production. In contrast to Pakistan, which possesses a much smaller stock of fissile material and has opposed negotiations on a treaty that only prohibits future production, India retains enough fissile material to produce thousands of new nuclear warheads.[5] The Indian government did not participate in the negotiation of the Treaty on the Prohibition of Nuclear Weapons in 2017.
[1] Arms Control Association, "Arms Control and Proliferation Profile: India" (January 2018).
[2] Rajesh Rajagopalan, "India's nuclear strategy: A shift to counterforce?", Observer Research Foundation (30 March 2017).
[3] Christopher Clary and Vipin Narang, "India's Counterforce Temptations", International Security 43, no. 3 (2019), p. 7.
[4] Statement by India to the UN General Assembly First Committee (9 October 2017).
[5] International Panel on Fissile Materials, "Fissile material stocks" (January 2017), at: http://fissilematerials.org/
* Hans M. Kristensen and Robert S. Norris, "Status of World Nuclear Forces", Federation of American Scientists.
** Arms Control Association, "The Nuclear Testing Tally" (updated September 2017).
*** Shannon N. Kile and Hans M. Kristensen , "World Nuclear Forces", SIPRI Yearbook 2018, Chapter 6.