Israel
Nuclear-armed states
Israel boycotted the TPNW negotiations and has not adhered to the Treaty. It is a nuclear-armed state and not in compliance with all of the prohibitions in Article 1. Israel may sign and ratify the TPNW, but will have to make changes to its policies and practices to become compliant.
Latest developments and background
Israel opposes the TPNW. In 2017, the Israeli delegation to the UN General Assembly First Committee stated that "Israel wishes to emphasize its view that the treaty does not create, contribute to the development of, or indicate the existence of customary law related to the subject or the content of the Treaty." (bit.ly/2lXKnhp)
Recommendations
Israel should acknowledge that nuclear deterrence is not a sustainable solution for its own or international security, and that any perceived benefits are far outweighed by the risk of nuclear accidents or war. It should move rapidly to verifiably reduce and eliminate its nuclear arsenal.
Israel should urgently sign and ratify the TPNW, and encourage other states to adhere to the Treaty. Until it is in a position to do so, it should welcome the TPNW as a valuable contribution towards the common aspiration of a world without nuclear weapons, attend its meetings of states parties as an observer, and work with its states parties on practical steps towards disarmament.
Compliance with article 1(1) of the TPNW
Art 1(1)(a)
The prohibition on developing, producing, manufacturing, or otherwise acquiring
Not compliant
The prohibition on testing
Compliant
The prohibition on possessing or stockpiling
Not compliant
Art 1(1)(b)
The prohibition on transferring
Compliant
Art 1(1)(c)
The prohibition on receiving transfer or control
Compliant
Art 1(1)(d)
The prohibition on using
Compliant
The prohibition on threatening to use
Compliant
Art 1(1)(e)
The prohibition on assisting prohibited activities
Compliant
The prohibition on encouraging or inducing prohibited activities
Compliant
Art 1(1)(f)
The prohibition on encouraging or inducing prohibited activities
Compliant
Art 1(1)(g)
The prohibition on allowing stationing, installation, or deployment
Compliant
TPNW process
Vote on mandate resolution (A/RES/71/258)
Voted no
Participated in treaty negotiations (% women)
No (N/A)
Vote on adoption of treaty text
N/A
Vote on UNGA resolution 2018
Voted no
Fissile material
Highly enriched uranium stocks
0.3 t (~20 weapon equivalents)
Civilian plutonium stocks
Fissile material production
Yes (Pu, suspected)
Related treaties and mechanisms
Party to the NPT
No
Party to a NWFZ
No
Ratified the CTBT
No (Signed, Annex 2 state)
Party to the PTBT
Yes
Member of the CD
Yes
IAEA CSA in force
No (Item-specific agreement)
IAEA AP in force
No
Party to the CWC
No (Signatory)
Party to the BWC
No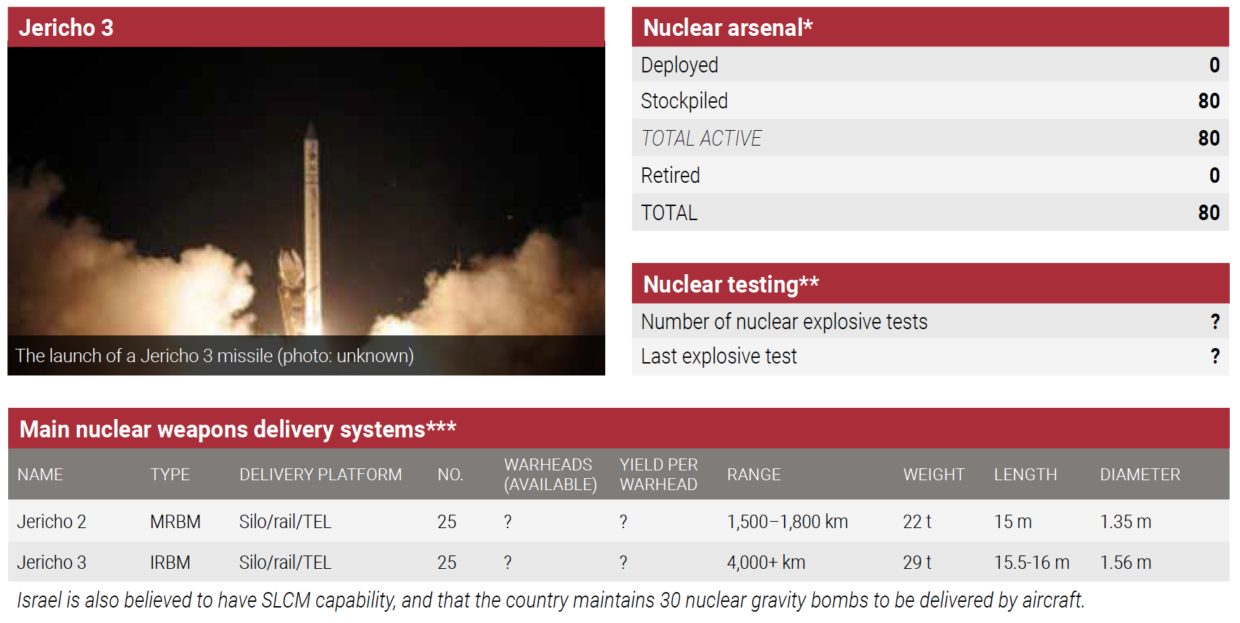 DOCTRINE, POLICIES, AND PRACTICE
Israel is believed to have acquired nuclear weapons in 1967, and to have slowly expanded its stockpile ever since. Although Israel has never confirmed the existence of a nuclear arsenal, experts estimate that it reached a level of around 80 nuclear warheads for delivery by aircraft, ground-based missiles and, possibly, sea-launched cruise missiles by 2004 and that this number has remained stable since that date. Kristensen and Norris estimate that Israel stores its nuclear warheads at five locations across the country.[1]
Israel is not confirmed to have conducted any nuclear tests. However, Israel is believed to have received access to early French testing data, and is believed by some to have conducted a nuclear test near the Prince Edward Islands off Antarctica in 1979 (the so-called Vela incident), possibly in cooperation with South Africa. There is no reliable public estimate of Israel's spending on nuclear weapons.
Maintaining a policy of nuclear "opacity", Israel has never made its nuclear doctrine public. Instead, Israeli officials have insisted that Israel will not be the first to introduce nuclear weapons to the Middle East. Writing in 2017, Kristensen maintained that Israel's nuclear warheads were not on alert in normal circumstances, increasing the amount of time needed to launch a nuclear strike.[2] Israel has not officially admitted to possessing nuclear weapons, and has thus not offered legally binding security assurances to any state. The protocols to the various NWFZ treaties are not open for Israeli accession.
Israel officially "supports a vision of the Middle East free from war and hostility, and from weapons of mass destruction and their means of delivery."[3] However, Israel has resisted calls to negotiate a zone free of weapons of mass destruction in the Middle East, claiming its security interests are not being sufficiently accommodated. Israel reportedly "values the NPT and recognizes its contribution to the non-proliferation regime",[4] but has not acceded to the agreement. Israel has not ratified the CTBT, but contributes to the CTBT verification scheme by supplying data from its national seismic stations to the International Data Centre.
[1] Hans M. Kristensen and Robert S. Norris, "Worldwide deployments of nuclear weapons, 2017", Bulletin of the Atomic Scientists 73, no. 5 (2017).
[2] Hans M. Kristensen, "Alert Status of Nuclear Weapons", AIP Conference Proceedings 1898 (2017), p. 1.
[3] Statement of Israel to the UNGA First Committee (13 October 2016).
[4] Statement of Israel to the UNGA First Committee (13 October 2017).
* Hans M. Kristensen and Robert S. Norris, "Status of World Nuclear Forces", Federation of American Scientists.
** Arms Control Association, "The Nuclear Testing Tally" (updated September 2017).
*** Shannon N. Kile and Hans M. Kristensen , "World Nuclear Forces", SIPRI Yearbook 2018, Chapter 6.