United Kingdom
Nuclear-armed states
The United Kingdom boycotted the TPNW negotiations and has not adhered to the Treaty. It is a nuclear-armed state and not in compliance with all of the prohibitions in Article 1. The United Kingdom may sign and ratify the TPNW, but will have to make changes to its policies and practices to become compliant.
Latest developments and background
In 2017, the UK government said that the UK "does not intend to sign, ratify or become party to" the TPNW. It further stated that "The unpredictable international security environment we face today demands the maintenance of our nuclear deterrent for the foreseeable future" (bit.ly/2mp3twV ). The cities of Edinburgh and Manchester have joined ICAN's Cities Appeal. In July 2018, the governing body of the Church of England, the Synod, adopted a motion calling on the UK government to "respond positively" to the TPNW and bring about nuclear disarmament. (bit.ly/2ms2psg)
Recommendations
The United Kingdom should acknowledge that nuclear deterrence is not a sustainable solution for its own or international security, and that any perceived benefits are far outweighed by the risk of nuclear accidents or war. It should move rapidly to verifiably reduce and eliminate its nuclear arsenal.
The United Kingdom should urgently sign and ratify the TPNW, and encourage other states to adhere to the Treaty. Until it is in a position to do so, it should - in line with its unequivocal undertaking under the NPT to accomplish the total elimination of its nuclear arsenals - welcome the TPNW as a valuable contribution towards the common aspiration of a world without nuclear weapons, attend its meetings of states parties as an observer, and work with its states parties on practical steps towards disarmament.
Compliance with article 1(1) of the TPNW
Art 1(1)(a)
The prohibition on developing, producing, manufacturing, or otherwise acquiring
Not compliant
The prohibition on testing
Compliant
The prohibition on possessing or stockpiling
Not compliant
Art 1(1)(b)
The prohibition on transferring
Compliant
Art 1(1)(c)
The prohibition on receiving transfer or control
Not compliant
Art 1(1)(d)
The prohibition on using
Compliant
The prohibition on threatening to use
Compliant
Art 1(1)(e)
The prohibition on assisting prohibited activities
Not compliant
The prohibition on encouraging or inducing prohibited activities
Not compliant
Art 1(1)(f)
The prohibition on encouraging or inducing prohibited activities
Not compliant
Art 1(1)(g)
The prohibition on allowing stationing, installation, or deployment
Compliant
TPNW process
Vote on mandate resolution (A/RES/71/258)
Voted no
Participated in treaty negotiations (% women)
No (N/A)
Vote on adoption of treaty text
N/A
Vote on UNGA resolution 2018
Voted no
Fissile material
Highly enriched uranium stocks
21.2 t (~1,413 weapon equivalents)
Civilian plutonium stocks
Fissile material production
Yes (LEU and Pu)
Related treaties and mechanisms
Party to the NPT
Yes
Party to a NWFZ
No
Ratified the CTBT
Yes (Annex 2 state)
Party to the PTBT
Yes
Member of the CD
Yes
IAEA CSA in force
No (Voluntary offer agreement)
IAEA AP in force
Yes (Modified)
Party to the CWC
Yes
Party to the BWC
Yes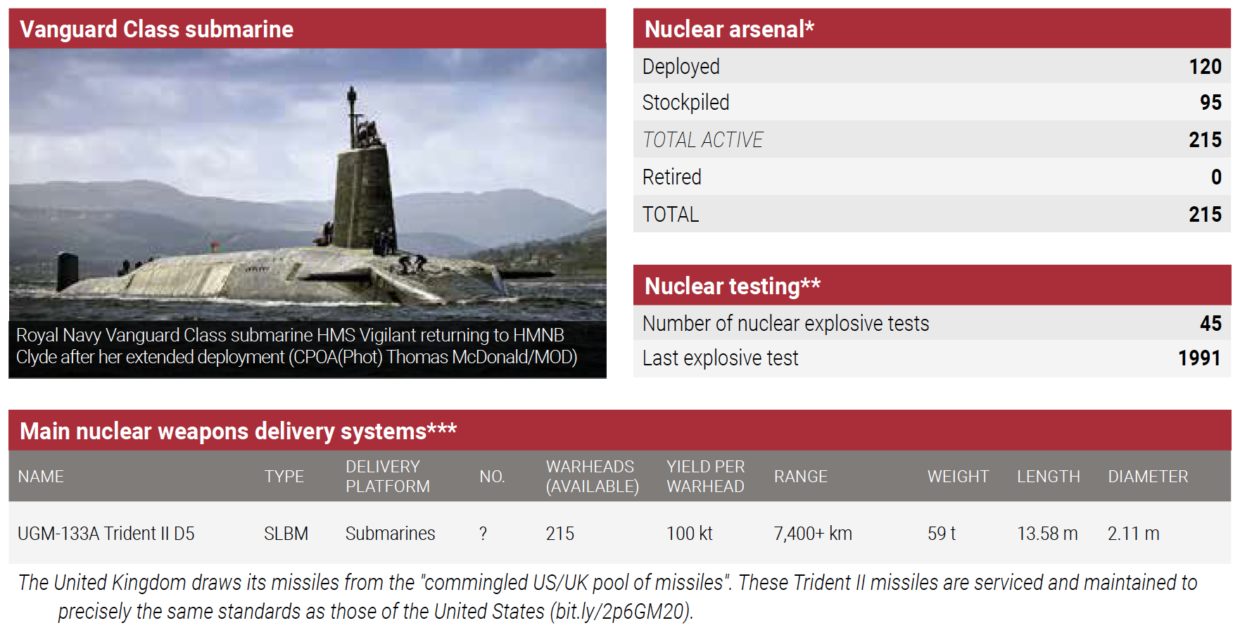 DOCTRINE, POLICIES, AND PRACTICE
The United Kingdom espouses a first-use posture and a so-called continuous-at-sea deterrence (CASD) policy, meaning that at least one nuclear-armed ballistic missile submarine will always be on patrol. The UK government claims that its nuclear arsenal offers a credible and independent minimum deterrent,[1] but critics have questioned not only whether UK nuclear use is credible, but also whether the UK nuclear arsenal is really independent from the United States, and whether UK nuclear weapons are actually deterring anyone from doing something they want to do. The British nuclear-weapon programme has traditionally been justified by UK government officials as a deterrent against Soviet/Russian aggression. And as the UK nuclear force is by all accounts not large enough to threaten the nuclear forces or infrastructure ("counterforce targets") of Russia, any deterrence relies on an implicit threat to use nuclear weapons against Russian population centres ("countervalue" targets). From the late 1960s onwards, British nuclear doctrine and procurement have ostensibly been centred on the so-called Moscow criterion, that is, the ability to demolish the Russian capital and its inhabitants.[2]
Successive British governments have framed the United Kingdom as a "responsible nuclear-weapon state" and expressed support for the goal of nuclear disarmament. At the 2018 NPT Review Conference Preparatory Committee in Geneva, the UK delegation stated that "[w]e firmly believe a consensus, step-by-step approach to multilateral disarmament is the best way of making progress towards our shared goal of a world without nuclear weapons."[3] However, as discussed above, British policy makers often make quite different statements to their domestic audiences, representing disarmament as irresponsible, effeminate, or humiliating. For example, in a 2015 op-ed, then UK Foreign Secretary (now Prime Minister), Boris Johnson, likened nuclear disarmament to castration.[4]
The United Kingdom formally supports the commencement of negotiations on a fissile material treaty, but has been reluctant to discuss existing stocks of such material, preferring a treaty that would only ban future production. The United Kingdom retains enough fissile material to produce thousands of new nuclear warheads.[5] And despite being a party to the NPT, which commits the United Kingdom to pursue negotiations "in good faith" on nuclear disarmament, the United Kingdom has never participated in any nuclear disarmament negotiations.
[1] UK Ministry of Defence, "The UK's Nuclear Deterrent" (19 February 2018).
[2] John Baylis, "British Nuclear Doctrine", Contemporary British History 19, no. 1 (2005).
[3] Statement by the United Kingdom to the 2018 NPT PrepCom (26 April 2018).
[4] Boris Johnson, "If we want to be taken seriously, we have to defend ourselves", The Telegraph (16 February 2015).
[5] International Panel on Fissile Materials, "Fissile material stocks" (January 2017), at: http://fissilematerials.org/.
* Hans M. Kristensen and Robert S. Norris, "Status of World Nuclear Forces", Federation of American Scientists.
** Arms Control Association, "The Nuclear Testing Tally" (updated September 2017).
*** Shannon N. Kile and Hans M. Kristensen , "World Nuclear Forces", SIPRI Yearbook 2018, Chapter 6.