United States of America
Nuclear-armed states
The United States boycotted the TPNW negotiations and has not adhered to the Treaty. It is a nuclear-armed state and not in compliance with all of the prohibitions in Article 1. The United States may sign and ratify the TPNW, but will have to make changes to its policies and practices to become compliant.
Latest developments and background
In a 2017 statement about the TPNW, the United states declared that it "will not support the treaty". Nuclear disarmament "will require a transformation of the international security environment." (bit.ly/2kwlcCa) In August 2018, the California Senate approved resolutions urging the United States to embrace the TPNW and restrict the US president's unchecked authority to launch a first nuclear strike. The states of Oregon and New Jersey have also approved legislation supporting the TPNW. Washington D.C., Los Angeles, and seven other U.S. cities have committed to ICAN's Cities Appeal.
Recommendations
The United States should acknowledge that nuclear deterrence is not a sustainable solution for its own or international security, and that any perceived benefits are far outweighed by the risk of nuclear accidents or war. It should move rapidly to reduce and eliminate its nuclear arsenal.
The United States should urgently sign and ratify the TPNW, and encourage other states to adhere to the Treaty. Until it is in a position to do so, it should - in line with its unequivocal undertaking under the NPT to accomplish the total elimination of its nuclear arsenals - welcome the TPNW as a valuable contribution towards the common aspiration of a world without nuclear weapons, attend its meetings of states parties as an observer, and work with its states parties on practical steps towards disarmament.
Compliance with article 1(1) of the TPNW
Art 1(1)(a)
The prohibition on developing, producing, manufacturing, or otherwise acquiring
Not compliant
The prohibition on testing
Compliant
The prohibition on possessing or stockpiling
Not compliant
Art 1(1)(b)
The prohibition on transferring
Not compliant
Art 1(1)(c)
The prohibition on receiving transfer or control
Compliant
Art 1(1)(d)
The prohibition on using
Compliant
The prohibition on threatening to use
Not compliant
Art 1(1)(e)
The prohibition on assisting prohibited activities
Not compliant
The prohibition on encouraging or inducing prohibited activities
Not compliant
Art 1(1)(f)
The prohibition on encouraging or inducing prohibited activities
Not compliant
Art 1(1)(g)
The prohibition on allowing stationing, installation, or deployment
Compliant
TPNW process
Vote on mandate resolution (A/RES/71/258)
Voted no
Participated in treaty negotiations (% women)
No (N/A)
Vote on adoption of treaty text
N/A
Vote on UNGA resolution 2018
Voted no
Fissile material
Highly enriched uranium stocks
574.5 t (~38,300 weapon equivalents)
Civilian plutonium stocks
Fissile material production
Yes (LEU and Pu)
Related treaties and mechanisms
Party to the NPT
Yes
Party to a NWFZ
No
Ratified the CTBT
No (Signed, Annex 2 state)
Party to the PTBT
Yes
Member of the CD
Yes
IAEA CSA in force
No (Voluntary offer agreement)
IAEA AP in force
Yes (Modified)
Party to the CWC
Yes
Party to the BWC
Yes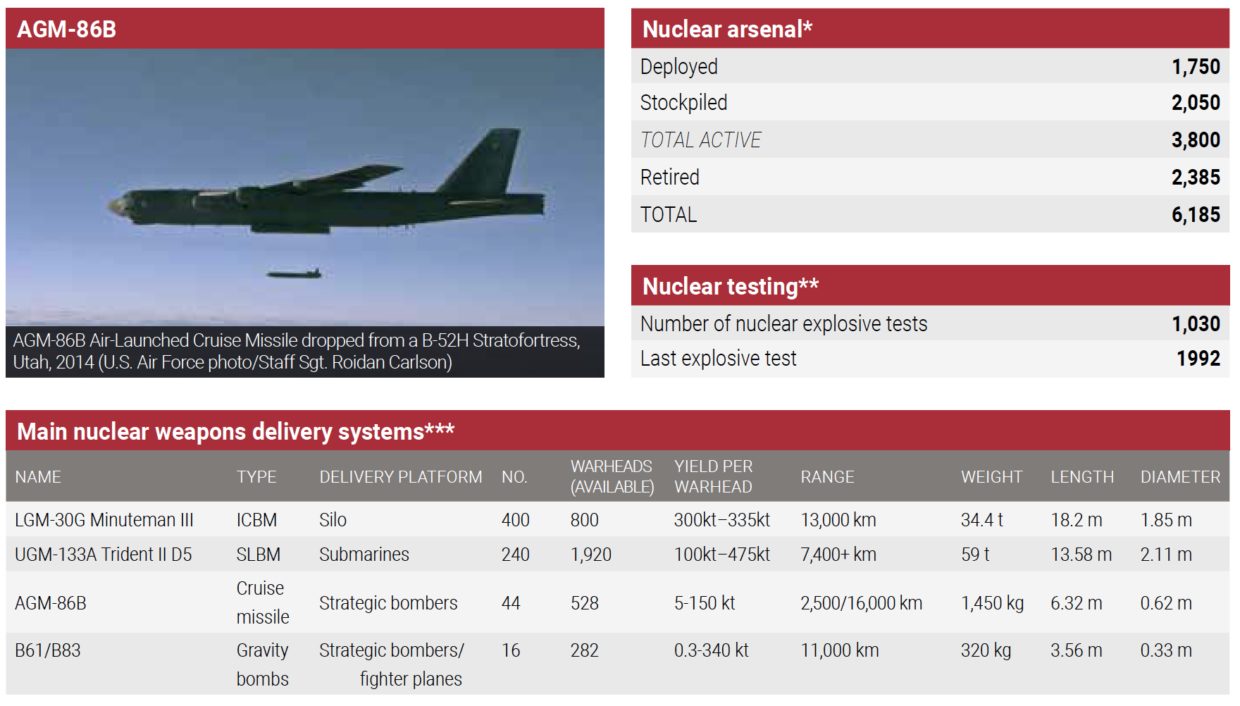 DOCTRINE, POLICIES, AND PRACTICE
The United States maintains a first use policy and significant "counter-force" capabilities. According to the Trump administration's "Nuclear Posture Review" of February 2018, the United States will "only consider the employment of nuclear weapons in extreme circumstances to defend the vital interest of the United States, its allies, and partners."[1] The United States has long maintained that it will not use nuclear weapons "against non-nuclear-weapon states that are party to the NPT and in compliance with their nuclear non-proliferation obligations." However, this assurance is not legally binding and it is not clear how the United States defines "in compliance with their nuclear non-proliferation obligations". The United States has only offered legally binding assurances not to use nuclear weapons against the parties to the 1967 Treaty of Tlatelolco. Washington has refused to ratify the protocols containing such assurances for members of the South Pacific, South-East Asian, African, and Central Asian nuclear-weapon-free zones.
In 2018, the United States abandoned its longstanding policy of seeking disarmament through a "step-by-step" approach and launched instead an initiative to "create the conditions for nuclear disarmament" (later renamed "creating the environment for nuclear disarmament" (CEND)). According to the US government, the security environment is currently not auspicious for nuclear reductions or implementation of Article VI of the NPT. Consequently, the international community should focus not on further disarmament steps, but rather on creating an environment in which the United States, Russia, and other nuclear-armed major powers would feel secure enough to reduce and eliminate their weapons of mass destruction. For the US government, necessary changes include, inter alia, the verified unilateral disarmament of DPR Korea, universal application of IAEA comprehensive safeguards and additional protocols in non-nuclear-weapon states, a guarantee that Iran "is never again able to position itself dangerously close to nuclear weaponization", and an improvement in "transparency about nuclear policies, plans, and doctrines". In 2019, the United States decided not to disclose the current number of nuclear weapons in the Defense Department's nuclear weapons stockpile, walking back close to a decade of US nuclear transparency policy.[2]
[1] US Department of Defense, "Nuclear Posture Review" (February 2018), p. 21.
[2] Hans M. Kristensen, "Pentagon Slams Door On Nuclear Weapons Stockpile Transparency", Federation of American Scientists (17 April 2019).
* Hans M. Kristensen and Robert S. Norris, "Status of World Nuclear Forces", Federation of American Scientists.
** Arms Control Association, "The Nuclear Testing Tally" (updated September 2017).
*** Shannon N. Kile and Hans M. Kristensen , "World Nuclear Forces", SIPRI Yearbook 2018, Chapter 6.