The context of the TPNW
The political dynamic around the TPNW is one of deep contestation, not just within the politics of nuclear disarmament, but of nuclear disarmament as a collective security strategy. This is because the Treaty poses a significant challenge to a minority of states that have fundamentally inconsistent stances on nuclear weapons.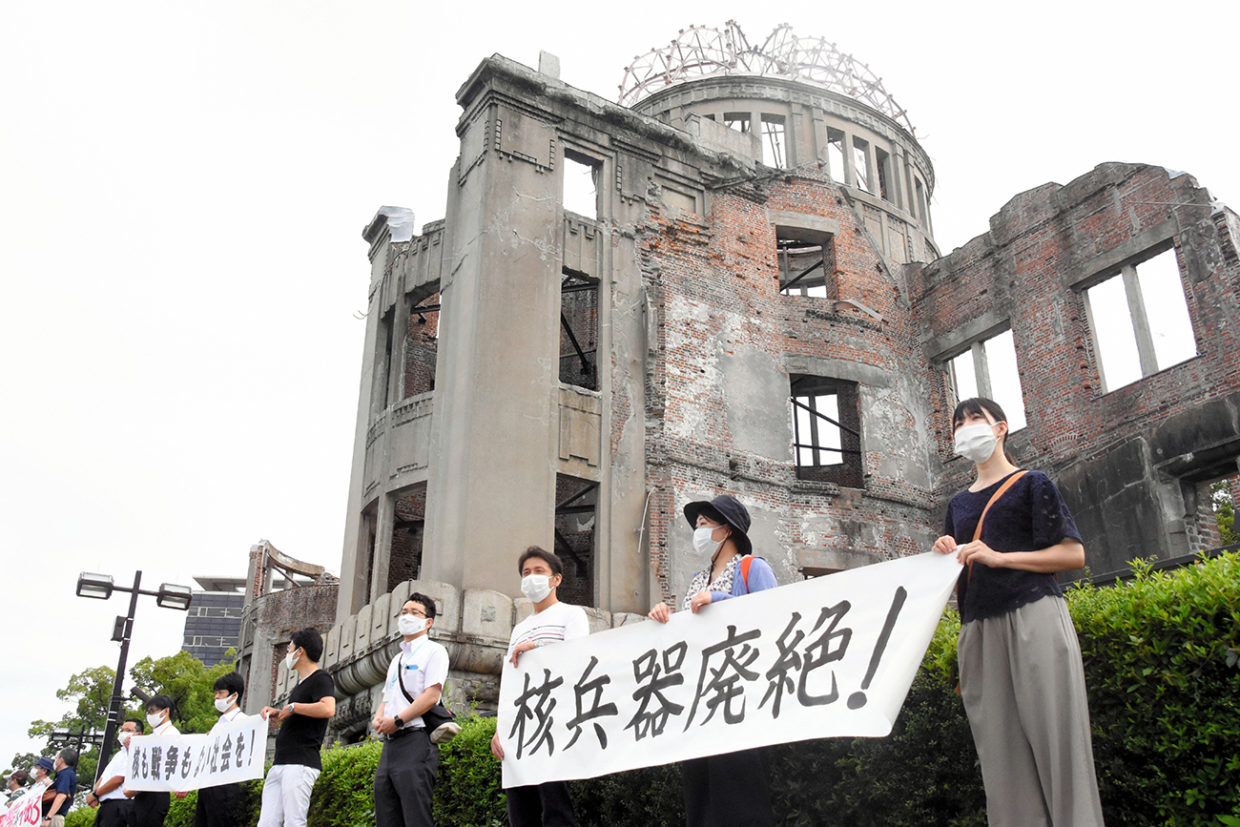 The elaboration of the TPNW has taken place at a time characterised by deep uncertainty about the direction of world politics and the rules and institutions of global order, including the 'nuclear order' – the system of institutions, rules, and practices that says who can do what with nuclear technologies. In this period, the ideals and practices of multilateralism have been eroded, and deteriorating power relationships between the United States/NATO and Russia and between the United States and China have returned as central concerns. The system of East-West nuclear arms control built during the 1980s and 1990s is now in tatters, with the INF Treaty and the ABM Treaty defunct, and New START, the CFE Treaty, and the Open Skies Treaty under severe strain. In addition, in 2018 the United States withdrew its support to the Joint Comprehensive Plan of Action (JCPOA), better known as the 'Iran nuclear deal'.

These major setbacks are compounded by the phenomenon of 'vertical proliferation': the development of new nuclear-weapon systems and improvements of existing systems in the nuclear-armed states. Vertical proliferation in Russia and the United States is now framed as a new and unexpected nuclear arms race, rather than a systemic feature of living in a nuclear-armed world. Moreover, the ways in which cyber warfare, advanced missile defences, and an artificial intelligence revolution could enhance the possibility of nuclear violence in future confrontations, has all added to a sense of emergent nuclear disorder.
Universal commitment to nuclear disarmament
The TPNW represents the further development and consolidation of a universal commitment to nuclear disarmament. Seventy-five years after the first use of nuclear weapons, all the world's states still claim to support nuclear disarmament and the pursuit of a world free of nuclear weapons. This goal was first formulated when, on 24 January 1946, the UN General Assembly adopted its first resolution. It was institutionalised in the NPT in 1968, when its states parties agreed 'to pursue negotiations in good faith on effective measures relating to cessation of the nuclear arms race at an early date and to nuclear disarmament'. In 2000, all the NPT's states parties, including the five nuclear-weapon states designated under that Treaty (China, France, Russia, United Kingdom, United States), agreed to 'an unequivocal undertaking by the nuclear-weapon states to accomplish the total elimination of their nuclear arsenals leading to nuclear disarmament'. This pledge was reaffirmed at the Eighth Review Conference in 2010.
Of the other four nuclear-armed states, India and Pakistan have longstanding and frequently referenced policies in favour of global nuclear disarmament, formulated in similar terms to those of the NPT nuclear-weapon states. North Korea intermittently expresses support for a nuclear-weapon-free world and joins statements and policy documents of the Non-aligned Movement (NAM) that call for nuclear disarmament. Israel too is on record as supporting nuclear disarmament, although it does so in abstract terms since it does not officially acknowledge its own possession of nuclear weapons.

The commitment to nuclear disarmament has also been institutionalised at regional, national, and local levels. States have declared vast swathes of the planet nuclear-weapon-free zones (NWFZs) that cover Latin America and the Caribbean (1967), the South Pacific (1985), South-east Asia (1995), Africa (1996), and Central Asia (2006). Additional treaties have established the Antarctic (1959), outer space (1967), and the seabed (1971) as NWFZs. Individual states have also institutionalised their non-nuclear status through their national constitutions, including Mongolia (internationally recognised as a single state NWFZ in 2001), Austria, New Zealand, and the Philippines. In some ways, the TPNW can be understood as a globalisation of NWFZs.
At the local level, this has extended to towns and cities formally declaring themselves non-nuclear through the Mayors for Peace organisation and ICAN's Cities Appeal. A total of 7,961 towns and cities across 164 countries and regions had joined Mayors for Peace by the end of 2020 and signed up to its programme for the total abolition of nuclear weapons. In addition, more than 370 cities and local and regional authorities had subscribed to ICAN's Cities Appeal in support of the TPNW. They include Barcelona, Berlin, Geneva, Hiroshima, Los Angeles, Manchester, Oslo, Paris, Sydney, Toronto, and Washington DC.
A minority committed to nuclear weapons
The clear majority of states not only support nuclear disarmament in principle, but also reject nuclear weapons in practice. The Nuclear Weapons Ban Monitor finds that, as of 2020, 156 states – four-fifths of all states – have excluded any role for nuclear weapons in their security policies, as shown in the figure to the right and table below. Despite their longstanding commitment to disarmament, however, a minority of 41 states continue to base their security strategies on the possession and potential use of nuclear weapons, perpetuating nuclear risks and undermining the international community's work towards nuclear disarmament.

Nine of these forty-one states are themselves nuclear-armed: China, France, India, Israel, North Korea, Pakistan, Russia, the United Kingdom, and the United States. The remaining 32 states are non-nuclear-armed states with arrangements of extended nuclear deterrence with nuclear-armed states (sometimes called a 'nuclear umbrella'). These 'umbrella states' do not possess nuclear weapons themselves, but have outsourced their nuclear postures to their nuclear-armed allies and have endorsed or acquiesced in the possession, and potentially also the use, of nuclear weapons on their behalf. Of the 32 umbrella states, 2 (Armenia and Belarus) are allies of Russia, while the other 30 are allies of the United States. Of the latter 30, 27 are members of NATO. The remaining three (Australia, Japan, and South Korea) have made bilateral nuclear defence arrangements with the United States.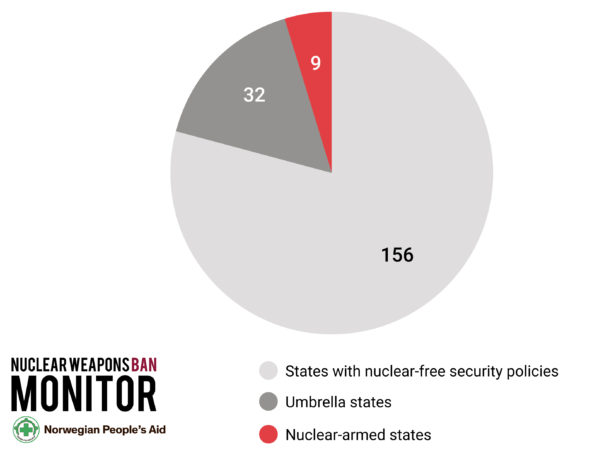 All states by their national security policies
| Category | Total | States |
| --- | --- | --- |
| States with nuclear-free security policies | 156 | Afghanistan, Algeria, Andorra, Angola, Antigua and Barbuda, Argentina, Austria, Azerbaijan, Bahamas, Bahrain, Bangladesh, Barbados, Belize, Benin, Bhutan, Bolivia, Bosnia and Herzegovina, Botswana, Brazil, Brunei, Burkina Faso, Burundi, Cabo Verde, Cambodia, Cameroon, Central African Republic, Chad, Chile, Colombia, Comoros, Congo, Cook Islands, Costa Rica, Côte d'Ivoire, Cuba, Cyprus, Djibouti, Dominica, Dominican Republic, DR Congo, Ecuador, Egypt, El Salvador, Equatorial Guinea, Eritrea, Eswatini, Ethiopia, Fiji, Finland, Gabon, Gambia, Georgia, Ghana, Grenada, Guatemala, Guinea, Guinea-Bissau, Guyana, Haiti, Holy See, Honduras, Indonesia, Iran, Iraq, Ireland, Jamaica, Jordan, Kazakhstan, Kenya, Kiribati, Kuwait, Kyrgyzstan, Lao PDR, Lebanon, Lesotho, Liberia, Libya, Liechtenstein, Madagascar, Malawi, Malaysia, Maldives, Mali, Malta, Marshall Islands, Mauritania, Mauritius, Mexico, Micronesia, Moldova, Monaco, Mongolia, Morocco, Mozambique, Myanmar, Namibia, Nauru, Nepal, New Zealand, Nicaragua, Niger, Nigeria, Niue, Oman, Palau, Palestine, Panama, Papua New Guinea, Paraguay, Peru, Philippines, Qatar, Rwanda, Saint Kitts and Nevis, Saint Lucia, Saint Vincent and the Grenadines, Samoa, San Marino, Sao Tome and Principe, Saudi Arabia, Senegal, Serbia, Seychelles, Sierra Leone, Singapore, Solomon Islands, Somalia, South Africa, South Sudan, Sri Lanka, Sudan, Suriname, Sweden, Switzerland, Syria, Tajikistan, Tanzania, Thailand, Timor-Leste, Togo, Tonga, Trinidad and Tobago, Tunisia, Turkmenistan, Tuvalu, Uganda, Ukraine, United Arab Emirates, Uruguay, Uzbekistan, Vanuatu, Venezuela, Viet Nam, Yemen, Zambia, Zimbabwe. |
| Umbrella states | 32 | Albania, Armenia, Australia, Belarus, Belgium, Bulgaria, Canada, Croatia, Czechia, Denmark, Estonia, Germany, Greece, Hungary, Iceland, Italy, Japan, Latvia, Lithuania, Luxembourg, Montenegro, Netherlands, North Macedonia, Norway, Poland, Portugal, Romania, Slovakia, Slovenia, South Korea, Spain, Turkey. |
| Nuclear-armed states | 9 | China, France, India, Israel, North Korea, Pakistan, Russia, United Kingdom, United States. |
Challenging inconsistent stances on nuclear weapons
A nuclear-armed state is exceedingly unlikely to risk nuclear war for anything other than serious or even existential threats to its own national security. But even with the credibility problems inherent in policies of extended nuclear deterrence, umbrella states are complicit in the retention of nuclear weapons. Their role in both enabling nuclear armament and preventing progress towards nuclear disarmament received little attention before the negotiation of the TPNW.
The nuclear-armed states and the umbrella states' commitment to nuclear disarmament has been found wanting. For decades before the TPNW was adopted in 2017, the focus of the international community was not on nuclear disarmament, but rather on non-proliferation, counter-proliferation, and arms control measures, where the underlying logic is that nuclear weapons have value and that nuclear deterrence as a system will, and indeed must, continue. The promise of nuclear disarmament has often been used to legitimise these measures not in order to advance nuclear disarmament, but to sustain a status quo.

The TPNW was a product of profound concern about this apparent permanence of nuclear weapons in world politics. Opponents of the Treaty have framed it as a destabilising act that threatens an established but precarious nuclear order and its rules. The commitment to realise nuclear disarmament (and by extension the TPNW) has been rejected as a desirable objective, in favour of an open-ended commitment to work towards it, seemingly in perpetuity. The possibility of eliminating nuclear weapons from world politics, in the way that for example chemical and biological weapons can be, has also been rejected, on the basis that nuclear weapons cannot be 'uninvented' and nuclear disarmament is only possible through a radical transformation of global politics. Since the system of international politics in which nuclear weapons were invented is unlikely to change, it is claimed that they will have to stay, whether we like it or not. This is presented as the reality of world politics. Nuclear weapons remain permanently relevant based on this world view. Moreover, they are framed as the solution to the security dilemmas they themselves produce. In this context, nuclear deterrence is depicted as necessary while alternative views are derided as unrealistic and dangerous.
The TPNW reflects a different view, insisting that nuclear weapons can be eliminated from world politics without a wholesale transformation of the current system of states in an era of complex global interdependence. Over the longer term, the TPNW represents a significant challenge to the power structures of global nuclear politics by explicitly challenging the legitimacy of nuclear weapons and nuclear deterrence. It is an expression of collective resistance to the practices and ideas that continue to legitimise and perpetuate the existence of nuclear weapons and the risks of catastrophic nuclear violence. In this context, the TPNW challenges the deeper structures of global nuclear order, whether or not its supporters intend it to be so.
Supporters of the TPNW do not claim it will 'magically' cause nuclear disarmament, as critics of the Treaty suggest. They recognise that it must be complemented by many more steps and agreements. They do, however, argue that the global legal-normative context of nuclear weapons matters and that changing this context in support of nuclear disarmament is an essential process. A prohibition treaty has often preceded the elimination of unacceptable weapons, such as chemical weapons (whose use was first banned in warfare at the Hague Peace Conference in 1899, 93 years before the adoption of the Chemical Weapons Convention). From this standpoint, the TPNW is also part of a wider process of re-legitimising multilateralism, reinforcing the importance of institutions and norms in shaping world politics (especially the politics of violence), and demonstrating the possibilities of collective action on issues of global import.
The TPNW requires nuclear-armed states and umbrella states to end their inconsistent stances and choose: nuclear weapons, yes or no. So far, they have all opted for the continuance of nuclear weapons. Some of the umbrella states, however, are more internally conflicted than others on the TPNW. This was manifested in an open letter in support of the TPNW, published on 21 September 2020 and signed by 56 former presidents, prime ministers, foreign ministers, and defence ministers from 20 such states in NATO as well as Japan and South Korea.

The entry into force of the TPNW on 22 January 2021 as binding international law marked the next step in the process of establishing the authority of the Treaty and its norms and rules in world politics. Further signatories up to and then beyond the 122 that voted in support of adopting the Treaty at the UN in 2017 and further ratifications will continue the process of accruing global authority.