The context of the TPNW
As fear of nuclear war in 2022 surged to the highest levels since the Cold War, the fractures in the 'global nuclear order' deepened – between nuclear-armed states, within umbrella states, and between non-nuclear-armed states and nuclear-armed states. Two themes dominated: Russia's war of aggression in Ukraine and nuclear threats on the one side, and the further embedding of the Treaty on the Prohibition of Nuclear Weapons (TPNW) on the other.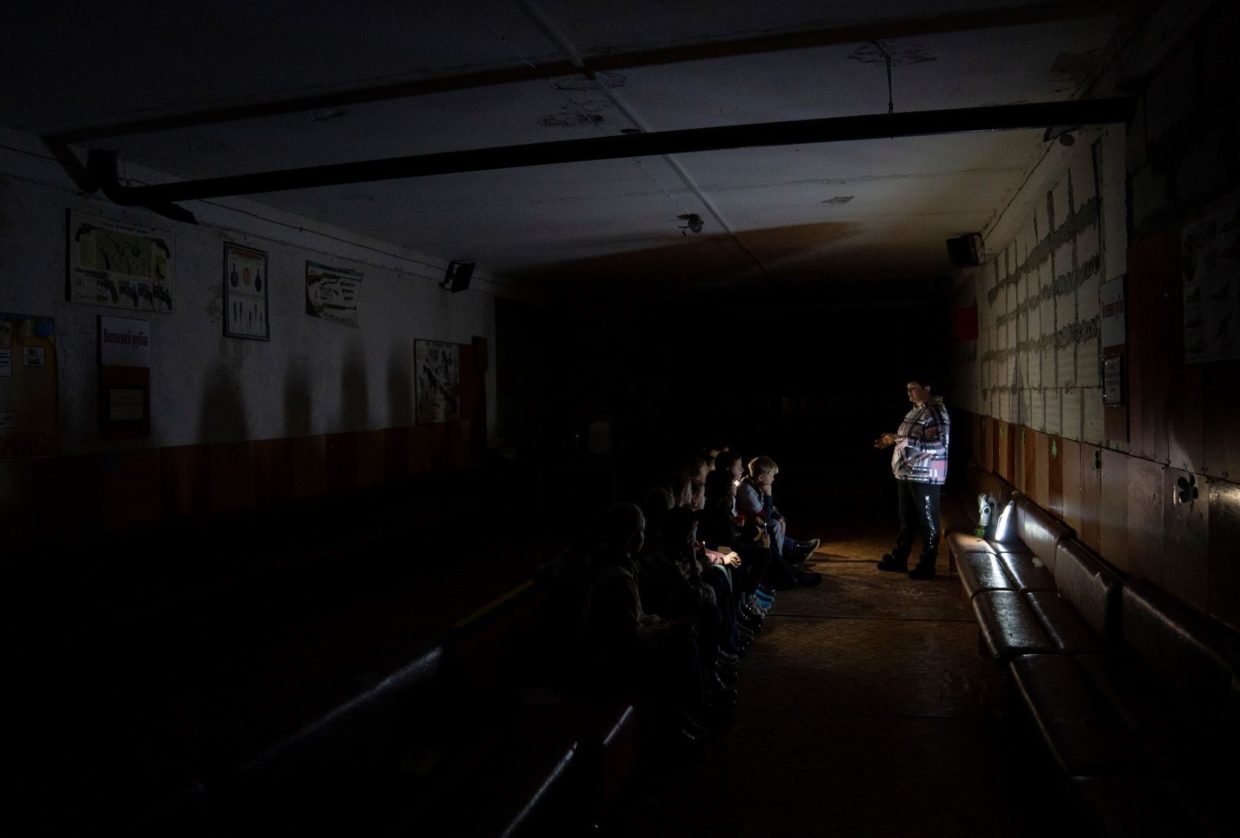 It is clear that, as far as Moscow is concerned, it has successfully used the threat of escalation to nuclear use to deter the North Atlantic Treaty Organization (NATO) from entering the war directly on Ukraine's side. This was compounded by statements from United States (US) President Joe Biden, who said before the Russian invasion that US forces would not be directly involved for fear of escalation to 'World War III'.1

2In this sense, the war in Ukraine appears to have validated nuclear 'deterrence' and the containment of the conflict to Ukraine, at the time of writing. But there are problems with this picture. First, irrespective of the possibility of escalation to nuclear violence, there are many reasons for NATO leaders not to enter the conflict directly and risk escalation to a major conventional war between NATO and Russia, especially for the Biden administration that had finally extricated the United States from its long war in Afghanistan in August 2021. It is therefore legitimate to ask what the added deterrence role of Russia's nuclear threats has really been. Second, the deterrence logic that Russian nuclear threats should prevent more direct Western military intervention has been deeply frustrating to many in Europe and the US, and indeed has been actively resisted by some. In particular, there were widespread calls for a no-fly zone to stop Russia's aerial attacks against Ukraine. These often went hand-in-hand with reassurances that any escalation this might induce would be controlled because of a shared fear between Russia and NATO governments of the fighting getting out of control.3 Convincing yourself you know the other's red lines and that you can push right up to or even cross them while managing escalation, based on the idea of a shared understanding of nuclear deterrence and escalation control between enemies, remains a very big bet to place.
Third, the war has demonstrated once again that leaders of nuclear-armed states are capable of profound strategic miscalculation.This reinforces widespread concerns about the reliability in practice of nuclear deterrence in crisis situations in which decisions are made by fallible people in fallible organisations. Under any circumstances, the war in Ukraine has highlighted the limits of what nuclear weapons can do: they did not deter Russian aggression; they have not aided Russia in its military quest to take Ukraine; they cannot win the war for Russia; and they are only potentially useful for preventing a nuclear war while incentivising risk-taking that could lead to that very outcome.
Beyond nuclear deterrence
If the war in Ukraine ends without the use of nuclear weapons, advocates of nuclear deterrence will insist that this outcome was preordained and that the effectiveness of nuclear deterrence has been 'proven' once again. Other scholars and policymakers argue that the Ukraine crisis should stimulate processes of critical re-evaluation in nuclear-armed states and umbrella states of the value they place on nuclear weapons and nuclear 'deterrence'. Stephen Young of the Union of the Concerned Scientists wrote in September 2022 that '[t]he world should not tolerate a status quo in which any nuclear-armed country can conduct conventional wars with impunity, slaughter tens of thousands and seize and annex territory, simply because its nuclear arsenal inhibits a strong military response. The international security system should not work that way.' He continued: 'It turns out nuclear weapons don't "keep the peace." Quite the contrary, they enable conventional conflicts where escalation to the "ultimate weapon" is entirely too possible.'4
Ripple effects

The nuclear dimensions of the Ukraine conflict rippled through nuclear politics in different ways. Hopes of a resumption of US-Russia nuclear arms control talks were dashed, when Russia in November 2022 postponed a meeting scheduled to take place in Egypt, before President Putin announced in February 2023 that Moscow would suspend its participation in the New START Treaty, the last remaining nuclear arms control treaty with the United States.5 In the context of the US-China rivalry, the invasion of Ukraine generated much speculation in 2022 about how the United States would respond to a decision by Beijing to invade Taiwan, including on nuclear use.6
2Finland and Sweden's decisions to reject the TPNW, join NATO, and subscribe to its nuclear doctrine highlight how the value of nuclear weapons is being reinforced as far as nuclear-armed states are concerned and how some non-nuclear-armed states are leaning towards the security logic of nuclear deterrence rather than disarmament. A fresh round of calls was also sparked in Germany for the country to develop its own nuclear weapons, or at least contribute financially to France's arsenal as a 'joint deterrent'.7 As discussed in other sections of this website, there was also an offer by Poland to host US nuclear weapons,8while Belarus agreed in principle on a nuclear-sharing scheme with Russia.9Moreover, North Korea's continuing advancement of its ballistic missile capabilities and nuclear-weapons programme led to a resurgence of support in South Korea to redeploy US nuclear weapons in South Korea or even develop its own nuclear weapons.10, 2
Umbrella states
In 2022, the so-called umbrella states, or states with arrangements of extended nuclear deterrence with one or more nuclear-armed states, continued to play an important role in perpetuating the idea that nuclear weapons are both legitimate and necessary. In doing so, they make nuclear disarmament more difficult. While there were few signs in the governments of umbrella states of reflection on the need to move beyond nuclear deterrence, South Korea did express concern during the year about the credibility and value of its arrangement of extended nuclear deterrence with the US, doubting that Washington would defend it in the event of a war with North Korea, where Kim Jong-un's arsenal of intercontinental ballistic missiles (ICBMs) would pose a potential threat to mainland US cities.10
As illustrated in the figure and detailed in the table below, the number of umbrella states remained at 32 in 2022,11while 156 states—four-fifths of the world's total of 197—maintained defence postures that at the time were based exclusively on non-nuclear means.

Increasing the authority of the TPNW
The second theme that shaped the politics of nuclear weapons and disarmament in 2022 was the further embedding of the TPNW. Supporters of the Treaty recognise that the only sustainable solution to the risks nuclear weapons engender is to firmly reject nuclear deterrence, get organised, and cooperate now on forging a path for elimination.
Against the backdrop of the Ukraine crisis, the First Meeting of States Parties to the TPNW (1MSP) was held in Vienna on 21–23 June 2022. This meeting, which adopted the Treaty's first Action Plan and Declaration, represented a major step forward in increasing the authority of the Treaty as an institution in world politics and in setting in motion processes to further stigmatise and delegitimise nuclear weapons and develop 'a robust global peremptory norm against them'.12 The Action Plan sets out commitments and practical actions for the states parties to undertake on universalisation of the Treaty; the elimination of nuclear weapons; victim assistance; environmental remediation; international cooperation and assistance; complementarity with other treaties; an inclusive and cooperative approach among the Treaty's stakeholders; and implementing the gender provisions of the Treaty. A Scientific Advisory Group, a Coordinating Committee, and informal working groups were established to support implementation in the intersessional period.
One analyst, Tarja Cronberg, noted the 1MSP's demonstration of 'political will for nuclear disarmament, the commitment to get rid of nuclear weapons, and the will to create mechanisms for this.' She also noted that this was belittled by certain observers who referred to the fact that none of the nuclear-weapon states was present, and added: 'While this is true, a parallel with the feminist movement indicates that in the first phases of radical change, it is important for the like-minded to meet first among themselves.'13
Early signs of constructive engagement
In several NATO states, there was widespread support for joining the TPNW as well as being an active member of the NATO alliance. Pressure from the nuclear-armed members of the alliance has so far rendered this a binary either/or choice, but it need not be so. The challenge remains one of carving out political space within NATO to be full members of a military alliance while rejecting nuclear deterrence and working to achieve mutual and balanced nuclear disarmament through the TPNW.23

The Philippines, a state party to the TPNW, is an interesting example of how TPNW membership and US security guarantees are not as incompatible as is often alleged. In November 2022, US Vice President Kamala Harris travelled to the Philippines to launch 'new initiatives to strengthen the US-Philippines Alliance'. Washington will defend the Philippines if it comes under attack in the South China Sea, pledged Harris, reaffirming the United States' 'unwavering' commitment.14 A White House statement issued on the occasion said: 'Now and always, the U.S. commitment to the defense of the Philippines is ironclad.'15 Other US partners in the 'major non-NATO ally' category have also signed or ratified the TPNW. These include Brazil, Colombia, New Zealand, and Thailand.

The United States has sought to sustain consistent opposition to the TPNW among all members of NATO and other military allies under its 'nuclear umbrella'. Nevertheless, Australia, Belgium, Germany, the Netherlands, and Norway decided to participate as observers at the 1MSP, showing early signs of positive will to engage constructively with the Treaty and its members, while not yet prepared to adhere to it. In its statement to the 1MSP, Germany said it believes that 'supporters and sceptics of the TPNW can work shoulder to shoulder' and that it 'is committed to engaging in constructive dialogue and exploring opportunities for practical cooperation.' Germany also stated that it 'especially value[s] the humanitarian perspective put forward' in the TPNW.'16
Common challenges
Ahead of the 1MSP, Austria hosted the Vienna Conference on the Humanitarian Impact of Nuclear Weapons, to discuss existing and planned research on the humanitarian consequences and risks of nuclear weapons. 'The humanitarian perspective has transformative and unifying potential for the urgently needed reinvigoration of nuclear disarmament', said Austria's Federal Minister for European and International Affairs Alexander Schallenberg in his opening address to the conference.17
As a result of the efforts of TPNW supporters, but also constructive sceptics like Germany, the ideas, principles and discourses of the humanitarian initiative that generated the TPNW moved from the margins of nuclear disarmament diplomacy to a more mainstream position in 2022. At the Tenth Review Conference of the Treaty on the Non-Proliferation of Nuclear Weapons (NPT) in August 2022, the draft outcome document, which ultimately was not adopted, recognised key aspects of the humanitarian initiative.18 This opened up common areas of interest across NPT groupings. Chief among these is nuclear disarmament verification, but increasingly also the irreversibility of nuclear disarmament, victim assistance and environmental remediation after nuclear-weapons testing, and gender and inclusivity.
Competing perspectives on the value and legitimacy of nuclear weapons reflect different paradigms of national and global security. Yet the potential for nuclear omnicide means that a security paradigm of common, shared world security has become a strategic necessity. The need to address the inescapable challenges of climate change and our rapidly heating planet has also made this necessity unambiguously clear. This is a fact of which the younger generation is acutely aware. A national, militarised security paradigm within which retaining and modernising national nuclear armouries and threats of nuclear war are seen to make sense, is one that is incapable of dealing with existential transnational challenges. The extent to which we make progress or not on nuclear disarmament will therefore shape the scope for international cooperation on climate action and vice versa.19
The nuclear-armed states claim that now is not the time for reductions in their nuclear arsenals, and with the risk of nuclear use in Ukraine umbrella states are even less inclined than in the past to challenge this view. But, as a flagship UN report on climate change published in 2022 said, if we want to limit global warming to 1.5 degrees, it is 'now or never'.20 This, then, is the overarching common challenge: reconfiguring and transforming our notions of security 'common sense' to prioritise profound, existential transnational challenges, which include the threat of nuclear war.