The obligation to adopt national implementation measures
National implementation measures build greater confidence between states parties that obligations are being fully implemented, and are an obligation under the TPNW. Ireland and Algeria are examples of states that have already adopted such national implementation measures; one of a legal nature and one of an administrative nature.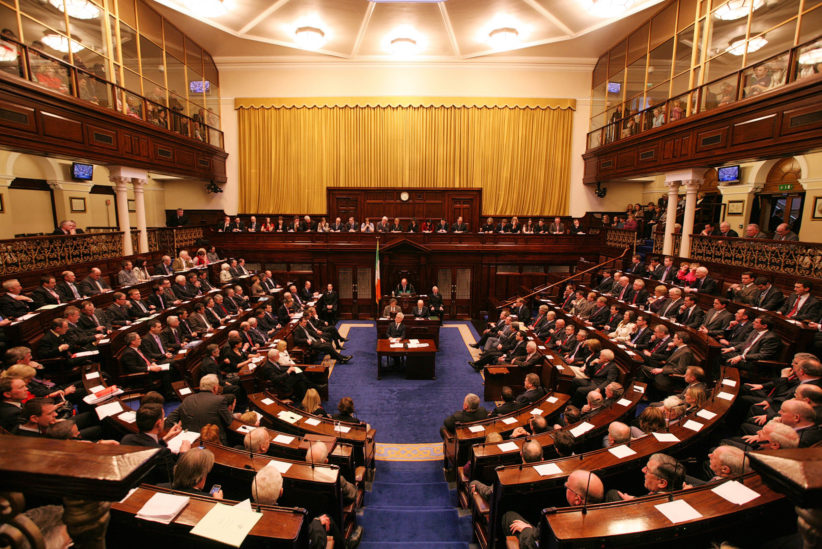 To the knowledge of the Nuclear Weapons Ban Monitor, Ireland is the only state party that thus far has adopted national legislation specifically to implement the TPNW. Algeria, which has signed but not yet ratified the TPNW, has taken other early action that would constitute national implementation measures by establishing a National Agency for the rehabilitation of areas contaminated after nuclear-weapons testing.
ARTICLE 5 - INTERPRETATION
Article 5 of the TPNW obligates every state party to take 'the necessary measures' to implement its obligations under the Treaty. This paragraph applies to all of the Treaty's obligations, whether prohibitions or positive obligations.
Paragraph 2 of Article 5 stipulates that the duty to implement the Treaty nationally includes the taking of 'all appropriate legal, administrative and other measures, including the imposition of penal sanctions, to prevent and suppress' any prohibited activity. It concerns any such prohibited activity whether it is undertaken by natural or legal persons under its jurisdiction or control or on territory under its jurisdiction or control.

Appropriate national legislation should cover at the least all of the core prohibitions set forth in Article 1 of the Treaty.

The International Committee of the Red Cross (ICRC) has developed and published a model law for common-law States which can serve as a valuable basis for States Parties to the TPNW to draft and enact such legislation.
The CTBT and the CWC also require national implementation measures, but there is no such obligation in the NPT or the NWFZ treaties.
Legislation
New national legislation should be adopted by each state party to the TPNW that does not yet have in place laws to criminalize the acts prohibited by the Treaty and, where necessary, to implement its positive obligations. Most non-nuclear-armed states are already today implementing most of the core prohibitions of the TPNW. As illustrated by the table below, this is because they practise nuclear-weapon-free security policies, are states parties to the NPT, the CTBT, and NWFZ treaties, and because they have safeguards agreements with the IAEA. They therefore typically already have in place appropriate national measures, including legislation that addresses some or all of the obligations under the TPNW. Accordingly, the adoption of new national legislation to implement the TPNW may not be necessary.
Nuclear-weapons related prohibitions in the TPNW, NPT, CTBT, NWFZ treaties, and IAEA safeguards.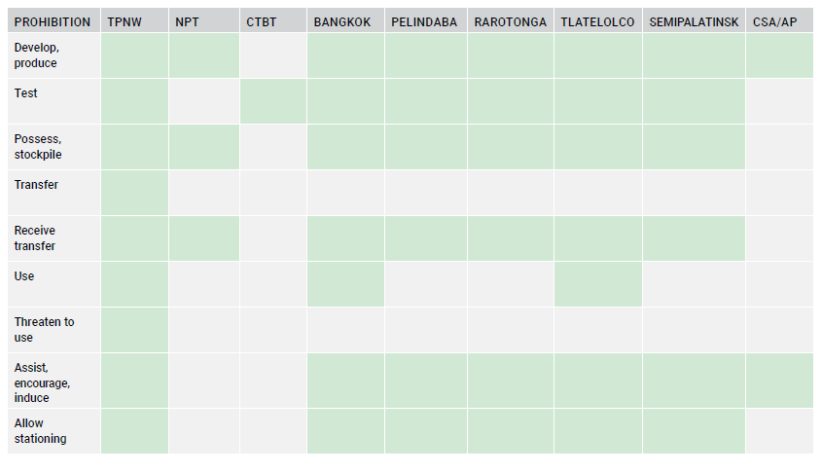 Crucially, however, all states parties to the TPNW have to establish whether their existing national laws would make it illegal for a national or any other person under their jurisdiction or control to develop, produce, possess, transfer, or use nuclear weapons or to assist any other person to do so, and whether they could prosecute them. If the answer is a clear yes, they have the required national legislation. In most states, engaging in conduct prohibited by the TPNW would ordinarily be a crime even if it is not specifically outlawed, because the handling of dangerous substances (which would encompass nuclear material) is prohibited.
Another reason why a state party may not see the need to adopt new legislation is that in many cases (those with a monist constitutional law system), a ratified international treaty may automatically become part of national law. That said, the Nuclear Weapons Ban Monitor recommends that all states parties adopt dedicated legislation to implement the TPNW. This can also be the simplest and best solution, rather than undertaking a complex mapping of existing legislation.
TPNW state party Ireland adopted its Prohibition of Nuclear Weapons Act in 2019. The Act, which was signed into law by the Irish President in December 2019, is formally entitled an 'Act to give effect to the Treaty on the Prohibition of Nuclear Weapons done at New York on 7 July2017 and for those purposes to provide for offences relating to acts prohibited by that Treaty; and to provide for related matters'. The list of offences in Section 2 of the Act reflects Article 1(1)of the TPNW and an offence may be committed by both an individual and a company.
The Irish Act defines a nuclear weapon or other nuclear explosive device a little narrowly as 'any weapon or other explosive device capable of releasing nuclear energy that is designed for a hostile purpose or for use in armed conflict, and includes such a weapon or device in unassembled or partly assembled forms but does not include the means of transport or delivery of such a weapon or device if separable from, and not an indivisible part of, such a weapon or device'. Of course, a nuclear explosive device designed for 'peaceful purposes' would also be unlawful under the TPNW. Accordingly, a late amendment to the Bill, presented without opposition in the Irish Parliament on 20 November 2019, incorporated a presumption that any weapon or explosive device releasing nuclear energy is 'presumed to be designed for a hostile purpose'.
TPNW states parties New Zealand and Mongolia are examples of countries that already before adhering to the TPNW had in place comprehensive existing legislation that addresses some or all of the obligations under the Treaty. The 1987 New Zealand Nuclear Free Zone, Disarmament, and Arms Control Act prohibits the manufacture, acquisition, possession, or taking control over any nuclear explosive device as well as the transport on land or inland waters or internal waters and deployment of any nuclear explosive device in the NewZealand Nuclear Free Zone.
Mongolia adopted a Law on its nuclear-weapon-free status in 2000. Article 4 of the Law prohibits any natural or legal person or any foreign state from involvement in the development, manufacture, acquisition, possession, or control over nuclear weapons, their stationing or transportation, or their testing or use anywhere on Mongolian territory.
Further valuable additional information on national implementation measures was provided to the Nuclear Weapons Ban Monitor by a number of TPNW States Parties in 2021,in response to a questionnaire that was sent to all states parties. Saint Kitts and Nevis intends to adopt specific implementing legislation on the Treaty, if possible in 2022. Currently, many of the prohibitions are effectively covered by the country's 2002 Anti-Terrorism Act. The new legislation would seek also to cover the TPNW's positive obligations, which are not addressed by existing laws in force in Saint Kitts and Nevis.
According to Article 133 of Mexico's Federal Constitution, international treaties signed by the President of the Republic and ratified by the Senate, are the supreme law of the country. Already in 1967, Mexico signed the Treaty for the Prohibition of Nuclear Weapons in Latin America and the Caribbean (Treaty of Tlatelolco). Mexico is also the depositary of that Treaty. Mexico has also informed the Nuclear Weapons Ban Monitor that while existing provisions of its criminal law largely address the prohibitions in the Treaty, it is in the process of finalizing a draft of a Non-Proliferation Law, which will include specific provisions on the implementation of the TPNW.
The Gambia has also stated that it intends to take measures to give effect to the TPNW at domestic level. The Gambia already has 'a self-imposed moratorium on the development, production, use, transfer of nuclear material (e.g. uranium) and provision of assistance to the development, production, transfer or use of nuclear weapons or their key components'. The Gambia further notes that it does not have the capability to develop or produce nuclear weapons and that the country does not have uranium deposits.
Administrative measures
Beyond the adoption of legislation, other measures, including of an administrative nature, need to be taken to implement the Treaty. Clear instructions should for instance be given to a state party's diplomats to promote adherence to the Treaty among other states. Preparation may also be needed within government for how to respond to requests for international cooperation and assistance from other states parties. In particular, clear instructions should be given to the administrators of the national health system to ensure the provision of assistance to any victims of nuclear-weapons use or testing who are resident in each state party. For some states, there may also be a need for national measures to enable environmental remediation of affected land.
As mentioned above, TPNW signatory Algeria already in May 2021 adopted a Prime Ministerial Decree that created and mandated a National Agency for the rehabilitation of the former French nuclear test sites in the south of Algeria. The Agency is empowered to contract and manage rehabilitation works and to seek national and international assistance for theseoperations.251