The obligation to adopt national implementation measures
All states parties to the TPNW are obligated to take 'the necessary measures' to implement its obligations under the Treaty. Appropriate national legislation should be adopted by all states parties that do not yet have such laws in place.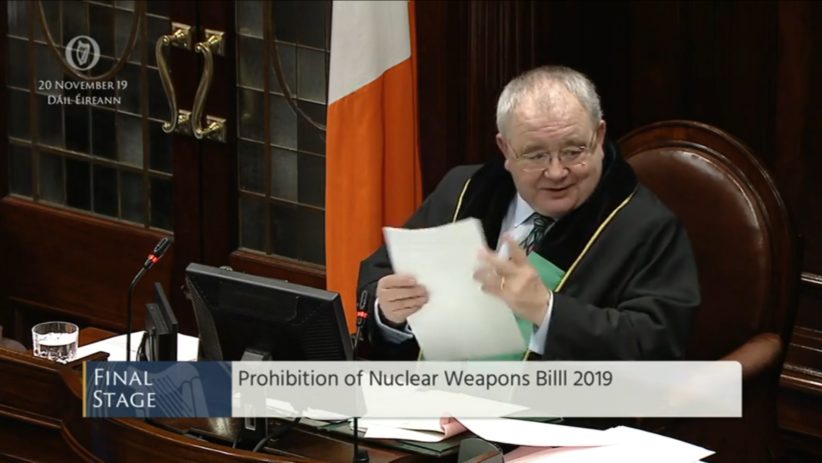 INTERPRETATION
Article 5 of the TPNW obligates every state party to take 'the necessary measures' to implement its obligations under the Treaty. This paragraph applies to all of the Treaty's obligations, whether prohibitions or positive obligations.
Paragraph 2 of Article 5 stipulates that the duty to implement the Treaty nationally includes the taking of 'all appropriate legal, administrative and other measures, including the imposition of penal sanctions, to prevent and suppress' any prohibited activity. It concerns any such activity whether it is undertaken by natural or legal persons under its jurisdiction on territory under its jurisdiction or control.
The ICRC has developed and published a model law for common-law states which serves as a valuable basis for states parties to draft and enact suitable legislation.

To the knowledge of the Nuclear Weapons Ban Monitor, only one state has adopted legislation specifically to implement the TPNW thus far. Ireland, which has signed and ratified the Treaty, adopted its Prohibition of Nuclear Weapons Act in 2019. The Act, which was signed into law by the Irish President in December 2019, is formally entitled an 'Act to give effect to the Treaty on the Prohibition of Nuclear Weapons done at New York on 7 July 2017 and for those purposes to provide for offences relating to acts prohibited by that Treaty; and to provide for related matters'. The list of offences in Section 2 of the Act reflects Article 1(1) of the TPNW. The Irish Act defines a nuclear weapon or other nuclear explosive device quite narrowly as 'any weapon or other explosive device capable of releasing nuclear energy that is designed for a hostile purpose or for use in armed conflict, and includes such a weapon or device in unassembled or partly assembled forms but does not include the means of transport or delivery of such a weapon or device if separable from, and not an indivisible part of, such a weapon or device'. Of course, a nuclear explosive device designed for 'peaceful purposes' would also be unlawful.
Other states do, though, have legislation that addresses some or all of the obligations under the Treaty. The most comprehensive examples of such legislation are those adopted in TPNW state party New Zealand (which is also a party to a regional NWFZ) and Mongolia (which has unilaterally renounced nuclear weapons). The 1987 New Zealand Nuclear Free Zone, Disarmament, and Arms Control Act prohibits the manufacture, acquisition, possession, or taking control over any nuclear explosive device as well as the transport on land or inland waters or internal waters and deployment of any nuclear explosive device in the New Zealand Nuclear Free Zone.
Mongolia, which has not yet signed theTPNW, adopted a Law on its nuclear-weapon-free status in 2000. Article 4 of the Law prohibits any natural or legal person or any foreign state from involvement in the development, manufacture, acquisition, possession or control over nuclear weapons, their stationing or transportation or their testing or use anywhere on Mongolian territory. On 17 September 2012, the five permanent members of the UN Security Council declared that they recognise the unique status of Mongolia and would not do anything that would violate that status and issued (on 5 October 2000) a similar statement concerning security assurances for Mongolia.