The obligation to submit declarations and reports
The first 56 states parties duly submitted the declaration required by Article 2 of the Treaty detailing their nuclear-weapons status. Five of the states parties — Dominica, The Gambia, Honduras, San Marino, and the Seychelles — submitted their respective declarations after their 30-day deadline, however.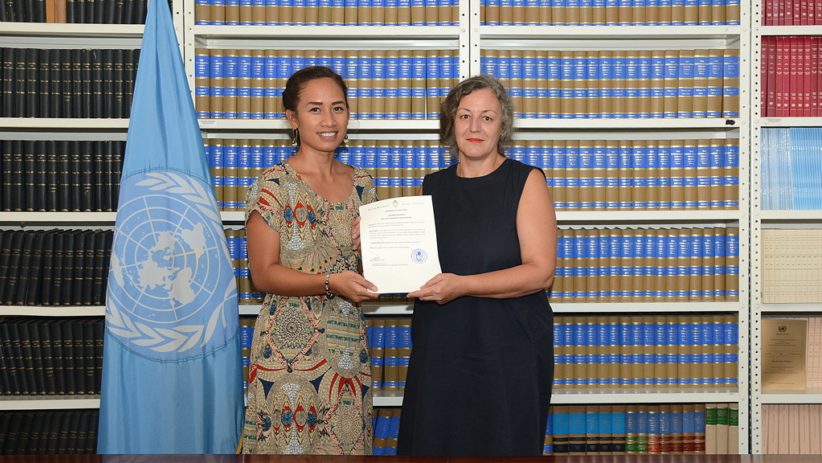 ARTICLES 2 AND 4 - INTERPRETATION
Article 2 of the TPNW imposes a duty on each state to submit a declaration to the UN Secretary-General within 30 days of becoming party to the Treaty.
The declaration must clarify whether the state party has ever owned, possessed, or controlled nuclear weapons or other nuclear explosive devices. If it has, it must further declare whether it has already eliminated its nuclear-weapon programme, including by destroying or irreversibly converting all nuclear-weapons-related facilities, or whether it still owns, possesses, or controls any nuclear weapons or other nuclear explosive devices.
Finally, the declaration must state whether foreign weapons or devices are located – stockpiled, stationed, deployed, or installed – either in its territory or in any other place under its jurisdiction or control.
The overwhelming majority of potential states parties are non-nuclear-armed. Once the requisite Article 2 declaration has been submitted by a non-nuclear-armed state party, there is no further obligation to submit reports on compliance with, and implementation of, the Treaty. (This does not preclude the voluntary submission of reports, however, and the Nuclear Weapons Ban Monitor recommends that each State Party submit a report to each meeting of states parties and each review conference on the measures it has taken to adopt national implementation measures, implement victim assistance, remediation of affected territory, cooperation and assistance among states parties, and the promotion of universality of the Treaty.)
For potential states parties that formerly possessed or currently possess nuclear weapons and states that have foreign nuclear weapons on their territory or in any place under their jurisdiction or control, Article 4 imposes a duty to submit a report to each meeting of states parties and each review conference on the progress made towards the implementation of its obligations under that article, until such time as they are fulfilled.
For a further three states parties — Mongolia, Guinea- Bissau, and Peru — the deadline to submit a declaration is in 2022. The applicable deadlines for all states parties and the dates the declarations were received can be found in their respective state profiles in this report. The declarations are all posted on the UN Office for Disarmament Affairs (UNODA) website.
Kazakhstan
Of the 59 states parties, Kazakhstan and South Africa are former nuclear-armed states. In its Article 2 declaration, Kazakhstan recalled the devastating consequences of the 456 nuclear tests conducted on its soil over four decades and the decision in 1991 of the First President of Kazakhstan, Nursultan Nazarbayev, to close the Semipalatinsk nuclear test site and 'renounce the fourth largest nuclear arsenal in the world'. It declared that, in accordance with the 1992 Protocol (Lisbon Protocol) to the Strategic Arms Reduction Treaty (START I), on 14 February 1994 Kazakhstan acceded to the NPT as a non-nuclear-weapon state party, and 'in that connection it voluntarily renounced its inherited part of the Soviet Union's nuclear arsenal and dismantled all related military and technical infrastructure'. It further confirmed that 'all nuclear weapons and nuclear explosive devices on its territory were transported to the Russian Federation while all nuclear-weapons-related facilities were irretrievably eliminated'.
South Africa
South Africa declared that it had developed nuclear explosive devices in the 1970s and 1980s but had abandoned its nuclear-weapons programme in 1989. It further noted that in 1994 the IAEA had confirmed that one partially completed nuclear weapon and six completed weapons had been dismantled by South Africa. Since abandoning its nuclear-weapons programme and adhering to the NPT, 'no other nuclear explosive devices have ever been manufactured, stationed or tested in the South African territory'.
Palestine
Palestine, part of whose territory is occupied by Israel, stated that 'the occupying Power bears full and sole responsibility for any actions in relation to its unlawful nuclear programme undertaken in the Occupied Palestinian Territory, in violation of the treaty and of the State of Palestine's sovereignty and rights'.
Cuba
Cuba, which famously had Soviet nuclear missiles covertly stationed on its territory in 1962 leading to the Cuban Missile Crisis, submitted a declaration stating that part of its own sovereign territory was illegally occupied by the United States and that it does not know whether the United States, 'in violation of Article 1' of the Treaty, has developed, produced, or deployed nuclear weapons there, or whether it intends to do so. Cuba had stated upon ratification of the TPNW that the declarations that states parties are required to make under Article 2 'must include information on any activity they carry out that is prohibited under Article 1'.
______________________________
Note that given the delay that may occur between submission of a declaration and its formal receipt being registered by the UN Office for Disarmament Affairs (UNODA), the Nuclear Weapons Ban Monitor considers that a state party has violated its Article 2 obligation if receipt of the declaration by UNODA is recorded more than five days after its treaty deadline.