The obligation to promote universality of the Treaty
With the goal of universal adherence to the TPNW, its states parties are obligated to encourage other states to adhere to it. Many states promoted the universalisation of the TPNW in their statements during the UN General Assembly also in 2020.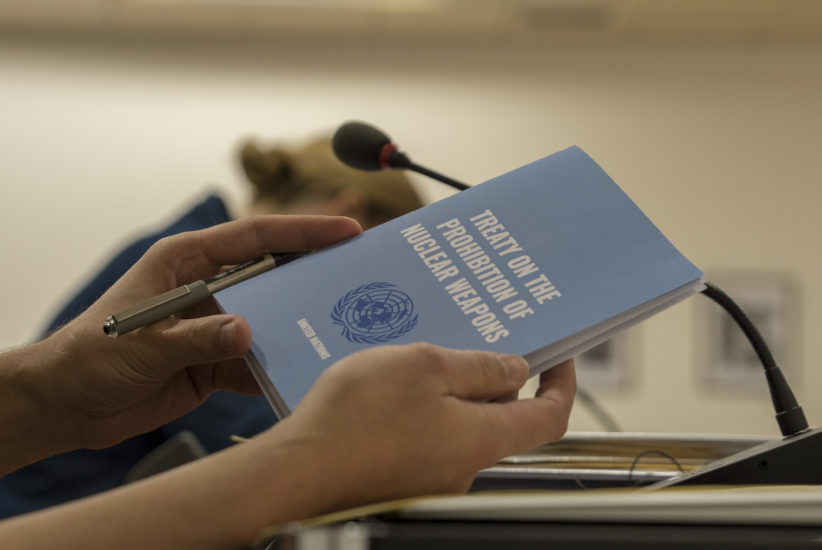 INTERPRETATION
Article 12 of the TPNW obligates each state party to encourage states not party to to sign or ratify the Treaty, 'with the goal of universal adherence'.
The manner and frequency of the actions to be taken are not set out in the provision and are therefore left to the discretion of the state party. That said, any state party that sought to discourage adherence to the TPNW by a state not party would be in violation of this provision.
The vast majority of the states participating in a high-level meeting on 2 October 2020 to commemorate the International Day for the Total Elimination of Nuclear Weapons (an annual observance that takes place each year on 26 September) welcomed the adoption of the TPNW. Among others, the President of the General Assembly, African Group, Arab Group, Colombia, Comoros, Equatorial Guinea, Kazakhstan, Mauritania, Mauritius, Nepal, Peru, Saint Vincent and the Grenadines, and South Africa highlighted the importance of the TPNW, with some explaining how it complements other international law on nuclear weapons. Bangladesh, Bolivia, Botswana, Ghana, Ireland, Kiribati, Lesotho, Malaysia, Malta, Nicaragua, Nigeria, Trinidad and Tobago, Uruguay, and Viet Nam highlighted that they have signed and ratified this Treaty, while the African Group, Antigua and Barbuda, Austria, Costa Rica, Cuba, the Democratic Republic of the Congo (DR Congo), Ecuador, Ghana, Maldives, Namibia, Nicaragua, Palau, the Pacific Small Island Developing States (PSIDS), Thailand, and Trinidad and Tobago urged all states to join it.

Austria, Brazil, Costa Rica, Indonesia, Ireland, Mexico, New Zealand, Nigeria, South Africa and Thailand, in collaboration with ICAN, organised a webinar on 23 October 2020 to discuss the entry into force of the TPNW.

Social media is also used by many states to promote the TPNW. One example was a video released by New Zealand's Prime Minister Jacinda Ardern in connection with the 75th anniversary of the atomic bombings of Hiroshima and Nagasaki, where she urged all other states to join New Zealand in ratifying the TPNW, 'as a necessary step towards the total elimination of nuclear weapons, and in pursuit of global negotiations involving all nuclear weapon possessors to achieve nuclear zero'.

A 'universalisation contact group' was established by ICAN in August 2020 as an informal mechanism to facilitate TPNW states parties' implementation of their obligation under Article 12 by exchanging information and suggestions related to universalisation.