The obligation to eliminate nuclear weapons
All of the nine nuclear-armed states remain unwilling to adhere to, or even engage constructively with, the TPNW. Their conduct in 2021 was manifestly incompatible with the Treaty's obligation to eliminate nuclear weapons. The Nuclear Weapons Ban Monitor estimates that a few hundred retired, older nuclear warheads were dismantled in Russia and the United States during the course of the year. However, no warheads were dismantled as part of a coherent plan to ultimately eliminate nuclear weapons.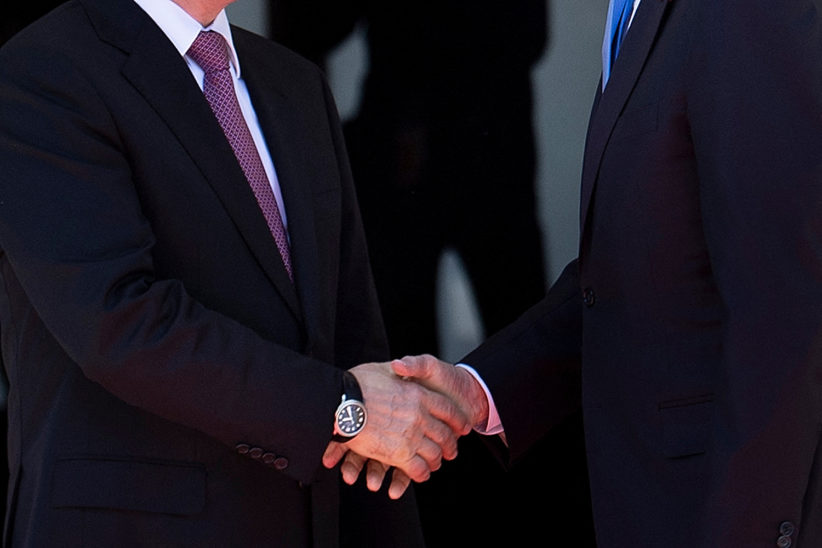 ARTICLE 4(1), (2), AND (6) – INTERPRETATION
In accordance with Article 4(6) of the TPNW, the states parties are explicitly obligated to designate a 'competent international authority or authorities' to negotiate and verify the irreversible elimination of nuclear weapons programmes.
The TPNW provides two pathways to the future adherence of nuclear-armed states: one for so- called destroy-and-join states ('Article 4(1) states') and a second for so-called join-and-destroy states ('Article 4(2) states').
Article 4(1) obligates those nuclear-armed states that destroy their nuclear weapons and eliminate their nuclear-weapons programme before adhering to the TPNW, to cooperate with the 'competent international authority' that states parties will designate to verify nuclear disarmament, in order to ascertain that its nuclear-weapon programme has been irreversibly eliminated.
Article 4(2) obligates those nuclear-armed states that decide to adhere to the Treaty before completing nuclear disarmament, to immediately remove the weapons or devices from operational status and to destroy them as soon as possible but not later than a deadline to be determined by the First Meeting of States Parties. The process of destruction must be detailed in a legally binding, time-bound plan that provides for the verified and irreversible elimination of that state party's nuclear-weapon programme, including the elimination or irreversible conversion of all nuclear-weapons-related facilities. Such a state must submit a draft of the plan to the other states parties or to the competent international authority within 60 days of becoming a party. The plan must then be negotiated with this authority and submitted to the next meeting of states parties or review conference, whichever comes first, for approval.
According to the Federation of American Scientists, the number of nuclear weapons in the world peaked in 1986 at around 70,300 warheads. That number has since been reduced by 82%, to the estimated 12,705 warheads at the beginning of 2022. These reductions were mainly done in the 1990s and early 2000s and mainly because of cuts in the massive US and Russian arsenals. Each year since then, including in 2021, the total number of warheads in the world has decreased slightly, but this is only because Russia and the United States each year dismantle a small number of their retired, older nuclear warheads.
As shown in the chart below overleaf, there has not been a parallel and continued gradual reduction of the number of warheads that are in fact available for use by the nuclear-armed states. The global total of usable stockpiles of nuclear warheads, or in other words the actual threat, plateaued from around the year 2007, and has been increasing since 2017. At the beginning of 2022, the global usable stockpile was approximately 9,440 warheads, while in 2017 it was 9,227.
The Nuclear Weapons Ban Monitor estimates that Russia and the United States together had 3,265 retired warheads awaiting dismantlement in January 2022. Dismantlement of retired, Cold-War-era nuclear weapons will soon be exhausted as a course of action to reduce the global nuclear arsenal. No further progress in nuclear disarmament will then be in sight, unless nuclear-armed states can agree that their current usable stockpiles are not indispensable.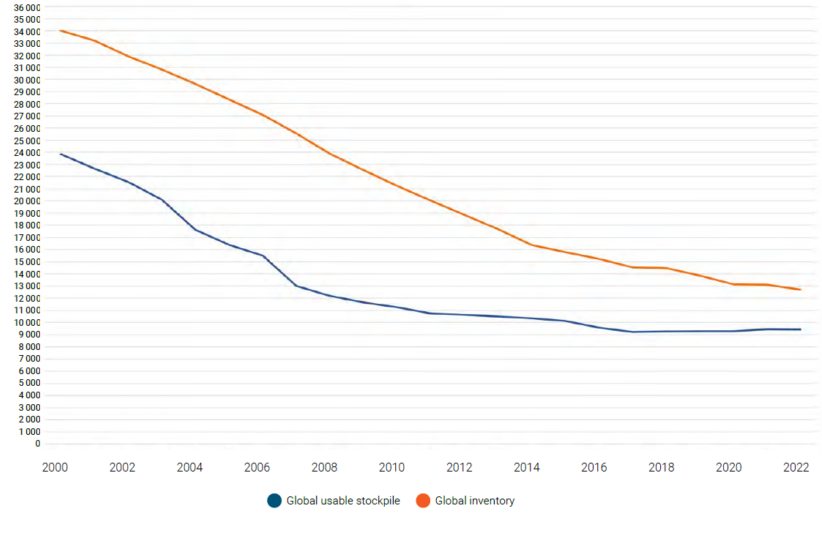 As of the end of 2021, however, there was no evidence that any of the nuclear-armed states have the will to purposefully pursue nuclear disarmament, or to develop plans for its realization. This is so, despite the fact that all of the nuclear-armed states claim to support nuclear disarmament and the pursuit of a world free of nuclear weapons.
The nuclear-weapon states that have adhered to the NPT are already subject to legally-binding nuclear disarmament obligations under that Treaty. Disarmament commitments made at the NPT's review conferences — such as the '13 Steps' to implement the Treaty's Article VI on disarmament, adopted in 2000, and the 'Action Plan' agreed upon in 2010 — have not been honoured. Nor have the four nuclear-armed states outside the NPT (North Korea, India, Israel, and Pakistan) taken steps towards disarmament.

The stance of the nuclear-armed states is that the prevailing security environment is not conducive to further reductions. Ultimately, they reject the commitment to actually achieve nuclear disarmament (and by extension the objective of both the NPT and the TPNW), in favour of an open-ended commitment to work towards it, seemingly in perpetuity. Their focus is not on nuclear disarmament, but rather on risk reduction, non-proliferation, counter-proliferation, and arms control measures, where the underlying logic is that nuclear weapons have value and that nuclear deterrence as a system will, and indeed must, continue.
Despite their repeated claims that they are pursuing nuclear disarmament, the United States and Russia have not engaged in nuclear disarmament negotiations of any kind for more than a decade. (New START, which did not limit stockpiles but limited the number of strategic nuclear weapons each state could deploy at any given time, was negotiated in 2009.) Not since the Reagan– Gorbachev summit meeting in Reykjavik in 1986 have the two discussed the complete elimination of their nuclear arsenals, or even the reduction to a maximum of for instance 1,000 nuclear weapons each. The first summit between presidents Joe Biden and Vladimir Putin, which took place in Geneva in June 2021, was therefore a unique opportunity. But while the two presidents agreed to 'lay the groundwork for future arms control and risk mitigation measures', there was no similar ambition for nuclear disarmament.
Advancing nuclear disarmament
The TPNW is stimulating political processes to advance nuclear disarmament by challenging the legitimacy of nuclear deterrence. The Treaty is also helping to create the conditions for nuclear disarmament by establishing a framework for verified and irreversible elimination of states' nuclear-weapons programmes. The value of the TPNW as a contribution to disarmament goals should therefore be recognized even by those states not yet ready to adhere to the Treaty themselves.

Supporters of the TPNW do not claim the new Treaty will 'magically' lead to nuclear disarmament, as critics sometimes suggest. They recognize that it must be complemented by other steps and agreements. They do, however, argue that the global legal-normative context of nuclear weapons matters, and accordingly that changing this context in support of nuclear disarmament is an essential process. A prohibition Treaty has often preceded the elimination of unacceptable weapons, such as chemical weapons (whose use was first banned in warfare by a treaty adopted at the Hague Peace Conference in 1899, 93 years before the adoption of the Chemical Weapons Convention).

Some nuclear-armed states, umbrella states, and NATO have in 2021 framed the TPNW as a call for 'unilateral' and 'unverifiable' disarmament. These claims are misleading. It is certainly possible for a nuclear-armed state to adhere to the Treaty and disarm without other nuclear-armed states doing the same, and it is important that such an option exists. (Indeed, many critics of the TPNW insist that for example North Korea should disarm unilaterally). Few would, however, expect for instance the United States or Russia to do so, and nuclear-armed states may therefore of course also commit under the TPNW to eliminate their nuclear-weapons programme through bilateral or multilateral disarmament arrangements that provide for mutual elimination.
Nuclear disarmament verification
No matter whether nuclear disarmament is achieved through unilateral, bilateral, or multilateral decision, or through a UN Security Council mandate or process, effective nuclear disarmament verification (NDV) is needed to generate trust that declared actions have in fact been carried out. The TPNW is the first and only legally binding multilateral instrument that specifically provides for and requires verification of nuclear disarmament.

The TPNW does not elaborate a comprehensive NDV regime, nor does it prescribe modalities for the conduct of verification activities. More helpfully, at a point in time when suitable verification techniques, technologies, and concepts are still being elaborated by interested states, international organizations, and civil society organizations (and indeed much technical work remains), the TPNW provides for appropriate and effective verification measures to be determined once nuclear-armed states decide to join the Treaty. In this way, the TPNW deliberately provides for a 'multi-stage process' with the Treaty containing commitments and objectives, which will be complemented in due course by 'a follow-on agreement or agreements on specific verification solutions'.
There are documented examples of nuclear-armed states reducing their nuclear-weapons stockpiles, such as by dismantling retired warheads, or, in the case of the United States and the Soviet Union/Russia, as a result of bilateral arms control agreements. In addition, three states that hosted Soviet Union nuclear weapons (Belarus, Kazakhstan, and Ukraine) transferred the warheads to Russia in the early 1990s, while South Africa eliminated its nuclear-weapons programme altogether between 1989 and 1991. Those four states then acceded to the NPT as non-nuclear-weapon states. These examples demonstrated that nuclear reductions can be achieved, and useful lessons from those experiences can be applied to verifying future nuclear disarmament. That said, more transparency about warhead dismantlement in the nuclear-armed states would certainly be welcome (and an important confidence-building measure).
Some argue that nuclear disarmament should be undertaken solely pursuant to the NPT. However, the NPT is not a treaty-making forum. Further, the NPT's nuclear disarmament commitments only apply to five of the nine currently nuclear-armed states, and disarmament by the four nuclear-armed states outside the NPT is often cited as a critical precondition for progress on disarmament pursuant to the NPT. The TPNW provides an avenue for nuclear-armed states outside the NPT to pursue verified nuclear disarmament, and realistically achieve reciprocity across the NPT and TPNW regimes. Thus, if demands for reciprocal, verified nuclear disarmament are sincere, then nuclear-armed states could help formulate the establishment of the TPNW's verification regime.
Verifying the irreversible elimination of a state's nuclear-weapons programme, whether it occurs before that state has joined the TPNW or while it is a state party, will be a complex and costly process. While the process for dismantling a nuclear weapon is well understood and descriptions abound in the public domain, there remain significant technical challenges in designing, resourcing, and overseeing the comprehensive tasks involved in verifying the irreversible destruction of an entire nuclear-weapons programme.
Setting a deadline for destruction
The First Meeting of States Parties to the TPNW will set a deadline for the destruction of a state party's nuclear weapons and other nuclear explosive devices. The Nuclear Weapons Ban Monitor recommends that it considers setting a deadline of ten years, renewable, where necessary, for a set period upon request to the other states parties (and with the provision of all relevant supporting information justifying the request). In a single ten-year period, it might even be feasible to achieve elimination of even the largest nuclear-weapon stockpiles (i.e. those of the United States and Russia).
States parties might wish to consider the impact of the permitted destruction period on a nuclear-armed state's decision whether to 'destroy-and join', for which no deadline for stockpile destruction is mandated under the TPNW, or 'join-and-destroy', and the desirability of nuclear-armed states adhering to the TPNW as soon as possible and achieving stockpile destruction under simultaneous verification.
Designating the international authority or authorities
The states parties to the TPNW will also designate a 'competent international authority or authorities' to negotiate and verify the irreversible elimination of nuclear-weapons programmes of destroy-and-join states and join-and-destroy states.
The TPNW explicitly assigns certain verification responsibilities to the IAEA, through the obligations on states parties to maintain nuclear safeguards agreements with the Agency. The IAEA's statutory mandate to apply safeguards on any nuclear activities in a state, on request, allows the Agency to verify a range of activities relating to nuclear disarmament. It has been involved in missions to verify the dismantlement of nuclear weapons, the closure and destruction of clandestine weapon programmes, and the verified disposition of classified forms of military plutonium, on request by the respective states or the UN Security Council.
Several IAEA member states have made statements supporting a role for the Agency in verifying nuclear disarmament at the annual General Conference sessions. A survey of IAEA member states in 2014–15 found that most non-nuclear-armed states supported the IAEA having a broad role in verifying nuclear disarmament, and that IAEA personnel from non-nuclear-armed states could have an active role in disarmament verification activities as long as appropriate information control systems were put in place to protect proliferation-sensitive information. Further clarification is now needed on whether the Agency might have a more central and regular role in future NDV.
Several experts have suggested that the states parties to the TPNW should establish one or more new authorities in addition to the IAEA, which would cooperate with the IAEA and other relevant organizations through a division of tasks. One group of experts at Princeton University and Harvard University has recommended a phased approach, with the early establishment of a two-part organizational structure, comprising an implementation support unit and a dedicated scientific and technical advisory body. This would enable substantive work to identify implementation and verification challenges and finding solutions by the time one or more nuclear- armed states join the TPNW, and the structure could then be scaled up.
As a starting point, TPNW states parties might consider establishing a working group on verifying nuclear elimination to strengthen the knowledge and capacity of states parties on these issues. States parties need to give considerable attention to which entity or entities to designate as 'competent international authority or authorities' to verify the elimination of nuclear-weapons programmes pursuant to the TPNW.