The obligation to cooperate with and assist other states parties
The TPNW's Article 7 spreads the burden of addressing the effects of nuclear-weapons use and testing across all states parties and places this humanitarian challenge on the agenda also of donor states that are not party to the Treaty. Such support, which contributes to saving lives, alleviating suffering, promoting human dignity, and protecting the environment, has for too long been inadequate.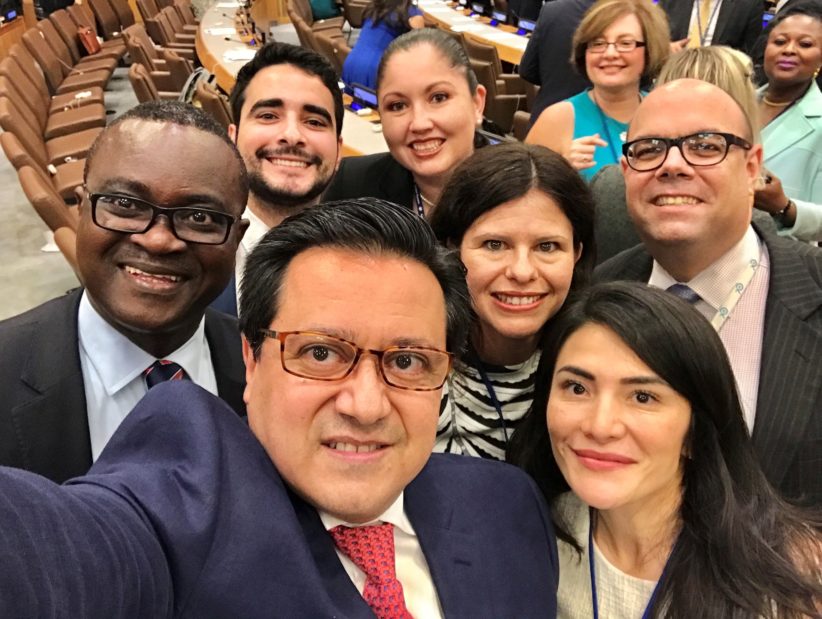 ARTICLE 7 - INTERPRETATION
The obligations in the TPNW's Article 6 to assist victims and remediate the environment should be read in conjunction with Article 7 of the Treaty.
Article 7(1) obligates each state party to the TPNW to cooperate with other states parties to facilitate the implementation of the Treaty and grants all states parties 'the right to seek and receive assistance, where feasible'. In addition, under paragraph 3 of Article 7 each state party 'in a position to do so' is required to provide technical, material, and financial assistance to states parties affected by nuclear- weapon use or testing.
Article 7(6) of the TPNW provides that any state party that has used or tested nuclear weapons or any other nuclear explosive devices 'shall have a responsibility to provide adequate assistance' to affected states parties for victim assistance and environmental remediation. This responsibility is without prejudice to any other duty or obligation the state may have under international law. This provision was especially important to affected
States during the drafting of the Treaty; they argued user and testing states should be legally as well as morally responsible for their actions.
International and non-governmental organizations also have a role to play. As referenced in Article 7(5) of the TPNW, assistance may be provided through the United Nations, the International Red Cross and Red Crescent Movement, civil society groups, or other organizations.
While most of Article 7 is directed at supporting victim assistance and environmental remediation, assistance can, for example, also be provided for the development of national implementation legislation or destruction of nuclear-weapons stockpiles.
Assistance and cooperation under the TPNW will enhance the ability of affected states parties to take meaningful ownership of their own situation, secure resources, and build capacity to assist victims and remediate the environment. States parties are not obligated to report on international cooperation and assistance under the TPNW, but the Nuclear Weapons Ban Monitor encourages them to submit voluntary reports to the Meetings of States Parties and Review Conferences.
Assistance can come in a variety of forms. For example, donor states parties can provide technical support in the form of medical, scientific, or environmental expertise; material support, such as health care or remediation equipment; or financial support to fund affected states' victim assistance and environmental remediation programmes. Given the range of types of assistance, all states should be in a position to provide some sort of support. This would also extend to the release of official information and documents regarding nuclear testing and fallout monitoring.
Significant evidence exists in other disarmament treaties of the effectiveness of an obligation to cooperate and assist. Comparable provisions in the APMBC and the CCM, for example, have generated extensive international assistance. In 2020, donor states provided US$565 million to mine action. The funds have supported clearance of landmines and cluster munition remnants (which is analogous to environmental clean-up), risk education, victim assistance, and capacity building. The top five recipient states — Iraq, Lao PDR, Afghanistan, Colombia, and Croatia — received a combined total of US$252.8 million for mine action in 2020.
States not party
States not party to the TPNW, and particularly nuclear- armed states that have tested nuclear weapons on the territories of other states, can also contribute to the implementation of the Treaty's obligations to assist victims and remediate contaminated areas, as evidenced by the fact that the United States — which is not a state party to either the APMBC or the CCM — for many years has made significant contributions to the clearance of mines and cluster munitions under the corresponding positive obligations of those treaties. In 2020, the United States was the largest donor for mine action, followed by the European Union (EU), Germany, Japan, and Norway.
Nuclear-armed states in particular should also support affected states by releasing information like relevant medical records and other documents regarding their nuclear testing.

To help donor states determine how best to distribute support, states requesting international assistance should present their needs, national plans, and existing resources, and provide regular updates on their progress in implementation. Donor states should, in turn, commit to provide multi-year assistance packages and work closely with recipients to ensure support is used effectively and efficiently.

Communities affected by landmines, cluster munitions, explosive remnants of war, and small arms have benefited from a humanitarian sector dedicated to demining, victim assistance, and risk reduction education. But there has been no comparable global architecture for addressing the humanitarian and environmental consequences of nuclear weapons. Responses have generally been limited to the national and even the local levels, with approaches (and support) differing considerably The international community must therefore urgently strengthen its efforts to assist states and communities impacted by nuclear-weapons testing, by supporting research, education, organizations representing affected communities, and victim assistance and environmental remediation measures.
Needs assesment
While each affected state party should urgently begin assessment and prioritization of its needs for victim assistance and environmental remediation and prepare a national plan of action to address them, a key step for the international community should also be to implement a long-overdue global survey of the ongoing contamination caused by nuclear weapons and the associated needs for both environmental remediation and victim assistance. Drawing together such information would enable prioritization of available donor resources for the most affected areas and populations. If conducted in a manner that serves to empower and learn from affected communities, it would also create conditions for the humanitarian sector to finally start working with these communities in a systematic, comprehensive, and cost-effective way to address the harm resulting from nuclear-weapon testing.