The obligation to cooperate with and assist other states parties
As was the case for victim assistance and environmental remediation, the year 2022 saw growing support for international cooperation and assistance. The states parties to the TPNW also adopted commitments to establish mechanisms to make it happen. These developments are important steps, but they must be followed by more tangible progress in order to advance implementation of victim assistance and environmental remediation under the Treaty.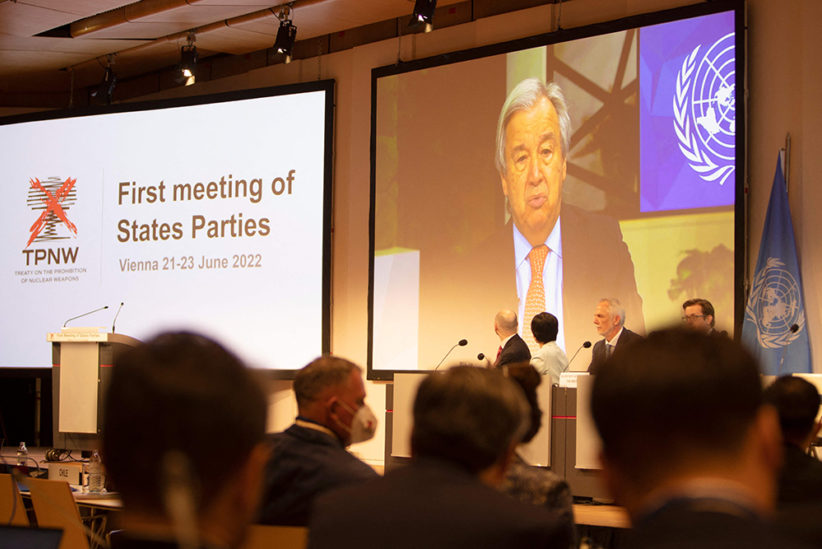 Addressing the effects of nuclear-weapons use and testing is a shared responsibility. Article 7 of the TPNW requires all states parties to cooperate on implementation of the Treaty, and all states parties in a position to do so to 'provide technical, material and financial assistance' to affected states parties, which will help them fulfil their victim assistance and environmental remediation obligations. Support from other states parties enhances the ability of affected states to take meaningful ownership of their own situation, secure resources, and build capacity. It also advances the humanitarian goals of the Treaty by saving lives, alleviating suffering, promoting human dignity, and protecting the environment.

According to available information, states parties to the TPNW did not provide any international assistance for victim assistance or environmental remediation under the Treaty in 2022. The Nuclear Weapons Ban Monitor encourages affected states parties to submit voluntary reports to the Second Meeting of States Parties to the TPNW (2MSP) in 2023 to provide information on their needs and donor states to report on international assistance they provide in return.

Assistance can come in a variety of forms. For example, donor states parties can provide: technical support in the form of medical, scientific, or environmental expertise or implementation experience from other frameworks; material support, such as health care or remediation equipment; or financial support to fund affected states' victim assistance and environmental remediation programmes. Assistance can also come in the form of the release of official information and documents regarding nuclear testing and fallout monitoring. Given the range of types of assistance, all states parties should be in a position to provide support of some sort.

Significant evidence exists in other disarmament treaties of the effectiveness of an obligation to cooperate and assist. Comparable provisions in the Anti-Personnel Mine Ban Convention (APMBC) and the Convention on Cluster Munitions (CCM), for example, have generated extensive international assistance from states parties and donors outside of the treaties. Over the five-year period 2017–2021, total international support to so-called mine action efforts amounted to US$3 billion, an average of more than US$600 million per year. Of this, 49% was support from states parties to the APMBC and the CCM. The biggest donor over this period was the United States, which is not party to either Treaty, with US$1.1 billion.1 The international funds have supported clearance of landmines and cluster munition remnants (which is analogous to environmental remediation), risk education, victim assistance, and capacity building. The top five recipient states—Iraq, Lao PDR, Afghanistan, Cambodia, and Colombia—received a combined total of US$271.5 million for mine action in 2021.2
1MSP
The Vienna Declaration, adopted at the 1MSP, emphasised the moral and legal importance of international cooperation and assistance. In the Declaration, states parties list 'moral and ethical imperatives which inspired and motivated the creation of the Treaty and which now drive and guide its implementation'. Among those imperatives is the belief that 'all states share the responsibility ... to assist victims, redress the harms and remediate environmental damage caused by previous use and testing of nuclear-armed States in accordance with their respective obligations under international law and bilateral agreements'.3 Later in the Declaration, states parties pledge to 'strengthen international cooperation among States Parties to advance' implementation of the TPNW's positive obligations.4

The Vienna Action Plan includes multiple actions specifically dedicated to international cooperation and assistance. Building on TPNW Article 7(3), Action 32 commits states parties in a position do so to assist states parties 'with clear demonstrated needs for external support' by mobilising resources and providing technical, material, and financial assistance.5 Action 23 calls for the development of mechanisms to facilitate provision of such assistance, noting that they should 'match needs ... with offers of assistance'.6 These actions emphasise the importance of tailoring assistance to affected states' needs and establishing tools to facilitate its delivery.

Other actions address international cooperation and assistance alongside victim assistance and environmental remediation. For example, in setting up their implementation framework, states parties should establish a focal point and adopt or adapt relevant national laws and policies on both Article 6 and Article 7.7 According to Action 31, 'international cooperation and assistance should be provided where needed to reduce the burden on affected States parties' who have resolved to develop national plans for the implementation of victim assistance and environmental remediation.8 Furthermore, the principles of accessibility, inclusivity, non-discrimination, and transparency apply to international cooperation and assistance as well as the other positive obligations.9

The Action Plan also puts an international trust fund on states parties' agenda. States parties resolve to 'discuss the feasibility of, and propose possible guidelines for establishing an international trust fund for States that have been affected by the use or testing of nuclear weapons'. The fund would 'provide aid to assist survivors and to support measures toward environmental remediation'. The Action Plan calls on states to consider relevant precedent in the course of their discussions.10
Preparations for the 2MSP
Leading up to 2MSP, the informal intersessional working group on victim assistance, environmental remediation, and cooperation and assistance that was established at 1MSP will dedicate a significant portion of its time to international cooperation and assistance. At the time of writing, the co-chairs Kazakhstan and Kiribati had focused their consultations with states parties and other stakeholders on the proposed trust fund, which would support victim assistance and environmental remediation projects.11 In January 2023, the Harvard Law School International Human Rights Clinic presented to the working group the findings of a new report, which compares the design features of ten existing trust funds in disarmament, international human rights law, and international criminal law. It then draws on that precedent, adapting it to the nuclear-weapons context to propose a structure for a TPNW trust fund.12
Other international disarmament forums
States addressed international cooperation and assistance in different ways at the Tenth Review Conference of the Treaty on the Non-Proliferation of Nuclear Weapons (NPT) and the First Committee of the UN General Assembly. Cooperation in matters relating to victim assistance and environmental remediation was noted as an area where states party and not party to the TPNW could engage to explore common ground and work towards shared humanitarian goals.
The International Committee of the Red Cross and the Holy See suggested that this was an area to explore opportunities for the TPNW and NPT to mutually reinforce or complement each other. The Holy See also suggested this could be an area for collaboration between nuclear-armed and other states.13 As mentioned above, Germany stated a desire to 'improve dialogue and cooperate in addressing the humanitarian consequences of nuclear weapons – in the field of victim assistance or the remediation of areas contaminated by nuclear testing'.14 Following proposals by TPNW states parties, the unadopted draft final document of the Review Conference not only welcomed attention to victim assistance and environmental remediation but also 'call[ed] on States parties to engage with such efforts to address nuclear harm'.15

National developments
During the course of 2022, there were some indications of support for providing international cooperation and assistance to specific states independent of the TPNW. As noted in the sections on victim assistance and environmental remediation above, in October 2022, the UN Human Rights Council adopted without a vote a resolution affirming 'the importance of addressing the adverse impact of the nuclear legacy on the realization and enjoyment of human rights by the people of the Marshall Islands'. Recognising the importance of international cooperation and assistance, the resolution calls on 'States, relevant United Nations agencies and other stakeholders to support the Government of the Marshall Islands in its efforts to improve the health of its people and environment'. In particular, it mandates the Office of the UN High Commissioner for Human Rights (OHCHR) to 'prepare a report on addressing the challenges and barriers to the full realization and enjoyment of the human rights of the people of the Marshall Islands' resulting from US nuclear testing. The resolution requests the OHCHR to work in cooperation with the Marshall Islands 'to provide technical assistance and capacity-building', including in the field of 'transitional justice' to aid the National Nuclear Commission's 'national strategy for nuclear justice'.16
The resolution was presented to the Human Rights Council by TPNW state party Fiji, on behalf of TPNW states parties Samoa, Vanuatu, and Nauru, as well as states not party the Marshall Islands and Australia.17 In its statement, Fiji said, 'we stand in solidarity' with the Marshall Islands in 'prioritizing the addressing of nuclear legacy issues in the Pacific … It is a legacy that we must not forget and one that we have to learn from.'18 Germany and China also spoke in favour of the resolution. India, Pakistan, the US, and the UK raised concerns with some of the language but did not block consensus.19

At the time of writing, the US was engaged in Compact of Free Association negotiations with the Marshall Islands and had reportedly 'agreed to drastically increase funding', including for measures to address the legacies of nuclear testing (see the section on Victim Assistance).
While Italy has not participated in TPNW negotiations or meetings, its Chamber of Deputies adopted a resolution in May 2022 committing the government to follow 'Italy's great humanitarian tradition' by evaluating 'possible actions to approach the contents of the TPNW Treaty, in particular with regard to actions of "Assistance to victims and environmental rehabilitation".'20
ARTICLE 7 - INTERPRETATION
The obligations in the TPNW's Article 6 to assist victims and remediate the environment should be read in conjunction with Article 7 of the Treaty.
Article 7(1) obligates each state party to the TPNW to cooperate with other states parties to 'facilitate the implementation' of the Treaty, and Article 7(2) grants all states parties 'the right to seek and receive assistance, where feasible'. In addition, under paragraph 3 of Article 7 each state party 'in a position to do so' is required to provide technical, material, and financial assistance to states parties affected by nuclear-weapon use or testing.
Article 7(6) of the TPNW provides that any state party that has used or tested nuclear weapons or any other nuclear explosive devices 'shall have a responsibility to provide adequate assistance' to affected states parties for victim assistance and environmental remediation. This responsibility is without prejudice to any other duty or obligation the state may have under international law. This provision was especially important to affected states during the drafting of the Treaty; they argued that user and testing states should be both legally and morally responsible for their actions.
International and non-governmental organisations also have a role to play. As referenced in Article 7(5) of the TPNW, assistance may be provided through the United Nations, the International Red Cross and Red Crescent Movement, civil society groups, or other organisations.
While most of Article 7 is directed at supporting victim assistance and environmental remediation, assistance can also be provided in relation to other obligations of the Treaty, such as the development of national implementation legislation or destruction of nuclear-weapons stockpiles.