The obligation to assist victims
Victim assistance is crucial to address the unnecessary suffering experienced by populations affected by the use and testing of nuclear weapons and to help safeguard their rights. In most cases, however, affected populations have received inadequate support. The TPNW's obligation for victim assistance seeks to change this situation.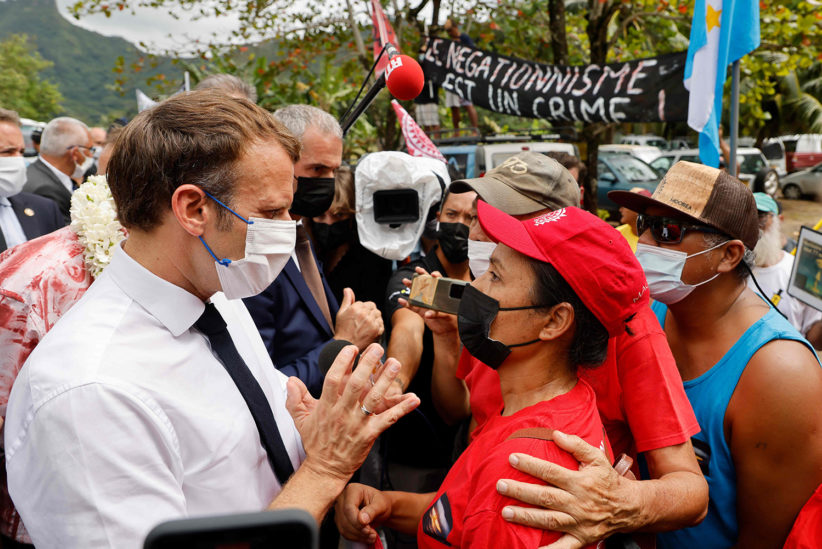 ARTICLE 6(1) - INTERPRETATION
To address the ongoing suffering inflicted by use and testing of nuclear weapons, Article 6(1) of the TPNW obliges each state party to provide 'adequate' assistance to affected individuals within its jurisdiction. It is not required that the harm be caused by the state under whose jurisdiction they fall or that it occurred within that territory.
Assistance includes, but is not limited to, medical care, rehabilitation, and psychological support, as well as support for social and economic inclusion.
Assistance under Article 6(1) must be provided in accordance with international human rights law and, where applicable, international humanitarian law. In all cases, assistance must be age-appropriate and gender-sensitive. It must be provided to all on the basis of need without discrimination.
While addressing the human impacts of nuclear weapons can be daunting, the TPNW facilitates the process by creating a framework of shared responsibility for victim assistance (as well as environmental remediation, discussed in the next section). Affected states parties bear the primary responsibility as this protects their sovereignty and follows the precedent of international human rights law and humanitarian disarmament law. But other states parties are required to provide international cooperation and assistance to help affected states parties meet their victim assistance (and environmental remediation) obligations.
To make victim assistance more manageable, Article 6(1) can also be understood to allow affected states parties to realize some of their obligations, particularly those related to economic, social, and cultural rights, progressively. International human rights law requires a state to take steps to achieve those rights 'to the maximum of its available resources', while recognizing that full realization may be a gradual process.
The use and testing of nuclear weapons have caused countless deaths, horrific injuries, long-term illnesses, socio-economic exclusion, and displacement. Exacerbating the situation, illnesses can manifest themselves years later; and the harm inflicted by radiation, often altering DNA, sometimes crosses generations.
The suffering caused by the use of nuclear weapons in Hiroshima and Nagasaki is well known, but a comprehensive overview is not available of populations around the world that are affected by nuclear-weapons testing and their ongoing needs for assistance. Between 1945 and 2017, more than 2,000 nuclear test explosions were carried out at locations within what are today 15 states, and radioactive fallout dispersed around the world. A review was published in 2021 of the current state of knowledge about past nuclear-weapons activities in different countries and their confirmed and possible consequences today. As the review points out, there is a surprising lacuna of adequate research on this topic – which is partly the result of concerted efforts by nuclear-armed states to suppress open scientific inquiry into the effects of nuclear weapons.
There is also a need to articulate with greater clarity the full scope of victim assistance to be ensured to all those who are 'affected by the use or testing of nuclear weapons'. Article 6(1) of the TPNW refers to medical care, rehabilitation and psychological support, as well as measures to provide for the social and economic inclusion of victims. But it is explicit that these activities are only illustrative and not exhaustive.
Jurisdiction
States are more likely to have jurisdiction for individuals affected by nuclear-weapons use and testing if: 1) their territory was the site of nuclear detonations; 2) they have populations (such as military 'atomic veterans') that were in the vicinity of nuclear detonations or contaminated areas in other states' territories; and/or 3) their territory was downwind of atmospheric nuclear detonations that produced fallout. In the following, non-exhaustive examples are provided of states in these categories.

In the first category, TPNW states parties Kazakhstan and Kiribati were the scene of repeated, massive nuclear test detonations. The Soviet Union tested almost 500 nuclear devices in Kazakhstan, one quarter of which were atmospheric tests. About 500 Kiribati civilians lived on Christmas Island (now Kiritimati) during the period of 33 UK and US atmospheric detonations there and at Malden Island in Kiribati, from 1957 to 1963. In TPNW signatory Algeria, France tested 17 nuclear devices (4 atmospheric, 13 underground).
Two further TPNW states parties — New Zealand and Fiji — are included in the second category. According to New Zealand Veteran Affairs, 12,000 New Zealand personnel served with the British Commonwealth Occupation Force (BCOF) in Hiroshima following the Second World War. In the 1950s, 11 members from New Zealand's armed forces attended British and US nuclear tests in Australia; and the New Zealand Navy deployed 551 sailors to
protest French nuclear tests at Moruroa Atoll in 1973.
Almost 300 Fijian sailors participated in the UK nuclear test programme in Kiribati. It is currently unclear whether any troops from what is now TPNW state party Bangladesh served in the British Indian contingent of the BCOF in Hiroshima. An unconfirmed number of Gurkha soldiers, recruited from TPNW signatory Nepal, served in BCOF in Hiroshima.
The third category is more complex, given that fallout from atmospheric nuclear testing spread across the globe. Some states that were downwind of such tests have released dose estimates of resulting radiation exposure. For example, New Zealand's National Radiation Laboratory estimated that an average person living in the South Pacific region covered by its monitoring network (including TPNW states parties Cook Islands, Fiji, Kiribati, Niue, Samoa, and Tuvalu, as well as Tokelau, a Non-Self- Governing Territory administered by New Zealand) would have received radiation doses from all atmospheric nuclear tests that would, according to the most widely-used scientific models, have raised the cancer rate by about 1 in 9,000 people alive at the time. Nevertheless, it is important to recognize that people in the region experienced Pacific nuclear testing not just as a risk to their health but also as a threat to their culture and spiritual ways of life.

Implementing victim assistance
• A report by the Harvard Law School International Human Rights Clinic and the Conflict and Environment Observatory identifies fourteen principles for assisting victims of toxic remnants of war, which can inform implementation of the TPNW's victim assistance obligation.
• To start the victim assistance process, affected states parties should look to accepted victim assistance standards such as those developed for the implementation of the victim assistance obligations of the APMBC and the CCM.
• They should develop a national plan and budget, appoint a government focal point, and adopt relevant laws and policies. They should also collect and disseminate information about the ongoing threats posed by contamination, the needs of victims, and their capacity to address them. These practical steps promote efficiency, coordination, and accountability.
• Key principles that victim assistance programmes should follow are transparency, accessibility, non-discrimination, and inclusivity. The principle of inclusivity means that states parties should involve affected individuals and their representatives during the design, implementation, evaluation, and monitoring of victim assistance. Those individuals can describe the harm they have experienced, articulate their current needs, and offer expert insights on how best to address those needs.

Source: Harvard Law School International Human Rights Clinic and Conflict and Environment Observatory (CEOBS), Confronting Conflict Pollution: Principles for Assisting Victims of Toxic Remnants of War (September 2020).
---
A number of states parties and states not party to the TPNW have adopted programmes or established funds to address the harm caused by the use or testing of nuclear weapons. Illustrative examples follow below. While lessons may be learned from these examples, none constitutes a comprehensive and adequate response to the harm experienced by affected individuals.
Victim assistance in TPNW states parties and signatories
FIJI
In a 2018 statement to the UN, Fiji lamented the 'tragic health circumstances' of Fijian test veterans, who have been 'denied support and recognition from colonial authorities'. In 2015, the Fijian government provided one-off grants of about US$5,000 for each veteran (or their surviving family). Fiji Nuclear Veterans Association assisted the government in distributing the funds. The Fiji government states that the payment is a form of assistance, not compensation, as the latter should be the responsibility of the UK government. At the ceremony announcing the grants, Fiji's Prime Minister Josaia Voreqe Bainimarama said, 'Fiji is not prepared to wait for Britain to do the right thing.... We need to erase this blight on our history. We need to lift the burden on our collective conscience. ... [T]hese men have been denied justice long enough.' Veterans also receive a US$50 monthly pension and help with medical bills. However, the Fiji Nuclear Veterans Association has stated that many veterans living in more remote areas have difficulty accessing government clinics.

KAZAKHSTAN
After achieving independence, Kazakhstan conducted a study of the health of 10,000 people potentially affected by the testing and compared the results with a control group of another 10,000 people far away from the former Soviet nuclear Test Site in Semipalatinsk. The study found a significantly higher risk of stomach, lung, oesophageal, and, among women, breast cancers. Other studies have found elevated risks of transgenerational harm among the children and grandchildren of those directly affected by the testing. UNDP, in partnership with other UN agencies and with Japanese government funding, supported a programme at the Test Site in Semipalatinsk in the 2000s. The aim of the programme was to 'ensure access to quality basic health and social services for vulnerable groups, ... build capacities for entrepreneurship and business skills, ... provide economic and employment opportunities and ... mobilize communities and support NGOs and CBOs'. This builds on a law adopted in 1992 inKazakhstan, which 'is intended to provide social protection to citizens who suffered from lengthy nuclear tests at the Semipalatinsk nuclear test site'. The law prescribes the main measures of support for those who suffered fromactivities at the Test Site. Citizens with the status 'suffered' are entitled to lump-sum compensation and a higher pension (in areas of extraordinary and maximal radiation risk), while state employees receive a salary top-up and additional paid holiday. Women living in areas exposed to radiation are entitled to maternity leave of up to 170 days which is increased in case of problems with complicated childbirth or a multiple birth. Children living in areas exposed to radiation are entitled to free treatment at health centres. Due to the economic situation in Kazakhstan in the 1990s, however, the government was partly unable to fulfil its obligations, and many had to wait yearsbefore they received the compensation to which they were entitled.

In her 2022 work, Atomic Steppe: How Kazakhstan Gave Up the Bomb, Togzhan Kassenova describes how victims of the testing can fall outside the protection of the 1992 Law. She cites the example of Dimitri who is not classified as disabled even though he loses the use of his arms and legs every few months. His rare disease is not on the list of those recognized under the Law. Those who do meet the criteria of being a victim, and who also are employees of the State health or education system, receive the equivalent of US$8 per month. The delays in receiving healthcare mean that they may opt to go privately for the blood tests they need. This costs more than four times the monthly stipend they receive.
KIRIBATI
The Association of Cancer Patients Affected by the British and American Bomb Tests in Kiribati has been campaigning for recognition of the rights to victim assistance and to compensation of those who were affected by the tests on Christmas and Malden islands and those of their descendants who have also endured the
consequences of ionizing radiation. As of 2018, the Association had identified at least 48 first generation survivors in Kiribati who had experienced the tests first-hand as well as 800 descendants.
Kiribati's Permanent Representative to the UN, Ambassador Makurita Baaro, stated in 2015: 'Today, our communities still suffer from the long-term impacts of the tests, experiencing higher rates of cancer, particularly thyroid cancer, due to exposure to radiation.' There is a small hospital and three clinics in Kiritimati. However, survivors have found the facilities inadequate for treating the diseases they attribute
to the testing, particularly cancer. The Government of Kiribati is said to be considering how to address compensation of I-Kiribati survivors of nuclear tests.
NEW ZEALAND
In 2001, in response to public concern, the New Zealand government followed up with the eleven New Zealand Forces observers that had attended British and US nuclear tests in Australia in the 1950s, to see if they had suffered adverse health effects from their observation of the nuclear tests. Six were alive, aged between 71 years and 87 years, while the five deceased had been aged 54, 59, 67, 71, and 81 at time of death. The Ministry of Health advised it was extremely unlikely that any of the recorded causes of death was linked to observation of the
tests. Despite sometimes contesting the link to nuclear testing, New Zealand has provided a range of support to New Zealand nuclear veterans. This includes access to a war disablement pension provided their illness is on any of the 'presumptive lists'. These lists include illnesses linked to potential exposure to ionizing radiation modelled on a US Department of Veterans Affairs list, although concerns have been expressed as to its coverage. A New Zealand Nuclear Test Veterans Association continues to campaign for the rights of nuclear veterans.
ALGERIA
France carried out 17 nuclear tests in Algeria between 1960 and 1966 and nearly 200 in the Pacific. With respect to Algeria, no good data are available on the effects of the explosions on public health and the environment, but locals note that some people living near the test sites have suffered cancers and birth defects typically caused by radiation. Algeria has also complained to France about the challenges to its citizens in obtaining compensation under a French scheme established by a 2010 Law. Among the total of 545 that had been granted such compensation as of January 2021, only one concerned an Algerian citizen. In turn, local associations such as the Association of 13 February 1960 at Reggane or The Association of victims of Taourirt in In-Ekker, feel that they have not received adequate support from the Algerian government to pursue their claims.
Victim assistance after the use of nuclear weapons in Japan
Japan has a law that provides a certain amount of aid to the hibakusha. Hibakusha are eligible for payments from the Japanese government that include a health management allowance (roughly 34,000 yen per month) based on the Atomic Bomb Survivors' Assistance Act. The Act requires the Japanese government to assume the responsibility of implementing comprehensive relief measures for the health, medical care, and welfare of the atomic bomb survivors. In 1974, the Ministry of Health informed survivors that allowances would not be provided to those who left the country. This order was not revoked until 2003. In a lawsuit filed by a group of 40 South Korean hibakusha who experienced the Hiroshima bombing, the Supreme Court of Japan in 2007 upheld a
Hiroshima High Court decision which declared that the state's policy of refusing coverage to survivors living overseas was illegal. The ruling ordered the government to pay 1.2 million yen to each of the plaintiffs in compensation.
In July 2021, the Hiroshima High Court ruled that 84 people in Hiroshima Prefecture were eligible to receive State healthcare benefits who were exposed to radioactive 'black rain' outside the area currently recognized by the Japanese government. The government in Tokyo had designated an oval-shaped area measuring only 19 kilometres long and 11 kilometres wide stretching north- west of the hypocentre of the bombing on 6 August 1945 as the zone where black rain fell for an hour or longer. The Court ruling also accepted the claim that internal radiation exposure might have occurred due to the ingestion of contaminated food and well water. The court held that the plaintiffs should receive the same benefits as those provided for survivors who were in the recognized zone. To be recognized as victims of the atomic bomb, 'it is sufficient to prove that the possibility of damage to their health due to atomic bomb radiation cannot be ruled out', Presiding Judge Kazuto Nishii declared.
Nuclear-armed states and their duty of assistance to the victims of their nuclear testing
Nuclear-armed states often conducted tests in areas that they considered peripheral. Since they have not yet adhered to the TPNW, they are not bound by the Treaty's obligations for victim assistance and environmental remediation. As discussed in the section on the TPNW's obligation of international cooperation and assistance, however, nothing prevents states not party from contributing to the implementation of the positive obligations of
the Treaty. Article 7(6) of the TPNW also provides that any state party that has used or tested nuclear weapons or any other nuclear explosive devices 'shall have a responsibility to provide adequate assistance' to affected states parties for victim assistance and environmental remediation. This provision was especially important to affected states during the drafting of the Treaty; they argued user and testing states should be legally as well as morally responsible for their actions.
The nuclear-armed states do have moral duties, as well as obligations under national and international law, including under human rights law and in some cases through bilateral agreements, towards the foreign and domestic victims of their tests. For the most part, however, they are not fulfilling these obligations.
---