The obligation to assist victims
The use and testing of nuclear weapons have caused large-scale deaths, horrific injuries, long-term illnesses, socio-economic exclusion, displacement, and environmental damage. To address the ongoing suffering inflicted by use and testing, the TPNW includes an obligation to assist affected individuals.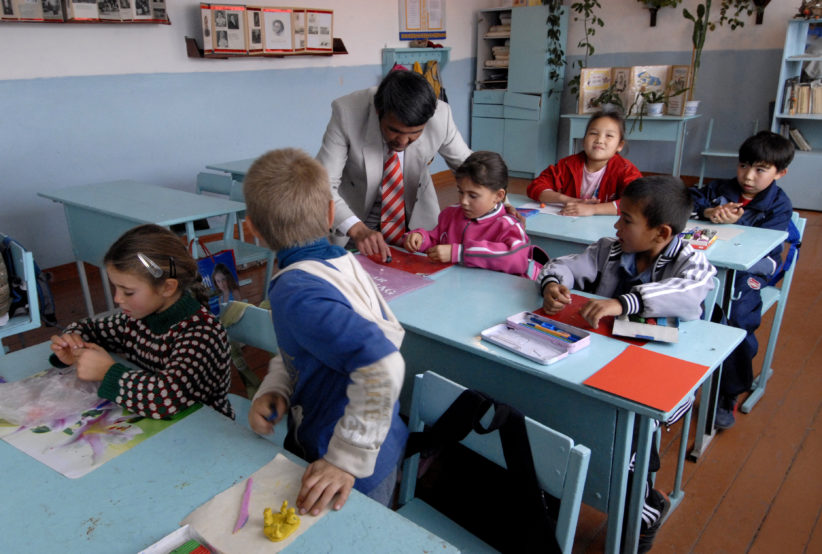 INTERPRETATION
Article 6(1) of the TPNW concerns the duty of each state party to provide 'adequate' assistance to any victim of nuclear-weapons use or testing under its jurisdiction. Assistance includes, but is not limited to, medical care, rehabilitation, and psychological support, as well as support for social and economic inclusion.
Assistance under Article 6(1) must be provided in accordance with international human rights law and, where applicable, international
humanitarian law. In all cases, assistance must be age-appropriate and gender-sensitive. It must be provided to all on the basis of need 'without discrimination'.
While addressing the human impacts of nuclear weapons can be daunting, the TPNW facilitates the process by creating a framework
of shared responsibility for victim assistance (as well as environmental remediation, discussed in the next section). Affected states parties bear the primary responsibility as this protects their sovereignty and follows the precedent of international human rights law and humanitarian
disarmament law. But other states parties are required to provide international cooperation and assistance to help affected states parties meet their victim assistance (and environmental remediation) obligations.
To make victim assistance more manageable, Article 6(1) can also be understood to allow affected states parties to realise some of their obligations, particularly those related to economic, social, and cultural rights, progressively. International human rights law requires a state to take steps to achieve those rights 'to the maximum of its available resources', while recognising that full realization may be a gradual process.
The 1945 atomic bombings of Hiroshima and Nagasaki together killed an estimated total of 213,000 people instantaneously or within five months due to the combined effects of blast wind, radiant heat and ionizing radiation. More than 210,000 remaining victims survived the first five months and became hibakusha. Many of them had horrific burns, experienced higher rates of cancer and other illnesses, and endured psychological trauma and socio-economic marginalisation. While their numbers are dwindling, the hibakusha still feel the effects of the bombings 75 years ago.
Nuclear testing, while far less well publicised, has harmed communities in many other parts of the world. At least 2,050 nuclear test explosions were carried out on the territories of 15 states and in a number of seas and oceans in 1945–2017. The list of countries affected by atmospheric and underground nuclear-weapon tests includes: Algeria, Australia, China, North Korea, French Polynesia, India, Kazakhstan, Kiribati, Marshall Islands, Pakistan, Russia, Turkmenistan, Ukraine, United States, and Uzbekistan. These tests caused immediate and long-term health problems including thyroid cancer and birth defects. They displaced whole communities that had traditionally resided on the test sites, and many of those still cannot return. Lingering environmental contamination has interfered with food security and sustainable development.

Radioactive fallout from atmospheric nuclear-weapons testing led to measurable radioactivity on every continent and an estimated 430,000 additional cancer deaths worldwide attributable to these exposures by the year 2000, with 90% confidence limits of 320,000 to 650,000. Total excess cancer deaths over time were estimated to eventually reach 2.4 million. It is likely, however, that these estimates substantially underestimate the true long-term toll of nuclear test explosions.

Other nuclear-weapon activities, such as the mining, milling, storage, and transportation of uranium for nuclear-weapons production, expose those involved in the supply chain, as well as the general public, to ionising radiation. There have also been accidents involving the development, production, transportation, storage, and deployment of nuclear-weapons and/or their constituent elements, which may expose those handling them, or the general public, to radiation, or may pose other risks (such as the blast and incendiary effect of a chemical explosion). While the victim assistance obligations in the TPNW only address the effects of nuclear-weapons use and testing, they can create infrastructure and set standards that will help all affected individuals.

As noted in the TPNW's preamble, certain groups have been disproportionately affected by nuclear weapons. Nuclear-armed states often conducted tests in the territories of indigenous peoples, resulting in widespread and often ongoing displacement of whole communities. For those told it was safe to return, radiation has frequently made it too dangerous to hunt, fish, or farm. The testing thus threatened cultural traditions as well as their health.
The effects of 67 US nuclear tests in the Marshall Islands, which contaminated some atolls and made others uninhabitable, exemplify lingering impacts on indigenous peoples.
Women and girls also face a greater risk from nuclear-weapons use and testing. For every two men who develop cancer through exposure to ionising radiation, three women will get the disease. Furthermore, while children as a whole experience more harm from radiation than adults, exposed infant and young girls run the highest risk of cancer across their lifetime, and teenage girls suffer almost double rates of cancer compared to boys in the same juvenile group and the same level of exposure. There are sex-specific health impacts pertaining to the biological effects of radiation, and gender-specific impacts due to different cultural and social roles or stereotypes based on gender. Women are biologically more vulnerable to harmful health effects of ionising radiation than men. Pregnant women exposed to high doses of ionising radiation also have the risk of damage to their children. Spontaneous abortion and stillbirth will occur if pregnant women are exposed to a certain level of radiation. Women exposed to ionising radiation are also more likely than men to face certain forms of social rejection and stigma. For instance, women, rather than men, are often blamed for sterility or abnormality in offspring, making it more challenging for 'contaminated' women and girls to find partners. For more information on this topic, see for instance the Gender + Radiation Impact Project.
---
A Global Needs Assessment
While the types of harm described above have been well documented, more research is required. It is complicated to define exactly which states are affected by harm from nuclear weapons and thus need to provide victim assistance. The effects, particularly of stratospheric fallout from atmospheric testing, are global. It can be equally complicated to define who is a victim within those states, as seen by divergent approaches in existing programmes. These challenges are exacerbated because the issue is highly sensitive, and states do not willingly share information.
Nevertheless, it is shocking that a comprehensive overview of the human and environmental harm from several decades of nuclear-weapons testing and other activities is not available today. In-depth research on the global extent of the harm from nuclear weapons and the associated needs for victim assistance and environmental remediation should be a humanitarian priority. This will also establish a baseline for the implementation of the positive obligations of the TPNW concerning victim assistance and environmental remediation.

---
Implementing Victim Assistance
A recent report by the Harvard Law School International Human Rights Clinic and the Conflict and Environment Observatory identifies fourteen principles for assisting victims that can inform implementation of the TPNW's victim assistance obligation. The report bases its principles on humanitarian disarmament law, international human rights law, and international environmental law. In particular, it adapts standards for assisting victims of landmines and explosive remnants of war to the context of toxic remnants of war, which are exemplified by nuclear weapons. The principles in the report provide guidance for defining terms, determining the types of harm and assistance, dividing responsibility, and ensuring effective and fair implementation.
To start the victim assistance process, affected states parties should look to accepted victim assistance standards for guidance. They should develop a national plan and budget, appoint a government focal point, and adopt relevant laws and policies. They should also collect and disseminate information about the ongoing threats posed by contamination and the needs of victims. These practical steps promote efficiency, coordination, and accountability.
The provision of victim assistance should be guided by the principle of inclusivity. States parties should involve affected individuals and their representatives during the design, implementation, evaluation, and monitoring of victim assistance. Those individuals can describe the harm they have experienced, articulate their current needs, and offer expert insights on how best to address those needs. Inclusivity is a widely accepted principle of victim assistance in humanitarian disarmament and has been codified in the Convention on Cluster Munitions (CCM), which requires affected states parties to 'closely consult with and actively involve cluster munition victims and their representative organisations'.Other key principles victim assistance should follow are transparency and accessibility. The former facilitates monitoring, evaluation, and accountability and ensures affected individuals have the information they need. The latter ensures that affected individuals do not face physical or informational obstacles to receiving assistance.

Some countries have already adopted programmes to address the harm caused by the use and testing of nuclear weapons. For example, Japan has legislation that provides aid to the hibakusha. The US Radiation Exposure Compensation Act awards compensation to some of the individuals affected by nuclear testing and uranium mining in the western United States. The United States has also set up health care programmes for residents of the most affected atolls in the Marshall Islands. Other countries have provided assistance to military veterans who participated in tests. While lessons may be learned from these examples, none of these programmes constitutes a comprehensive and adequate response to the harm experienced by affected individuals.