The prohibition on allowing stationing, installation, or deployment
Five states not party to the TPNW — Belgium, Germany, Italy, the Netherlands, and Turkey — engaged in conduct in 2021 that was not compatible with the Treaty's prohibition on allowing stationing, installation, or deployment of nuclear weapons. Between them, they continue to host a total of approximately 100 US B61-3 or B61-4 nuclear gravity bombs on their territories.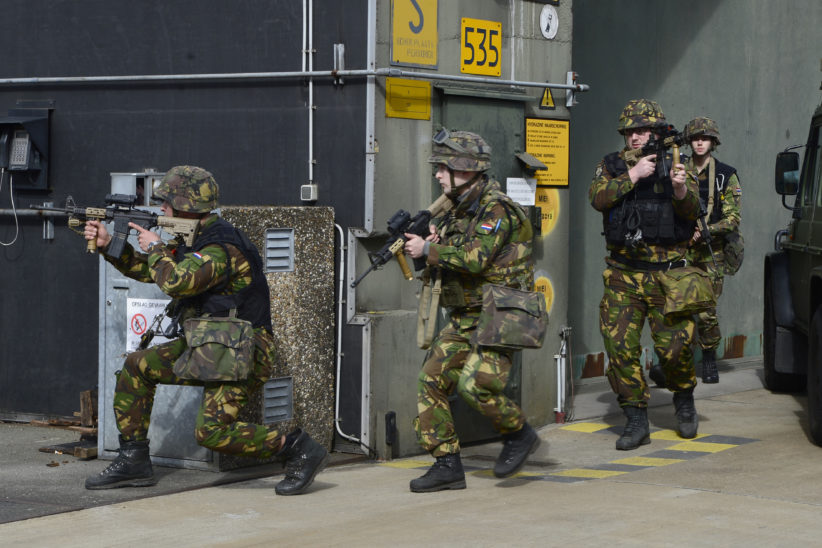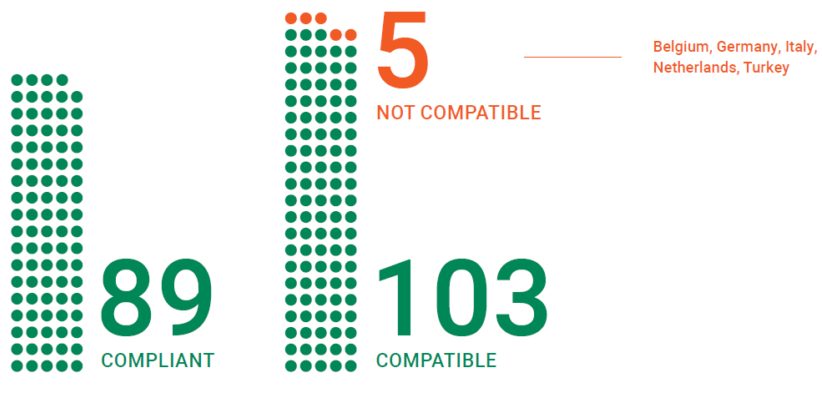 ARTICLE 1(1)(g) - INTERPRETATION
Each State Party undertakes never under any circumstances to: 'Allow any stationing, installation or deployment of any nuclear weapons or other nuclear explosive devices in its territory or at any place under its jurisdiction or control.'

• This provision outlaws a particular form of assistance or encouragement of prohibited action: allowing any stationing, installation, or deployment of any nuclear weapons or other nuclear explosive devices in a state party's territory or at any other place under its jurisdiction or control.
• The TPNW's prohibition against such hosting of nuclear weapons applies at all times, including during escalating tension or armed conflict. There is no corresponding prohibition in the NPT.
• The concept of jurisdiction refers primarily to a state's sovereign territory, while control extends to areas that the state party occupies or otherwise controls extraterritorially. This is irrespective of the legality of this control under international law.
• Deployment is the broadest of the three types of prohibited conduct. A violation would not require any prolonged duration, agreement, or infrastructure. Thus, although transit of nuclear weapons is not explicitly prohibited by the TPNW, if movement into the sovereign territory of a state party is not swiftly followed by exit, this might amount to assistance and encouragement to possess nuclear weapons as well as a violation of 1(1)(g).
The compatibility of NATO's nuclear sharing arrangements with NPT obligations has been called into question, as well as defended. By the time the NPT was concluded in 1968, hosting arrangements were in place and part of discussions surrounding the establishment of the Treaty. Apart from the legality of these arrangements, the real 'deterrent' value of these foreign-deployed nuclear weapons is disputed.
The B61 bombs hosted under NATO nuclear sharing arrangements in Europe are assumed to have explosive yields ranging from an equivalent of 300 tons to 50 Kt (B61-4), to 170 Kt (B61-3) of TNT. As shown in the map below, they are believed to be located at six airbases: Kleine Brogel Air Base in Belgium; Büchel Air Base in Germany; Aviano and Ghedi-Torre air bases in Italy; Volkel Air Base in the Netherlands; and Incirlik Air Base in Turkey. The bombs are stored in underground vaults at these national airbases and remain under US command and control. In a scenario of use, European aircraft and pilots would have to deliver the US nuclear bombs to their target.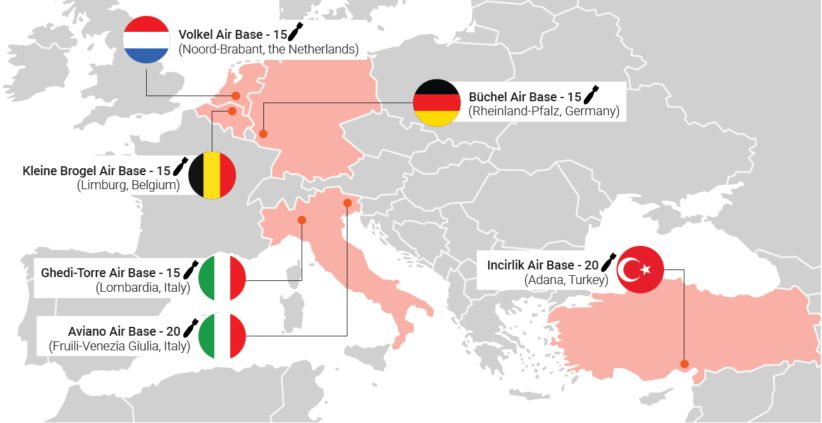 Currently, NATO, meaning the United States (in coordination with the host states), is in the process of modernizing the nuclear weapons it has deployed in Europe. B61-12 bombs, with a maximum yield of 50 Kt, will replace the existing bombs between 2022 and 2024. The bases where the nuclear weapons are stored will also be modernized, with upgraded command and control as well as security arrangements.

The respective hosting arrangements are thought to be governed by classified bilateral agreements between the United States and the host states. Representatives of NATO, but also of the host states, have traditionally been reluctant to discuss their governments' hosting policies, in part due to the classification of the respective hosting arrangements as state secrets. In 2013, two former Dutch prime ministers publicly confirmed that the Netherlands hosts nuclear weapons. Ruud Lubbers, prime minister from 1982 to 1994, stated that he 'would never have thought those silly things [nuclear bombs] would still be there in 2013'. Dries van Agt, prime minister from 1977 to 1982, said the bombs 'are there and it's crazy they still are'. Both were threatened with prosecution, but formal charges were never laid.
In 2019, a draft report by the General Rapporteur, Canadian Senator Joseph A. Day, of NATO's Defence and Security Committee (DSC) disclosed the number (150 at the time) and locations (as stated above) of these forward-deployed nuclear weapons, while in later versions the report references 'open sources' as the basis for the information. In 2021, investigative journalists uncovered a data leak in the US military (within a learning app), exposing information about the numbers, locations, and security procedures surrounding US nuclear weapons in Europe, congruent with experts' estimates. Thus, while the locations and numbers of weapons are publicly known, their classification as state secrets have rendered the hosting arrangements intangible for democratic processes. One expert, Jeffrey Lewis, commented in 2021 that 'secrecy about US nuclear weapons deployments in Europe does not exist to protect the weapons from terrorists, but only to protect politicians and military leaders from having to answer tough questions about whether NATO's nuclear-sharing arrangements still make sense today.'
Concerns have been raised about the security of the US nuclear weapons stationed in Turkey since a failed coup attempt and concerns regarding possible terrorist attacks in 2016. While in 2017 there were suspicions that the weapons were 'quietly removed',182it is assumed that in 2021, 20 B61 bombs were still stationed in Incirlik,after a reduction from the previous total of 50.