The prohibition on threatening to use
The Nuclear Weapons Ban Monitor finds that Russia, North Korea, and France in 2022 acted in contravention of the TPNW's prohibition on threatening to use nuclear weapons. It is hard to recall a year with more nuclear sabre-rattling than 2022. The overwhelming majority of the provocative statements regarding potential use of nuclear weapons were made by Russia's president Vladimir Putin and other senior Russian officials in an attempt to prevent NATO involvement in the war in Ukraine, heightening tensions and increasing the risk of nuclear calamity.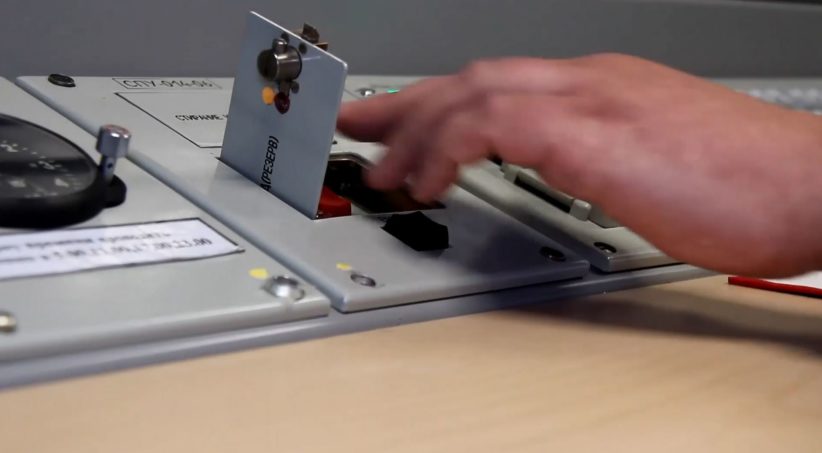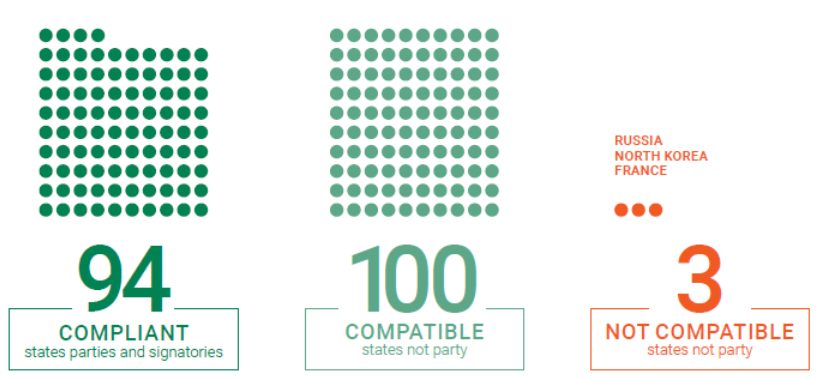 While most of the statements made in 2022 regarding potential use of nuclear weapons may be dismissed as blustering, the following were in the view of the Ban Monitor clear instances of threatening to use nuclear weapons as prohibited under Article 1(1)(d) of the TPNW:1

• At the start of the war in Ukraine, Putin stated quite explicitly: 'I would now like to say something very important for those who may be tempted to interfere in these developments from the outside…. [T]hey must know that Russia will respond immediately, and the consequences will be such as you have never seen in your entire history. No matter how the events unfold, we are ready. All the necessary decisions in this regard have been taken. I hope that my words will be heard.'2 While Putin did not mention nuclear weapons, it was clear from the context that he was referring also to nuclear weapons and the statement therefore amounted to threatening to use nuclear weapons under the TPNW. It was also a clear violation of the UN Charter, because the threat was clearly intended to support a war of aggression and the annexation of foreign territory.
• In response, Jean-Yves Le Drian, the French Minister for Europe and Foreign Affairs, said: 'Vladimir Putin must also understand that the Atlantic Alliance is a nuclear alliance.'3 Since this was a reference to use in self-defence, it did not ostensibly contradict the UN Charter but nevertheless amounted to threatening to use nuclear weapons under the TPNW. In general, NATO members refrained from engaging in threats of use of nuclear weapons in response to the many provocations in 2022 about possible Russian use of nuclear weapons. In October 2022, French president Emmanuel Macron said that Paris would not trigger a nuclear response if Russia launched such a strike 'in Ukraine or in the region.'4

• In September 2022, when Putin signed four treaties of accession to 'annex' four occupied regions of Ukraine, he once again stated that: 'In the event of a threat to the territorial integrity of our country and to defend Russia and our people, we will certainly make use of all weapon systems available to us. This is not a bluff.'5 This was understood to include the territory seized in Ukraine. Again, this was a violation of the UN Charter. The statement also contravened the TPNW because it was clear that Putin was also referring to nuclear weapons.

• In October 2022, North Korea launched a nuclear-capable missile over Japan. This act, which resulted in alarms from cell phones, radios, and public speakers across northern Japan warning residents to seek shelter,6could also be considered a threat to use nuclear weapons under the TPNW.

• At the beginning of November 2022, North Korea issued an implicit threat to use nuclear weapons, vowing that the United States and South Korea would 'pay the most horrible price in history' if either nation attempted to use armed force against North Korea. 'Without any fear, the special means of the [North's] armed forces will carry out their strategic mission without delay', said Pak Jong Chon, a secretary of the ruling Workers' Party who is considered a close confidante of Chairman Kim.7
Reactions
A silver lining around this very dark cloud is that 2022 also saw widespread efforts to reaffirm the unacceptability of threatening to use nuclear weapons and any serious contemplation of recourse to such weapons.
Most forcefully, the 'Vienna Declaration' adopted by the TPNW's First Meeting of States Parties (1MSP) stated: 'We are alarmed and dismayed by threats to use nuclear weapons and increasingly strident nuclear rhetoric. We stress that any use or threat of use of nuclear weapons is a violation of international law, including the Charter of the United Nations. We condemn unequivocally any and all nuclear threats, whether they be explicit or implicit and irrespective of the circumstances',8 provoking a strong response from Russia.9 Leading states parties of the TPNW, including Austria, Costa Rica, Ireland, Mexico and New Zealand also issued a statement condemning Russia's nuclear threats and calling on all nuclear-armed states to work towards nuclear disarmament.'10The G20 Summit in Bali in November 2022 also issued a strong declaration in which it stated that the 'use or threat of use of nuclear weapons is inadmissible'.11 Also in November 2022, China's leader Xi Jinping felt moved to warn President Putin not to use nuclear arms in Ukraine.12 India similarly condemned threats of nuclear use by Russia after being initially reluctant to do so.13

The UN Secretary-General issued a strongly worded rebuke to Russia for 'totally unacceptable' nuclear threats.14Finally, at the G7 Summit held in Elmau, Germany in late June 2022, the leaders of the seven nations issued a communiqué in which they welcomed the 'Joint Statement of the Leaders of the Five Nuclear-Weapon States on Preventing Nuclear War and Avoiding Arms Races' of 3 January 2022, 'including the important affirmation that a nuclear war cannot be won and must never be fought'. But they also condemned Russia's 'provocative statements which signal the threat of use of nuclear weapons', which, they said, 'undermines the credibility of Russia's commitment to the Joint Statement'.15

The International Campaign to Abolish Nuclear Weapons (ICAN) praised these statements, saying that 'consistent and unequivocal condemnation from governments and civil society can stigmatise and delegitimise nuclear threats, [and] help restore and strengthen the norm against the use of nuclear weapons'.16 Daryl Kimball of the Arms Control Association made the point, however, that the international community's reaction to Putin's nuclear antics has been far too mild. 'The U.S. response to Putin's nuclear threats, as well as those of Western governments that also embrace nuclear deterrence ideologies and rely on the credible threat of nuclear use, has been particularly underwhelming', said Kimball.17
Nuclear 'responsibility'
Western nuclear-armed states and their allies in 2022 called out Russia's nuclear threats as illegitimate and dangerous. This de-legitimation, however, was in most cases framed within a narrative of 'responsible' versus 'irresponsible' nuclear behaviour. For example, at the Tenth Review Conference of the NPT in August, a working paper by France, the United Kingdom, and the United States, stated: 'We reject irresponsible rhetoric concerning potential nuclear use intended for military coercion, intimidation or blackmail,' whilst at the same time legitimising their own nuclear threats by stating that 'the use of nuclear weapons should only be considered in extreme circumstances of self-defence'.18 NATO said much the same.
This focus on 'responsible' nuclear behaviour in practice emphasised the value of nuclear weapons and thus lent legitimacy to Putin's nuclear threats. It was also problematic because coercive diplomacy through threats of nuclear violence has been a standard script of the nuclear age, to both maintain and challenge the status quo. The United States and the United Kingdom have issued many such threats, as of course has Russia. A case in point is the threat by the United Kingdom to Iraq in 2003 by then UK defence secretary Geoff Hoon, who said the United Kingdom 'reserved the right' to use nuclear weapons if Britain or British troops were threatened by chemical or biological weapons.19 This was not about deterring a third party from intervening, but about deterring the attacked state itself from responding with chemical or biological weapons.
ARTICLE 1(1)(d) - INTERPRETATION
Each State Party undertakes never under any circumstances to 'threaten to use nuclear weapons or other nuclear explosive devices'.
Article (1)(1)(d) prohibits threatening to use a nuclear weapon or other nuclear explosive device at all times, and regardless of whether such use would itself be a violation of international law or in legitimate self-defence against foreign aggression. It is therefore broader in scope than the prohibition on threat of force in Article 2(4) of the UN Charter.
To violate the TPNW, a threat of use must be credible in the circumstances. This means that the threat must emanate from a person or an authority in a position to either direct or authorise the use of a nuclear explosive device. Typically, therefore, such a threat would be made by a senior, pertinent government official or member of the ruling party in a nuclear-armed state.
The narrow wording in Article 1(1)(d) of the TPNW with the active verb 'threaten to use' requires that any signalled intention by a state to use nuclear weapons be specific as to the target of threatened use.
Prohibited threats may, however, be implicit as well as explicit. A stated threat does not, therefore, have to refer to use of nuclear weapons, although it would be more likely to violate the norm in the TPNW should it do so.
In certain circumstances of tension, a show of force by means of missile testing, an explosive test of a nuclear weapon, a military exercise involving possible use of nuclear weapons, or a nuclear strike exercise, could amount to unlawfully threatening to use nuclear weapons under the TPNW (along with other violations of the Treaty).
Policies of nuclear 'deterrence' rest on willingness to use nuclear weapons. Accordingly, reflecting the severity of the danger, some experts take the view that a practice of nuclear 'deterrence' in and of itself constitutes an unlawful threat of use of nuclear weapons. It is the view of the Ban Monitor that the broader concept of nuclear deterrence, where the threat to use nuclear weapons is general and not specific in nature, is not sufficient in itself to constitute threatening to use under the TPNW. Deterrence practices are, however, illegal under the prohibition on possession and stockpiling.
The Treaty on the Non-Proliferation of Nuclear Weapons (NPT) does not prohibit the threat of use of nuclear weapons.