The prohibition on using nuclear weapons
Today's nine nuclear-armed states possess the unique capability to start or engage in a nuclear war, which could – under some extreme scenarios – end all human life on Earth. Nuclear weapons have not been used since August 1945 when the United States dropped a nuclear weapon first on Hiroshima and then, three days later, on Nagasaki. No state has therefore contravened the prohibition on use of nuclear weapons since the TPNW was adopted in 2017.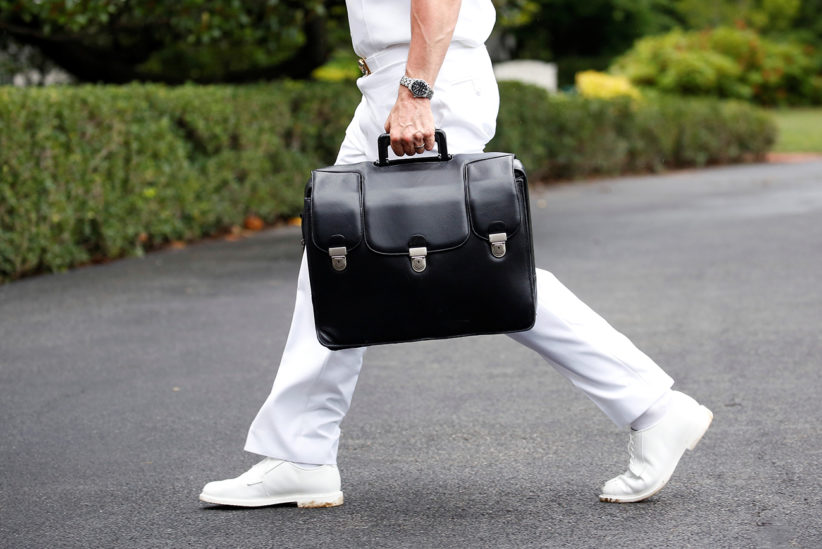 INTERPRETATION
Under Article 1(1)(d) of the TPNW, states parties undertake never under any circumstances to use nuclear weapons or other nuclear explosive devices. Preventing use of nuclear weapons is a central aim of the Treaty.
To use a nuclear weapon or other nuclear explosive device is to launch, release, deliver, or detonate it with hostile intent or for so-called 'peaceful' use, such as in civil engineering. Intent can be discerned from the circumstances and does not have to be publicly declared.
Possession or deployment of nuclear weapons for the purpose of 'deterrence' does not amount to their use under the TPNW but is caught by the prohibition on possession in Article 1(1)(a).
The NPT does not address the use of nuclear weapons except in so far as it allows 'peaceful' detonation of nuclear explosive devices by nuclear-weapon states. The CTBT prohibits peaceful nuclear explosions.
Other nuclear explosive devices have not been used in armed conflict, though so-called 'peaceful' nuclear explosions were conducted for civil engineering purposes between the second half of the 1950s and the end of the 1980s by the Soviet Union and the United States.
The world has already on several occasions been brought to the brink of nuclear war or nuclear accidents through miscommunication, misunderstandings, and technical malfunctions. Luck has had an alarmingly significant role in the history of nuclear weapons. Former US Defence Secretary William Perry stated in 2016 that the likelihood of a nuclear catastrophe is 'greater than during the Cold War and rising'. In April 2018, the UN Secretary-General informed the UN Security Council that the Cold War 'is back … but with a difference. The mechanisms and the safeguards to manage the risks of escalation that existed in the past no longer seem to be present'.
The increasing risk of new use of nuclear weapons can be divided into the following four different scenarios:
Doctrinal use of nuclear weapons, i.e. the use of nuclear weapons as outlined and envisaged in declared policies, doctrines, strategies and concepts;
Escalatory use, i.e. the use of nuclear weapons in an ongoing situation of tension or conflict;
Unauthorised use, i.e. the non-sanctioned use of nuclear weapons by a non-state actor;
Accidental use, i.e. the use of nuclear weapons through error, such as might result from technical malfunction and human error.
The trend towards 'smaller' and 'smarter' nuclear weapons is also believed to increase risk. A number of experts have argued that 'low-yield' capabilities such as the US W76-2 Trident warhead deployed in early 2020 are 'more usable as weapons of war, and therefore some president, in a crisis, might feel more tempted to use them'.
Yield
Most nuclear weapons today, however, have an explosive yield that is many times higher than that of the nuclear weapon dropped on Hiroshima in 1945, whose explosive force was the equivalent of 15 kilotons of TNT and killed 140,000 people instantaneously or within five months. For context, the figure below provides an overview of the immediate estimated fatalities and injuries which a typical nuclear weapon, with a yield of 100 kilotons, would cause if it were dropped today on Pyongyang, Tehran, New York City, Beijing, or Moscow.

A study in Science Advances, published in early October 2019, examines a scenario of nuclear war between India and Pakistan. If India uses 100 nuclear weapons against urban targets and Pakistan uses 150, the two countries alone could suffer 50 to 125 million fatalities, depending on the yield of the weapons. Smoke from burning cities would spread globally within a matter of weeks, triggering severe short-term climate perturbations, with temperatures declining to values not seen on Earth since the middle of the last Ice Age. Food production worldwide would decline and mass starvation ensue. Every nation on Earth could be severely affected.
Immediate fatalities and injuries from one 100 kiloton nuclear weapon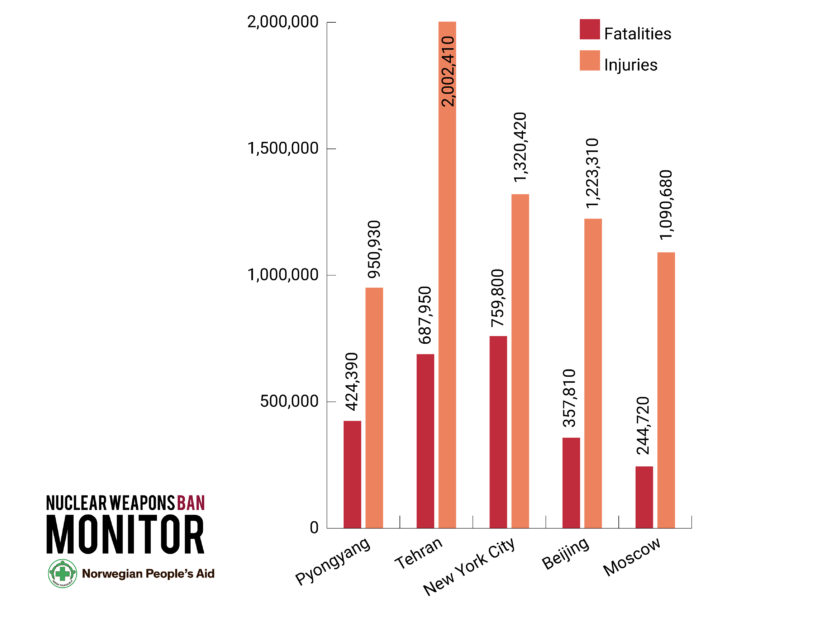 Policies on Use
Five of the nine nuclear-armed states – France, Pakistan, Russia, the United Kingdom, and the United States – maintain written nuclear doctrines that allow for the 'first use' of nuclear weapons. Two of the nine, India and China, have long maintained so-called no-first-use policies, declaring that they will only use nuclear weapons in retaliation to the use of such weapons by an adversary (Indian policy allowed for the use of nuclear weapons in response to chemical or biological attack in 2003). Yet both are in the process of expanding their arsenals, which many analysts have interpreted as an indication that they might be envisioning pre-emptive use under certain circumstances.

Kim Jong-un stated in 2016 and 2018 that North Korea will not use nuclear weapons unless 'its sovereignty is encroached upon by any hostile force with nuclear weapons'. However, other statements from his government, including threats of a 'pre-emptive nuclear strike of justice' against Japan and South Korea, have undercut the credibility of these comments.

Russian President Vladimir Putin's apparent claim in October 2018 that Russia would not use nuclear weapons first is not reflected in Russia's official nuclear-weapons doctrine, which explicitly stipulates that Russia would consider using nuclear arms in response to the use of 'weapons of mass destruction against it and/or its allies, as well as aggression against Russia with the use of conventional weapons when the very existence of the state is in jeopardy'. The ninth nuclear-armed state, Israel, has not formally admitted to possessing nuclear weapons, and has thus not made clear its policy on their use.

Theorists and military planners often distinguish between strategies aimed at destroying the adversary's missile bases and other nuclear assets ('counter-force') and strategies aimed at killing civilians and destroying the adversary's population centres ('counter-value'). Counter-force strategies are commonly presumed to require larger nuclear arsenals and more sophisticated command-and-control structures than do counter-value strategies. Russia and the United States are believed to have maintained plans for both counter-value and counter-force strikes since the 1960s. The remaining seven nuclear-armed states have maintained smaller nuclear arsenals primarily structured to facilitate counter-value strikes, or tactical, battlefield use. However, there are now signs that certain nuclear-armed states, China and India in particular, are expanding their arsenals in such a way as to enable counter-force strikes.

France, Russia, the United Kingdom, and the United States all maintain nuclear weapons on alert, that is, warheads mated with means of delivery and ready to be launched on short notice. The United States and Russia continue to maintain large numbers of nuclear forces on high levels of alert, ready to launch within minutes. France and the United Kingdom also deploy nuclear forces, which can be quickly launched, though at lower levels of readiness. Combined, these four states are estimated to deploy about 1,800 alert nuclear warheads between them, with Russia and the United States accounting for more than 90 per cent of that number. As discussed above in the section on the prohibition on possession and stockpiling, France, Russia, the United Kingdom, and the United States all have SSBNs on duty at all times. Russia and the United States also deploy several hundred alert ground-launched nuclear missiles.

The remaining nuclear-armed states are thought not to maintain nuclear weapons on alert on a normal basis, storing their nuclear warheads separately from their respective delivery vehicles. However, it has been suggested that this might change as China, India, Israel, and Pakistan are in the process of fielding or upgrading their submarine forces. It is not clear whether China, which has already fielded a fleet of such submarines, equips its SSBNs with nuclear weapons in peacetime.