The prohibition on use
Today's nine nuclear-armed states possess the unique capability to start or engage in a nuclear war, which could — under some extreme scenarios — end all human life on Earth. Nuclear weapons have not been used since August 1945 when the United States dropped a nuclear weapon first on Hiroshima and then, three days later, on Nagasaki.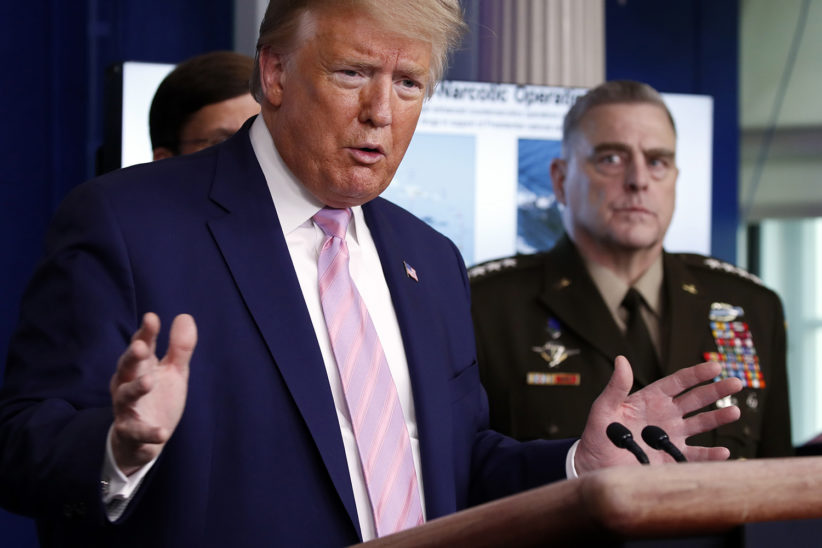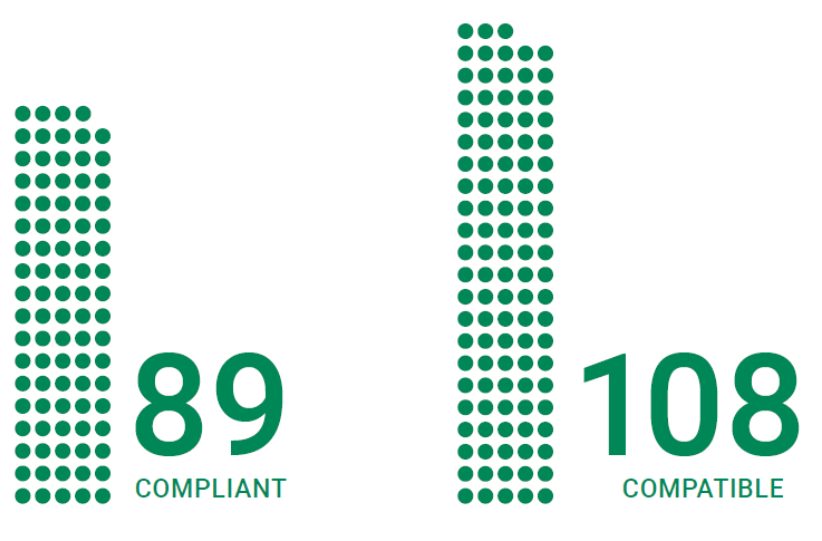 ARTICLE 1(1)(d) - INTERPRETATION
Each State Party undertakes never under any circumstances to: 'Use […] nuclear weapons or other nuclear explosive devices.'

• Preventing use is a central aim of the TPNW.
• To use a nuclear weapon or other nuclear explosive device is to launch, release, deliver or detonate it with hostile intent or for so-called 'peaceful' use, such as in civil engineering. Intent can be discerned from the circumstances and does not have to be publicly declared.
• Possession or deployment of nuclear weapons for the purpose of 'deterrence' does not amount to their use under the TPNW but is caught by the prohibition on possession in Article 1(1)(a).
• The NPT does not address the use of nuclear weapons in so far as it allows 'peaceful' detonation of nuclear explosive devices by nuclear-weapon states. The CTBT prohibits such 'peaceful' nuclear explosions.
Other nuclear explosive devices have not been used since some 150 such devices were detonated for so-called 'peaceful' use (for civil engineering purposes) between the second half of the 1950s and the end of the 1980s by the Soviet Union and the United States. No state has therefore contravened the TPNW's prohibition on use of nuclear weapons since the Treaty was adopted in 2017.
The world has, however, on several occasions been brought to the brink of nuclear war or nuclear accidents. Luck has had an alarmingly significant role in the history of nuclear weapons. The UN Secretary-General António Guterres warned in September 2021 that 'Humanity remains one misunderstanding, one misstep, one miscalculation, one pushed button away from annihilation.'
The trend towards 'smaller' and 'smarter' nuclear weapons is also believed to increase risk. A number of experts have argued that 'low-yield' capabilities such as the US W76-2 Trident warhead deployed in early 2020 are 'more usable as weapons of war, and therefore some president, in a crisis, might feel more tempted to use them.'
With the exception of Pakistan, where nuclear use could reportedly be decided by a ten-member employment committee, each nuclear-armed state reserves 'sole' or final authority over the decision to use nuclear weapons for the head of state or government. Nuclear deterrence theory also assumes a rational decision-making procedure, but, of course, this can never be guaranteed. The dramatic, final days in office of President Donald Trump in January 2021 served as a reminder of this.
After the January 6 attack on the US Capitol, Trump's top military adviser, Joint Chiefs Chairman General Mark Milley, is said to have taken secret action to limit Trump from potentially ordering a dangerous military strike or launching nuclear weapons. This was reported in a book by Bob Woodward and Robert Costa. They wrote that General Milley 'was certain that Trump had gone into a serious mental decline in the aftermath of the election', and was worried that he could 'go rogue'. Milley called a secret meeting in his Pentagon office on January 8 to review the process for military action, including the launching of nuclear weapons. Speaking to senior military officials in charge of the National Military Command Center, the Pentagon's war room, Milley instructed them not to take orders from anyone unless he was involved.
Woodward and Costa also write that 'some might contend that Milley had overstepped his authority and taken extraordinary power for himself', but he believed his actions were 'a good faith precaution to ensure there was no historic rupture in the international order, no accidental war with China or others, and no use of nuclear weapons'.

Humanitarian consequences of use
Most nuclear weapons today have an explosive yield that is many times higher than that of the nuclear weapon dropped on Hiroshima in 1945, whose explosive force was the equivalent of approximately 15 kilotons (Kt) of TNT and killed 140,000 people instantaneously or within five months. For context, the chart below provides an overview of the immediate estimated fatalities and injuries which one typical nuclear weapon, with a yield of 100 kilotons, would cause if it were dropped today on the capitals of the nuclear-armed states. The statistics on the number of fatalities and injured are from NUKEMAP by Alex Wellerstein, using population density information and nuclear effects information. Fatalities and injuries are based on the immediate impact of the detonation and do not account for long-term radiation deaths and injuries or the lasting environmental impact a large-scale nuclear detonation could cause. All of the detonations calculated were airbursts, not surface detonations.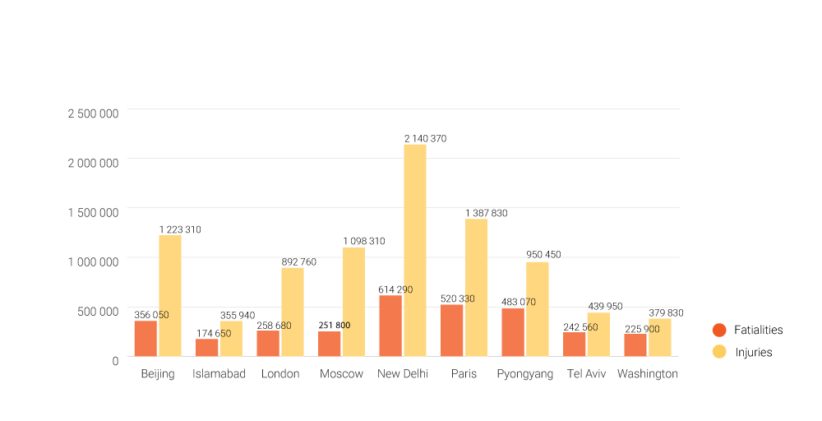 A study in Science Advances published in early October 2019 examines a scenario of nuclear war between India and Pakistan. If India were to use 100 nuclear weapons against urban targets and Pakistan were to use 150, the two countries alone could suffer 50 to 125 million fatalities (depending on the yield of the weapons). In addition to significant radioactive fallout, smoke from burning cities would spread globally within a matter of weeks, triggering severe short-term climate perturbations, with temperatures declining to values not seen on Earth since the middle of the last Ice Age. Food production worldwide would decline and mass starvation ensue. Every nation on Earth could be severely affected.
Policies on Use
Five of the nine nuclear-armed states — France, Pakistan, Russia, the United Kingdom, and the United States — maintain written nuclear doctrines that allow for the 'first use' of nuclear weapons. Two of the nine (India and China) have long maintained so-called no- first-use policies, declaring that they will only use nuclear weapons in retaliation to prior use by an adversary. Yet both are in the process of expanding their arsenals, which many analysts have interpreted as an indication they might also be in the process of changing their nuclear postures, including by envisioning pre-emptive use under certain circumstances.
US officials have suggested that, as of 2021, China has deployed at least one satellite into orbit to facilitate a shift to a nuclear 'launch-on-warning'posture. Under such a posture, China might choose to launch pre-emptive nuclear strikes when confronted with the likelihood of a first strike by an adversary.
Kim Jong-un stated in 2016 and 2018 that North Korea will not use nuclear weapons unless 'its sovereignty is encroached upon by any hostile force with nuclear weapons'. However, other statements from his government, including threats of a 'pre-emptive nuclear strike of justice' against Japan and South Korea, have undercut the credibility of these comments.
Russian President Vladimir Putin's apparent claim in October 2018 that Russia would not use nuclear weapons first is not reflected in Russia's official nuclear- weapons doctrine, which explicitly stipulates that Russia would consider using nuclear arms in response to the use of 'weapons of mass destruction against it and/or its allies, as well as aggression against Russia with the use of conventional weapons when the very existence of the state is in jeopardy'.
The ninth nuclear-armed state, Israel, has not formally admitted to possessing nuclear weapons, and has thus not made clear its policy on their use.
France, Russia, the United Kingdom, and the United States all maintain nuclear weapons on alert, ready to be launched on short notice. For information on this, see the section on the prohibition on possession and stockpiling.

Counter-force and counter-value
• Theorists and military planners often distinguish between strategies aimed at destroying the adversary's missile bases and other nuclear assets ('counter-force') and strategies aimed at killing civilians and destroying the adversary's population centres ('counter-value').
• Counter-force strategies are commonly presumed to require larger nuclear arsenals and more sophisticated command and control structures than do counter-value strategies.
• Russia and the United States are believed to have maintained plans for both counter-value and counter- force strikes since the 1960s. The remaining seven nuclear-armed states have maintained smaller nuclear arsenals primarily structured to facilitate counter-value strikes or tactical use on the battlefield. However, there are now signs that certain nuclear- armed states, China and India in particular, are expanding their arsenals in such a way as to enable counter-force strikes.