The prohibition on development, production, manufacturing, and other acquisition
The nine nuclear-armed states continued to engage in conduct in 2022 that was not compatible with the TPNW's prohibition on developing, producing, manufacturing, or otherwise acquiring nuclear weapons. Two further states not party—Iran and Saudi Arabia—were again recorded as states of concern.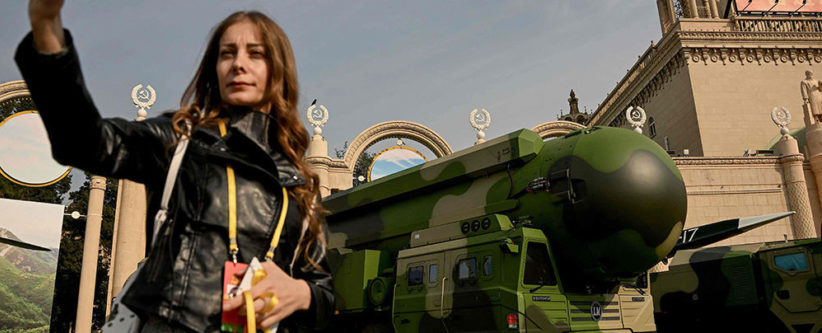 Most nuclear-armed states brand their ongoing development and production efforts as 'modernisation', but their actions go well beyond simple maintenance and sustainment operations. In reality, every nuclear-armed state is actively engaged in the development and production of new nuclear delivery vehicles and/or warheads, in addition to upgrading their existing nuclear capabilities. Growing international tension is fuelling this trend.

Some modernisation programmes are prompted by the nature of the 21st-century nuclear arms competition, as states continuously seek to negate their adversaries' advantages, but others are simply an inherent feature of persistent planning for the indefinite retention of nuclear arsenals. Given the long timelines typically associated with weapons development, states often begin planning their follow-on systems more than a decade before they are eventually inducted into service. This dynamic—coupled with the tremendous influence that weapons contractors, lobbyists, and financial institutions have on governmental nuclear policy decisions—makes it extremely difficult to reduce the scope of a country's nuclear modernisation programme.

The Nuclear Weapons Ban Monitor collaborates with the Federation of American Scientists' Nuclear Information Project to estimate and analyse global nuclear forces. The following summary of the nine nuclear-armed states is intended to be a snapshot of each country's primary nuclear developments in 2022. It is not an exhaustive overview.1
United States
The United States is in the midst of a wide-ranging modernisation programme to upgrade or replace every nuclear warhead and delivery system in its nuclear arsenal. The cost of this programme could reach up to US$2 trillion, and it is expected that this will serve to maintain nuclear weapons in the US nuclear arsenal through most of the remainder of this century.
In 2022, the United States released an unclassified version of its long-awaited Nuclear Posture Review, which formally announced the eventual retirement of the B83-1 gravity bomb and the cancellation of the nuclear sea-launched cruise missile (SLCM-N) proposed by the Trump administration. However, the status of the SLCM-N remains unclear, as Congress may decide to override the executive branch and fund the system anyway.
In 2022, the United States also displayed the B-21 Raider heavy bomber, which will eventually replace the current B-2 nuclear bomber. The B-21 will be equipped to carry the Long-Range Standoff (LRSO) cruise missile and the B61-12 gravity bomb. The B61-12 began mass production in 2022 and special airlift planes were certified in late-2022 to be ready to deliver the bomb to bases in the United States and Europe in the near future.

Russia
Russia is currently in the late stages of a decades-long modernisation programme to replace all of its Soviet-era nuclear systems with more modern ones. This includes both long-range strategic and a large inventory of shorter-range non-strategic weapons.
In 2022, Russia conducted the first test-launch of its newest intercontinental ballistic missile (ICBM), known as the RS-28 Sarmat, and the missile has now entered serial production, although more tests will be needed before it becomes operational. Upgrading of silos to receive the new missile is progressing. The first silos of a second regiment with Russia's new Avangard hypersonic glide vehicle reportedly began its alert duty.
Also in 2022, the Russian Navy accepted its sixth improved Borei-class ballistic missile submarine (SSBN)—the Generalissimus Suvorov—for sea trials, and was expected to begin deploying the vessel in early 2023.5 The Navy is expected to receive the remainder of a total of 10 Borei boats over the coming years, in addition to several special-purpose submarines that will be able to launch Poseidon nuclear torpedoes.

China

China's nuclear stockpile is expected to increase significantly in the next decade, though its arsenal is still expected to remain significantly smaller than that of either Russia or the United States. In 2022, China continued rapid construction on all three of its new solid-fuel missile silo fields and additional liquid-fuel missile silos further south, totalling more than 350 new silos. This development, coupled with other elements of its nuclear modernisation programme, indicates that China aims to dramatically increase the size of its nuclear arsenal. In 2022, the US Department of Defense estimated that China's nuclear stockpile could grow to more than 1,500 nuclear warheads by 2035 if its current pace of growth continues.

United Kingdom

The United Kingdom has committed to a comprehensive nuclear modernisation programme that includes replacing its SSBNs, re-entry bodies, and warheads. This programme is expected to keep nuclear weapons in the UK military arsenal until at least 2065. In 2022, the United Kingdom continued to incorporate its existing warheads into the US-supplied Mk4A re-entry body with enhanced targeting capability, advance its new warhead programme, which is based on the United States' planned W93 warhead, and build its next generation of Dreadnought-class SSBNs.

France

France is modernising both of its nuclear delivery systems—its submarine-launched ballistic missiles (SLBMs) and air-launched cruise missiles (ALCMs)—and has also recently begun a programme to build a new fleet of SSBNs, known as SNLE 3G. This programme is expected to keep nuclear weapons in the French arsenal until at least 2070. It is also planning to build a new nuclear-powered aircraft carrier.

Israel

Israel is modernising its arsenal of land-based ballistic missiles and may be upgrading its plutonium and warhead production facility. In 2022, Israel continued its significant construction effort at its Dimona nuclear weapons facility, which is likely to be associated with a life-extension campaign.

India

India is in the midst of completing and operationalising its nascent nuclear triad, and is modernising its existing nuclear forces to place increased emphasis on prompt missile launches. In 2022, India test-launched its new Agni-V near-ICBM, and is preparing the missile for operational deployment. India also completed the development trials for its new Agni-P medium-range ballistic missile (MRBM), which will likely replace older shorter-range Agni missiles. Unlike earlier versions of Agni missiles, both the Agni-V and the Agni-P will be deployed in new mobile canister systems, which will reduce the time required to launch the missiles in a crisis because they can be transported with the warhead installed. India also completing its second SSBN (INS Arighat), which might become operational in 2024.
Pakistan
Pakistan is in the midst of building a nuclear triad, placing particular emphasis on developing several short-range, tactical nuclear-capable weapon systems specifically designed to deter large-scale conventional strikes against or incursions into Pakistani territory. In 2022, Pakistan continued the development of its new dual-capable Shaheen-III MRBM, and conducted a successful test-launch of the system in April.

North Korea
North Korea appears to be focusing its nuclear development on deploying new types of shorter-range, solid-fuel missiles to potentially enable a strategy of regional nuclear warfighting. In 2022, North Korea tested several new types of missiles, including hypersonic glide vehicles, tactical ballistic missiles, and the likely first successful full flight of its new Hwasong-17 ICBM. North Korea is also increasingly practicing high-volume salvo launches; in November, for example, North Korea fired 23 missiles in a single day, with one landing less than 60km from South Korea's coast.9 It is uncertain which of North Korea's many missiles are nuclear-capable.
Missile tests
Test launches of missiles that are either specifically designed to deliver nuclear warheads or which are nuclear-capable are often used to validate particular delivery systems or subcomponents and therefore constitute prohibited development of nuclear weapons under Article 1(1)(a) of the TPNW (unless the purpose of the launch is to test the conventional capability of the missile).
According to open-source data collection, which may not be exhaustive, all the nuclear-armed states apart from Israel and the United Kingdom test-launched nuclear-capable missiles in 2022. North Korea launched at least 37 missiles.
---
States of concern
The Nuclear Weapons Ban Monitor continues to list Iran and Saudi Arabia as states of concern in relation to the prohibition on developing, producing, manufacturing, or otherwise acquiring nuclear weapons. They do not possess nuclear weapons, but both have latent nuclear breakout capabilities. Therefore, in the event that either state intended to become party to the TPNW, possible compliance issues would need to be addressed by a meeting of states parties or review conference.
Iran
Following the US withdrawal from the Joint Comprehensive Plan of Action (JCPOA), Iran restarted uranium enrichment beyond levels previously permitted by the agreement; as of August 2022, the International Atomic Energy Agency (IAEA) estimated that Iran possessed a stockpile of 331.9kg of uranium (in UF6 form) enriched up to 20%. This represents approximately 13 'significant quantities' of enriched uranium, which the IAEA describes as the 'approximate amount of nuclear material for which the possibility of manufacturing a nuclear explosive device cannot be excluded.' This is particularly worrisome, because very little additional work is required to enrich uranium from 20% purity to weapons-grade quality. Additionally, the IAEA estimated that Iran possessed approximately 55.6kg of uranium enriched up to 60%.2

These developments have reduced Iran's potential nuclear break-out time from approximately a year under the JCPOA to just a couple of months, although there is currently little public indication that Tehran intends to take that highly consequential step at this time. That being said, the IAEA noted that Iran's February 2021 decision to halt the implementation of its nuclear-related commitments under the JCPOA has 'had detrimental implications for the Agency's ability to provide assurance of the peaceful nature of Iran's nuclear programme'.3 The Biden administration appears to be working to negotiate a new agreement or a potential resumption of the JCPOA with Iran; however, even if this effort were to be successful, the IAEA noted that Iran would need to backfill its missing declarations and that the Agency would still struggle to verify their validity at this stage.3 As this report was going to print in March 2023, the IAEA had raised concern that Iran's uranium enrichment might even have gone beyond 60% U-235.4

Saudi Arabia
If Iran obtained a true nuclear capability, Saudi Arabia would almost certainly follow through on its promise to acquire one as well. Although Saudi Arabia's capabilities are much further behind Iran's, the country possesses a sizable stockpile of mineable uranium ore; has announced an intention to build several nuclear reactors across the country; and possesses several types of ballistic missiles that could be used to deliver nuclear warheads. While these factors do not necessarily indicate the country's interest in developing nuclear weapons at this time, Saudi Arabia's Original Small Quantities Protocol exempts the country from IAEA monitoring and inspections obligations, which increases ambiguity around the country's nuclear intentions and capabilities.
---
Fissile material
Fissile material—plutonium or highly enriched uranium (HEU)—is essential for nuclear weapons. Both military and civilian stocks of HEU and plutonium must be secured and reduced (and further production limited) in order to achieve nuclear disarmament, halt proliferation of nuclear weapons, and ensure that terrorists do not acquire them.
According to the International Panel on Fissile Materials (IPFM), as of May 2022 the global stockpile of HEU was estimated to be approximately 1,255 metric tonnes: approximately 75 metric tonnes less than in 2021. Approximately 1,110 metric tonnes of HEU was either in weapons or available for use in weapons production.15 Enriched uranium is also used in civilian reactor fuel; as of May 2022, 13 non-nuclear-armed states (Australia, Belarus, Belgium, Canada, Germany, Iran, Italy, Japan, Kazakhstan, the Netherlands, Norway, South Africa, and Syria) had at least 1kg of HEU in civilian stockpiles, with some holding between 1 and 10 tonnes.5
At the time of writing, no updated numbers were available for 2022, but as of 2021, the global stockpile of separated plutonium was about 540 tonnes, of which about 317 tonnes was civilian plutonium.6 It is notable that, outside of waste, no significant reductions in stockpiles of weapons plutonium have taken place since the Treaty on the Non-Proliferation of Nuclear Weapons (NPT) came into force. The largest stockpile of separated plutonium belongs to Russia, followed by the United Kingdom, the United States, and France. In July 2022, the UK's last remaining plutonium reprocessing plant completed operations and will be decommissioned, thus formally ending all of the United Kingdom's reprocessing activities after 70 years.
Japan also has a very large stockpile of approximately 46 metric tonnes of separated plutonium, some in storage in the United Kingdom and in France, and some on its territory, theoretically sufficient for the production of thousands of nuclear weapons. This makes Japan the only non-nuclear-armed state that separates plutonium for peaceful purposes. However, Japan has a standing policy to not possess more plutonium than it needs for civilian energy purposes, and there is currently no indication that Japan intends to develop a military nuclear-weapons programme.7
Facilities that can produce fissile material (reprocessing plants and/or enrichment facilities) exist in 15 states (the nine nuclear-armed states plus Argentina, Brazil, Germany, Iran, Japan, and the Netherlands).8 Of these, production of fissile material intended for nuclear weapons appears to continue in India, Israel, North Korea, and Pakistan. China, Russia, and the United States do not currently appear to be producing new fissile material for weapons, but continue to operate at least one reprocessing plant or enrichment facility without non-proliferation safeguards attached.
---
What is a nuclear weapon?
• As is the case with the NPT, the TPNW does not define 'nuclear weapons' or 'other nuclear explosive devices'. There is, though, a settled understanding among states of these terms.
• A nuclear explosive device is an explosive device whose effects are derived primarily from nuclear chain reactions.
• A nuclear weapon is a nuclear explosive device that has been weaponized, meaning that it is contained in and delivered by, for example, a missile, rocket, or bomb.
• Thus, all nuclear weapons are a form of nuclear explosive device but not all nuclear explosive devices are nuclear weapons.
---
ARTICLE 1(1)(a) INTERPRETATION
Each State Party undertakes never under any circumstances to: 'Develop, [...] produce, manufacture, otherwise acquire [...] nuclear weapons or other nuclear explosive devices.'
The prohibited 'development' of a nuclear weapon or other nuclear explosive device encompasses any of the actions and activities intended to prepare for its production. This covers relevant research, computer modelling of weapons, and the testing of key components, as well as sub-critical testing (i.e. experiments simulating aspects of nuclear explosions using conventional explosives and without achieving uncontrolled nuclear chain reactions).
The concepts of 'production' and 'manufacture' overlap significantly, covering the processes that are intended to lead to a completed, useable weapon or device. In general parlance, 'production' is a broader term than 'manufacture': manufacture describes the use of machinery to transform inputs into outputs. Taken together, these concepts encompass not only any factory processes, but also any improvisation or adaptation of a nuclear explosive device.
The prohibition on 'otherwise acquiring' a nuclear weapon or other nuclear explosive device is a catch-all provision that encompasses any means of obtaining nuclear weapons or other nuclear explosive devices other than through production. This could be through import, lease, or borrowing from another source or, in theory, by recovering a lost nuclear weapon or capturing or stealing one. This prohibition overlaps with the one in Article 1(1)(c) not to receive the control over nuclear weapons or other nuclear explosive devices (discussed below).
The prohibition on development, production, manufacturing, and acquisition also cover key components. It is widely accepted that the missile, rocket, or other munition, including both the container and any means of propulsion, are key components in a nuclear weapon. Delivery platforms such as bombers and submarines are not key components of nuclear weapons as such, and are not captured by the prohibitions in Article 1, though they may be integral to a nuclear-weapon system.
Key components are of course also the fissile material (plutonium or highly enriched uranium) and the means of triggering the nuclear chain reaction. Production or procurement of fissile material constitutes prohibited development when this is done with the intent to produce nuclear weapons or other nuclear explosive devices. To research, produce, and use nuclear energy for peaceful purposes is permitted both under the NPT and the TPNW.
Development and production of dual-use components, such as navigation or guidance systems, which could be used in both nuclear and conventional weapons, would only be prohibited under the TPNW when they were intended to be used in nuclear weapons.
Under Article II of the NPT, a similar obligation is imposed not to manufacture or otherwise acquire nuclear weapons or other nuclear explosive devices, but this applies only to the non-nuclear-weapon states designated under the Treaty and does not prohibit nuclear-weapon states from continuing to develop, produce, and manufacture nuclear weapons or other nuclear explosive devices.
---
The TPNW and mining and transfer of uranium
Under international law, mining and transfer of uranium is generally lawful, unless it is being done for the purpose of developing or assisting in the development of a nuclear explosive device. The peaceful use of nuclear energy is protected under Article IV of the NPT (and customary international law), and the Preamble to the TPNW confirms that nothing in the Treaty should be interpreted as affecting that right. A state may therefore extract uranium and either use the nuclear material itself or provide it to another state for peaceful purposes, as long as it is subject to Safeguards Agreements with the IAEA.
Under the TPNW, the provision of uranium to any other state is prohibited where it is not subject to appropriate Safeguards Agreements or if the state party transferring the uranium knows that the material in question will, or is likely to, be used to develop a nuclear weapon or other nuclear explosive device. Otherwise, states parties to the TPNW are permitted to transfer uranium, including to nuclear-armed states and states not party to the TPNW. Several states that mine and export uranium are party to the TPNW, including Kazakhstan, Namibia, and South Africa.
Under the NPT, the provision of uranium to any non-nuclear-weapon state is unlawful where it is not subject to appropriate Safeguards Agreements. The NPT does not directly address the legality of provision of uranium to the five nuclear-weapon states designated under that Treaty. If a state exports uranium to a nuclear-armed state or any other state subject to IAEA safeguards and on the understanding that the uranium would be used exclusively for peaceful purposes, the exporting state could not be considered to be in violation of either the TPNW or the NPT if the importing state unexpectedly decided to use the uranium for weapons development instead. This would, though, affect the legality of any future exports of uranium to that state.
When armed groups control areas of a state's territory, or when an armed conflict is ongoing, situations could occur where it would be difficult for the authorities of a state in which uranium deposits exist to effectively control all extraction and transfers. If a non-state actor in such a situation were to transfer uranium to an actor intending to develop a nuclear explosive device, the territorial state could not be considered to be in violation either of the TPNW or the NPT, provided that it has made all reasonable efforts to prevent such extraction and transfers. All reasonable efforts would include the adoption of national legislation and implementation of other practical measures to secure as far as possible sites in which uranium is present or where stocks of uranium are held.
For more detailed overviews of each state's nuclear developments, see Status of World Nuclear Forces, at: http://bit.ly/2B71Qcf.
'Verification and monitoring in the Islamic Republic of Iran in light of United Nations Security Council resolution 2231 (2015), Report by the Director General', IAEA doc. GOV/2022/39, 7 September 2022, at: https://bit.ly/41BPLWL, para. 51.
Ibid.
P. Wintour, 'Pressure on west to act grows after report on Iranian uranium enrichment', The Guardian, 28 February 2023, at: http://bit.ly/3KRFcsC.
International Panel on Fissile Materials, 'Materials: Highly Enriched Uranium', 2 May 2022, at: http://bit.ly/3macf0C.
International Panel on Fissile Materials, 'Global Fissile Materials Report 2022', 29 July 2022, at: https://bit.ly/3KOk8Di, p. 19.
M. Yamaguchi, 'Japan sticks to nuke fuel cycle despite plutonium stockpile', AP News, 21 October 2020, at: http://bit.ly/3J5BwlD.
International Panel on Fissile Materials, 'Global Fissile Materials Report 2022', 29 July 2022, pp. 23–24.