The prohibition on developing, producing, manufacturing, or otherwise acquiring nuclear weapons
All of the nine nuclear-armed states – China, France, India, Israel, North Korea, Pakistan, Russia, United Kingdom, and the United States – engaged in conduct in 2020 that was not compatible with the prohibition on developing, producing, manufacturing, or otherwise acquiring nuclear weapons. Two states not party – Iran and Saudi Arabia – have been recorded as states of concern.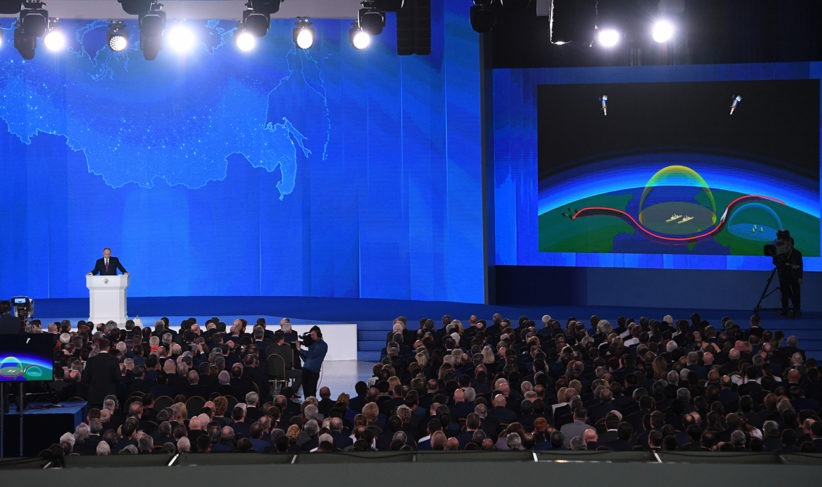 INTERPRETATION
Development, production, manufacture, and any other forms of acquisition of a nuclear weapon or other nuclear explosive device are prohibited under Article 1(1)(a) of the TPNW.
The prohibited 'development' of a nuclear weapon or other nuclear explosive device encompasses any of the actions and activities intended to prepare for its production. This covers relevant research, computer modelling of weapons, and the testing of key components, as well as sub-critical testing (i.e. experiments simulating aspects of nuclear explosions using conventional explosives and without achieving uncontrolled nuclear chain reactions).
The concepts of 'production' and 'manufacture' overlap significantly, covering the processes that are intended to lead to a completed, useable weapon or device. In general parlance, 'production' is a broader term than 'manufacture': manufacture describes the use of machinery to transform inputs into outputs. Taken together, these concepts encompass not only any factory processes, but also any improvisation or adaptation of a nuclear explosive device.
The prohibition on 'otherwise acquiring' a nuclear weapon or other nuclear explosive device is a catch-all provision that encompasses any means of obtaining nuclear weapons or other nuclear explosive devices other than through production. This could be through import, lease, or borrowing from another source or, in theory, by recovering a lost nuclear weapon or capturing or stealing one. This prohibition overlaps with the one in Article 1(1)(c) not to receive the control over nuclear weapons or other nuclear explosive devices.
As is the case with the NPT, the TPNW does not define 'nuclear weapons' or 'other nuclear explosive devices'. There is, though, a settled understanding among states of these terms. A nuclear explosive device is an explosive device whose effects are derived primarily from nuclear chain reactions. A nuclear weapon is a nuclear explosive device that has been weaponised, meaning that it is contained in and delivered by, for example, a missile, rocket, or bomb. Thus, all nuclear weapons are a form of nuclear explosive device but not all nuclear explosive devices are nuclear weapons.
The prohibition on development, production, manufacturing and acquisition also covers key components. It is widely accepted that the missile, rocket, or other munition, including both the container and any means of propulsion, are key components in a nuclear weapon. Delivery platforms such as bombers and submarines are not key components of nuclear weapons as such, and are not captured by the prohibitions in Article 1, though they may be integral to a nuclear-weapon system.
Key components are of course also the fissile material (plutonium or highly enriched uranium) and the means of triggering the nuclear chain reaction. Production or procurement of fissile material constitutes prohibited development when this is done with the intent to produce nuclear weapons or other nuclear explosive devices. To research, produce, and use nuclear energy for peaceful purposes is permitted both under the NPT and the TPNW.
Development and production of dual-use components, such as navigation or guidance systems, which could be used in both nuclear and conventional weapons, would only be prohibited under the TPNW when they were intended to be used in nuclear weapons.
Under Article II of the NPT, a similar obligation is imposed not to manufacture or otherwise acquire nuclear weapons or other nuclear explosive devices, but this applies only to non-nuclear-weapon states and does not prohibit nuclear-weapon states from continuing to develop, produce, and manufacture nuclear weapons or other nuclear explosive devices.
Most nuclear-armed states brand their ongoing development and production efforts as 'modernisation', but all continue to be actively engaged in development and production of new nuclear delivery vehicles and/or warheads, upgrading and perpetuating their nuclear capabilities. Many weapon systems currently being developed and produced are set to remain operational into the 2070s and 2080s, meaning that the states in question are committing themselves to nuclear armament for at least half a century into the future. In other words, ongoing modernisation projects 'indicate that genuine progress towards nuclear disarmament will remain a distant goal'.
As the UN High Representative for disarmament affairs, Izumi Nakamitsu, stated in February 2020, a 'qualitative nuclear arms race' is currently underway. This arms race is 'not based on numbers but on faster, stealthier and more accurate weapons'. Although some features of the current modernisation projects are intended to increase the safety and security of existing nuclear weapons and ensure better command and control, they also involve an expansion in the present capabilities of nuclear-armed states, including by making the weapons smaller, lighter and more 'useable'. Other aspects of ongoing modernisation efforts increase dependence on digital technologies, making nuclear weapons and their command-and-control systems vulnerable to cyber interference and malicious hacking by hostile states or even non-state actors, which may result in intentional nuclear detonations, false alerts, or fatal human errors.
In a report published in May 2020, ICAN estimated that the nine nuclear-armed states spent US$72.9 billion on their more than 13,000 nuclear weapons and delivery systems in 2019, a US$7.1 billion increase on the previous year.50 The United States led the way, with almost half of all global spending (US$35.4 billion), followed by China with US$10.4 billion (14%). Russia devoted an estimated US$8.5 billion to its nuclear arsenal, while the United Kingdom devoted US$8.9 billion to its nuclear arsenal.

If Iran and Saudi Arabia were today parties to the TPNW, possible compliance issues would need to be addressed by a meeting of states parties. The Nuclear Weapons Ban Monitor has therefore listed them as states of concern. One year after the United States withdrew from the Joint Comprehensive Plan of Action (JCPOA), Iran restarted uranium enrichment, moved to a slightly higher level than agreed (from 3.75% to 4.5% concentration of U-235), and introduced more advanced centrifuges. In early September 2020, the International Atomic Energy Agency (IAEA) declared that Iran's enriched uranium stockpile had reached 2,105kg, many times the amount permitted under the JCPOA.52 Under the Agreement, it was estimated that it would take Iran at least a year to produce enough weapons-grade material for one bomb. That has now been reduced to months. In August 2020, after 'intensive bilateral consultations', Iran and the IAEA agreed on the resolution of safeguards implementation issues raised by the Agency. Iran gave the IAEA access to two locations specified by the Agency, which in December 2020 still remained in a position to apply its most stringent verification methods in the country.

Saudi Arabia has explicitly and repeatedly threatened to swiftly acquire nuclear weapons should Iran do so. Its nuclear programme is in the early developmental stages, but at a conference in Abu Dhabi in September 2019, the energy minister announced an ambitious plan to extract and enrich uranium for two large power reactors. Saudi Arabia is already in talks with several reactor vendors, including from China, France, Russia, and South Korea, and is currently constructing its first research reactor. Saudi Arabia has a Comprehensive Safeguards Agreement with the IAEA, but also has in place a so-called "Small Quantities Protocol", which suspends most inspection and reporting requirements. In view of its ambitions, Saudi Arabia should rescind its Small Quantities Protocol and instead adopt an Additional Protocol allowing the Agency to search for undeclared materials and activities. However, Saudi Arabia seems in no hurry to do this.
Missile Tests
Test launches of missiles that are either specifically designed to deliver nuclear warheads or which are 'nuclear- capable' constitute prohibited development of nuclear weapons under Article 1(1)(a) of the TPNW (unless the purpose of the launch is to test the conventional capability of the missile). In many cases, however, the true purpose of such test launches may be sabre-rattling, which may amount to threatening to use nuclear weapons under the TPNW. Information from public reports,55 which may not be exhaustive, shows that seven of the nine nuclear-armed states (China, France, India, North Korea, Pakistan, Russia, and the United States) tested missiles specifically designed for nuclear weapons or nuclear-capable missiles in 2020.
Fissile Material
Fissile material – plutonium or highly enriched uranium (HEU)56 – is essential in all nuclear weapons. Both military and civilian stocks of HEU and plutonium must be secured and reduced and further production limited, in order to achieve nuclear disarmament, halt proliferation of nuclear weapons and ensure that terrorists do not acquire them. Production or procurement of fissile material constitutes prohibited development under the TPNW when this is done with the intent to produce nuclear weapons or other nuclear explosive devices. According to the International Panel of Fissile Materials (IPFM), the global stockpile of HEU was estimated to be about 1,335 tonnes at the beginning of 2019, while the global stockpile of separated plutonium was about 530 tonnes, of which about 310 tonnes was civilian plutonium. Russia and the United States, in particular, possess enormous quantities of both HEU and plutonium that could be used to produce tens of thousands of new nuclear explosive devices. The chart below converts the HEU and plutonium stocks of the nuclear-armed states into weapon equivalents. Combined, the nine nuclear-armed states have enough fissile material to produce more than 225,000 nuclear weapons.

Fissile material stocks in nuclear-armed states, in weapon equivalents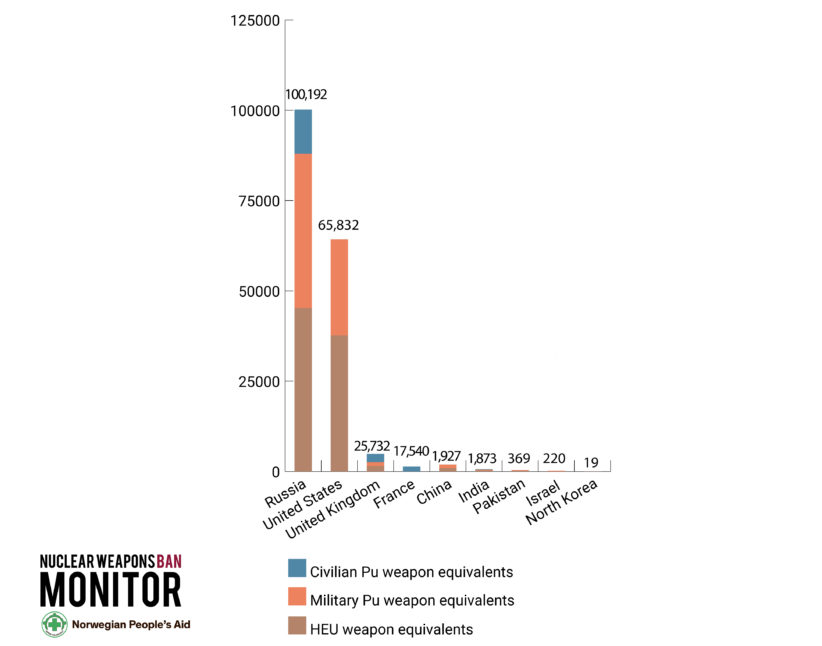 Enriched uranium is also used in civilian reactor fuel. A total of 13 non-nuclear-armed states (Australia, Belarus, Belgium, Canada, Germany, Iran, Italy, Japan, Kazakhstan, Netherlands, Norway, South Africa, and Syria) have at least 1kg of HEU in civilian stockpiles, and some of them between 1 and 10 tonnes. One of these – Japan – also has a very large stockpile of 45.7 tonnes of separated plutonium, some in storage in the United Kingdom and in France, and some on its territory, sufficient for the production of thousands of nuclear weapons.
Facilities that can produce fissile material (reprocessing plants and/or enrichment facilities) exist in 15 states (Argentina,62 Brazil, China, France, Germany, India, Iran, Israel, Japan, the Netherlands, North Korea, Pakistan, Russia, United Kingdom, United States). Of these, production of fissile material intended for nuclear weapons continues in India and Pakistan, and possibly also in Israel and North Korea. In another four of the nuclear-armed states on the list (China, France, Russia, and the United Kingdom) fissile material is currently being produced which could potentially be used for nuclear weapons. The remaining states (the United States and the six non-nuclear-armed states Argentina, Brazil, Germany, Iran, Japan, and the Netherlands) have the technical capability to do so.