The obligation to remediate affected territory
Environmental contamination from the testing of nuclear weapons is a particularly under-addressed humanitarian challenge. In most cases, the necessary assessment has not been conducted of whether contamination remains that requires environmental remediation. Affected populations often do not even have access to knowledge about the level of threat, how to protect themselves, which areas not to enter, and which food types to avoid.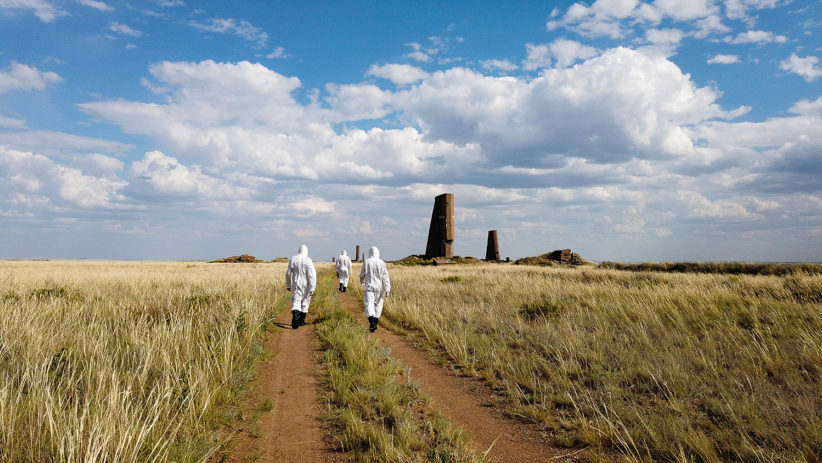 INTERPRETATION
States parties are obligated to remediate any areas in territory under their jurisdiction or control that have been contaminated as a result of activities related to the testing or use of nuclear weapons or other nuclear explosive devices.
Given that nuclear fallout causes significant levels of contamination that spread across time and space, the TPNW recognizes that environmental remediation is a long-term commitment. It is thus difficult, and often impossible, to return areas affected by nuclear weapons to their pre-detonation condition. Accordingly, Article 6(2) stipulates that affected states parties must take 'necessary and appropriate measures towards the environmental remediation of [contaminated] areas'. Although they may never achieve complete remediation, they must work in good faith towards that goal.
Certain interim activities, however, such as risk education, marking of contaminated areas, and national planning, can be accomplished in the near term. An essential step in each case is for a state party (or other affected state) to conduct an environmental remediation needs assessment.
In situations of use or testing of nuclear weapons, environmental remediation of contaminated areas is key to protect affected populations from harm and to help secure their rights. It also benefits the environment by helping to restore damaged ecosystems and promoting biodiversity. As is the case for victim assistance, however, no comprehensive overview yet exists of areas with ongoing contamination from decades of nuclear-weapons testing.
Illustrative examples follow below of areas affected by the testing of nuclear weapons, where environmental remediation measures have been undertaken, albeit with varying or disputed quality. The thresholds applied to determine when environmental remediation measures are necessary, and when they can be considered completed, vary considerably. This is because different national, and international bodies set different regulatory standards for human health. The thresholds may also not account for how some populations are more vulnerable to the health effects of exposure to ionizing radiation through biological or behavioural factors. For instance, the common practice of basing standards on adult male bodies means that increased harm among women, boys, and girls is not captured.
Implementing environmental remediation
• The Harvard Law School International Human Rights Clinic has identified principles for implementing the TPNW's obligation to remediate the environment affected by nuclear weapons use and testing. These principles draw from humanitarian disarmament and international environmental law.
• To start with, affected states should develop a national plan and budget, appoint a government focal point, and adopt relevant laws and policies. They should also collect and disseminate information about the extent and nature of contamination and their capacity to address it. Such practical steps promote efficiency, coordination, and accountability.
• After assessing the situation and identifying which areas to prioritize, affected states parties should determine the remediation methods that will produce the greatest net benefits; contain, treat, or remove the contamination; and manage the contamination as long as risks remain.
• Throughout the process, they should conduct risk reduction education and limit access to contaminated sites, including by marking, fencing, and posting warning signs.
• Affected states parties should adopt a precautionary and iterative approach to environmental remediation. They should also uphold the principles of transparency, non-discrimination, and inclusivity.

Source: Harvard Law School International Human Rights Clinic, 'Implementing Environmental Remediation under the Treaty on the Prohibition of Nuclear Weapons', July 2020.
---
Environmental remediation in TPNW states parties and signatories
KAZAKHSTAN
The territory of Kazakhstan, which is now a state party to the TPNW, was subject to repeated nuclear-weapons testing conducted by the Soviet Union during the Cold War. As discussed in the section on the obligation to assist victims, almost 500 nuclear tests were conducted at the Semipalatinsk Test Site between 1949 and 1989, a quarter of which were atmospheric. Soil, water, and air may still be contaminated in the fallout area around the city of Semey (renamed from Semipalatinsk in 2007).
While likely insufficient, efforts to improve the ecological condition of affected areas and minimize potential risks around the Test Site have been undertaken. In October 2012, at Degelen Mountain, Kazakh, Russian, and American nuclear scientists and engineers gathered to mark the completion of a 17-year, US$150 million operation to secure residual plutonium in the tunnels of the site and in surrounding bore holes, which were filled with a special concrete. In 2012–14, specialists from Kazakhstan's Institute of Radiation Safety and Ecology conducted the most comprehensive study to date of the site's Experimental Field, an area of approximately 300 square kilometres where atmospheric tests were conducted. This provided a detailed understanding of the radioecological situation in this area, including the location of hot spots.
KIRIBATI
Kiribati's declaration to the UN Secretary-General under Article 2 of the TPNW confirmed that 'there may be remnants of nuclear materials or other nuclear waste on and around Kiritimati Island which used to be owned, possessed or controlled by the governments of the United Kingdom and the United States of America during the pre-independence period'. More than 30 tests were conducted by the United Kingdom and the United States on
Kiritimati (Christmas Island) and Malden Island that form part of Kiribati in the Pacific. In 2006, 300 former Christmas Island residents submitted a petition to the European Parliament, accusing the United Kingdom of knowingly exposing them to radioactive fallout. Declassified government documents from the time warned that radioactive fallout could cause 'very hazardous contamination', yet the islanders received insufficient warnings or protection. To date, there has never been a comprehensive, independent analysis of the environmental impact of nuclear testing in the region and the scale of contamination and its potential long-term impact remain in dispute.
ALGERIA
Considerable atmospheric and underground testing (totalling 17 nuclear explosive devices) was also carried out in TPNW signatory state Algeria by colonial power France in 1960–66. Of the 13 underground nuclear tests that took place near In Ecker (Tan Afella mountain), four (Beryl, Amethyst, Ruby, Jade) were not completely contained or confined, resulting in the release of radioactive gases, aerosols and lava into the environment. At the two former French test sites in Algeria, while Algerian representatives have stated a desire to do more, virtually no additional environmental remediation has been performed at either site, apart from the erection of fences. However, as mentioned above, a Prime Ministerial Decree in May 2021 created and mandated a National Agency for the rehabilitation of the former French nuclear test sites in the south of Algeria. The Agency is empowered to contract and manage rehabilitation works and to seek national and international assistance for these operations.
Environmental remediation in states not party to the TPNW
Among states not party to the TPNW and which have areas on their territories where nuclear weapons were tested, the Marshall Islands is one of the most heavily affected by the grave humanitarian and environmental consequences of nuclear testing. In 1946–58, the United States conducted 67 tests in the Marshall Islands. The tests have particularly affected four atolls: Bikini, Enewetak, Rongelap, and Utirik. The entire Bikini Atoll and parts of the Enewetak Atoll are still uninhabitable, and contamination has made it unsafe to hunt, fish, or grow food in other areas. As a result, large numbers of Marshallese remain displaced.
In an effort to contain radiation in the late 1970s, the United States dumped contaminated soil from Enewetak into an unlined pit and covered it with the concrete Runit Dome. Rising tides due to climate change now threaten the integrity of the structure. A report by the US Department of Energy in 2020 concluded that the Runit Dome 'is not in any immediate danger of collapse or failure', but stated that the Department is 'in the process of establishing a groundwater radiochemical analysis program that is designed to provide scientifically substantiated data that can be used to determine what, if any, effects the dome contents are having, or will have, on the surrounding environment now and in the future'.
Another example of environmental remediation took place in Maralinga, Australia. The United Kingdom first implemented clean-up projects in the 1960s and declared the site to be safe. New studies in the 1980s revealed that contamination was much worse than claimed and the Australian government then conducted its own clean-up in 1995–2000, with the United Kingdom covering half of the cost. The quality of the second clean-up has also been called into doubt.
---