The obligation to remediate affected territory
Like victim assistance, environmental remediation of areas affected by nuclear-weapons use and testing is crucial to protecting affected populations from unnecessary suffering and to securing their rights. It also benefits the environment by helping to restore damaged ecosystems and promoting biodiversity.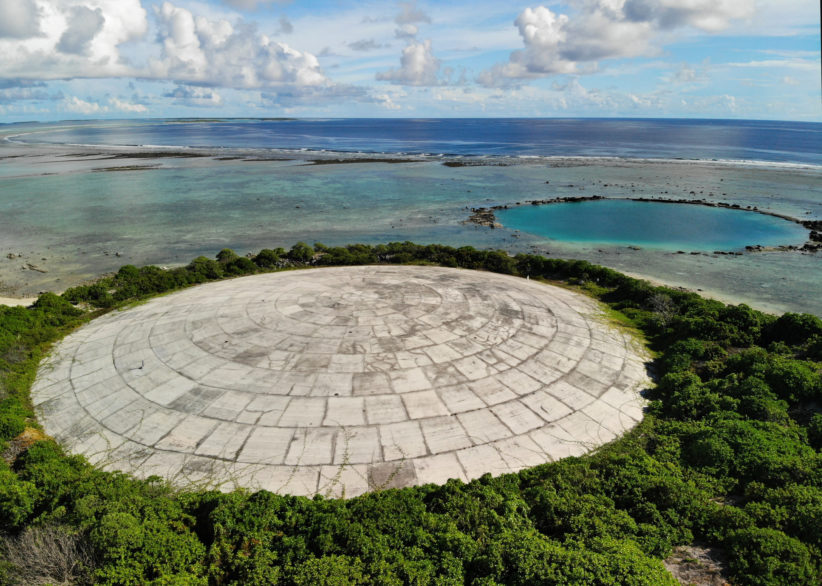 INTERPRETATION
Article 6(2) of the TPNW obligates states parties to remediate any areas in territory under their jurisdiction or control that have been contaminated as a result of activities related to the testing or use of nuclear weapons or other nuclear explosive devices.
This article builds on the obligations in earlier disarmament treaties to clear landmines and explosive remnants of war, but adapts them to nuclear contamination.
Given that nuclear fallout causes significant levels of contamination that spread across time and space, the TPNW recognises that environmental remediation is a long-term commitment. While the earlier treaties imposed specific deadlines for clearing landmines and cluster munition remnants, it is difficult, and often impossible, to return areas affected by nuclear weapons to their pre-detonation condition. Therefore, Article 6(2) specifies that affected states parties must take 'necessary and appropriate measures towards the environmental remediation of [contaminated] areas'. Although they may never achieve complete remediation, they must work in good faith towards that goal.
In addition, certain interim activities, such as risk education, marking of contaminated areas, and national planning, can be accomplished in the near term.
Use and testing of nuclear weapons have caused not only multigenerational harm to people but also persistent environmental damage. The environmental contamination from testing is a particularly under-communicated and under-addressed humanitarian challenge. Efforts to implement remediation measures have been and continue to be insufficient. In many cases, affected populations do not even have access to knowledge about the level of threat, how to protect themselves, which areas not to access, which food types to avoid, etc.

The experience of the Marshall Islands illuminates the grave humanitarian and environmental consequences of nuclear testing. In 1946–58, the United States conducted 67 tests in the Marshall Islands. Speaking about these tests at the UN General Assembly's High Level Meeting in 2020 to commemorate the International Day for the Total Elimination of Nuclear Weapons, the President of the Marshall Islands, David Kabua, said: 'The exposure of our people and land has created impacts that have lasted – and will last – for generations. These impacts to our human rights, land, culture, health and lives – the mistreatment and marginalization – are burdens that no other nation or country should ever have to bear.'
The tests have particularly affected four atolls: Bikini, Enewetak, Rongelap, and Utirik. Residents have experienced long-term health effects from exposure to fallout. The entire Bikini Atoll and parts of the Enewetak Atoll are still uninhabitable, and contamination has made it unsafe to hunt, fish, or grow food in other areas. As a result, large numbers of Marshallese remain displaced. In an effort to contain radiation in the late 1970s, the United States dumped contaminated soil from Enewetak into an unlined pit and covered it with the concrete Runit Dome. Rising tides due to climate change now threaten the integrity of the structure.
Joining the TPNW would offer many benefits to the Marshall Islands and any other affected states. The Treaty would entitle the Marshall Islands to new resources to implement victim assistance and environmental remediation measures in the form of international assistance from other states parties, and Article 6(3) ensures that the responsibilities of the United States also remain unchanged.

Kazakhstan, which has already ratified the TPNW, is also contaminated as a result of testing conducted by the Soviet Union during the Cold War; more than 450 nuclear tests were conducted at the Semipalatinsk Test Site between 1949 and 1989. A media report in 2011 stated that soil, water, and air are still highly irradiated in the fallout area with one in every twenty children around the city of Semey (renamed from Semipalatinsk in 2007) being born with serious deformities.

Considerable atmospheric and underground testing (totalling 17 nuclear explosive devices) was also carried out in TPNW signatory state Algeria by colonial power France in 1960–66. Of the 13 underground nuclear tests that took place near In Ecker (Tan Afella mountain), 4 tests (Beryl, Amethyst, Ruby, Jade) were not completely contained or confined, resulting in the release of radioactive gases, aerosols and lava into the environment.
---
A Global Needs Assessment
The international community must urgently strengthen operational efforts to address nuclear contamination. The TPNW obligation to remediate affected areas will function as a catalyst for this. As already discussed in the section on the obligation to assist victims, a key step will be to implement a long overdue global survey of the environmental contamination caused by nuclear weapons and the associated needs for both environmental remediation and victim
assistance. A global survey project should also investigate the current state of environmental remediation and victim assistance programmes in affected areas and develop recommendations for states on feasible, cost-effective measures to address the harm from nuclear-weapons activities.

While implementing such a global survey is a considerable challenge that requires radiation expertise and technology, it may be possible to employ survey methodology developed over the past decade in humanitarian mine action operations. Initial and substantial over-appreciation of the size of the areas contaminated by landmines often resulted in misuse of the operational and financial resources that the international community made available to affected countries. It is important not to repeat the same mistakes when researching the scope of contamination resulting from nuclear-weapon activities. To this end, it is vital to actively engage affected communities, who have a wealth of first-hand knowledge of the situation on the ground and insight into how to address it. Doing so will not only inform assessments but also help empower those who have borne the brunt of the consequences of nuclear-weapons testing, including indigenous peoples.

A global needs assessment could achieve transformational impact. Such a survey is vital to placing this humanitarian challenge on the agenda of donors, establishing baselines, and prioritizing the most affected areas and populations first. It would create conditions for the humanitarian sector and their donors to finally start addressing in a systematic and comprehensive way the harm resulting from nuclear-weapons activities, particularly nuclear-weapons testing. It would thus save lives, alleviate suffering, and protect human dignity in a situation that for too long has not received the necessary attention. A global needs assessment would also raise awareness around the ongoing threats from nuclear-weapon activities, beyond the potential for new use. It will deepen and widen understanding of the fact that the catastrophic consequences of nuclear weapons cannot be adequately addressed and that they transcend national borders and pose grave implications for human survival and the environment.

---
Implementing Environmental Remediation
The Harvard Law School International Human Rights Clinic has prepared a useful paper on environmental remediation. The paper suggests that the following principles derived from other disarmament treaties should inform implementation of the environmental remediation provisions under the TPNW:
Assessment and prioritisation: The process of dealing with the contamination caused by a nuclear detonation should begin with an assessment of risks and prioritisation of steps to be taken.
Rehabilitation options: Actual rehabilitation efforts can take a number of forms. In the case of nuclear contamination, some methods aim to reduce the amount of radio- active material in an area by separating contaminated particles from non-contaminated particles and removing the former. Other methods seek to contain radioactive material by trapping it in the soil where the isotopes can decay over time or by creating a barrier to prevent human contact.
Reduction of human exposure: Remediation should encompass not only treatment of the environment, but also measures to reduce human exposure to radiation, even when it spreads. For example, evacuating contaminated areas and marking them with fencing and warning signs can help keep people away from the most dangerous zones.
Monitoring: Monitoring radioactivity levels in local food and providing clean alternatives can prevent radiation exposure through ingestion.
Information sharing: Dissemination of information regarding the location of contaminated areas and the dangers of exposure can ensure that people in the vicinity are aware of the risks and ways to protect themselves. Such information also helps affected people to engage more effectively in decision making about remediation plans and thus exercise their right to participation.
Development of a national plan and reporting measures: Establishment of a national plan and regular reporting on progress made can help ensure remediation measures are implemented.