The obligation to remediate affected territory
In 2022, positive progress was made on environmental remediation at the international level. States parties to the TPNW agreed to steps to begin implementation and voiced support for the process. There were, however, minimal developments at the national level.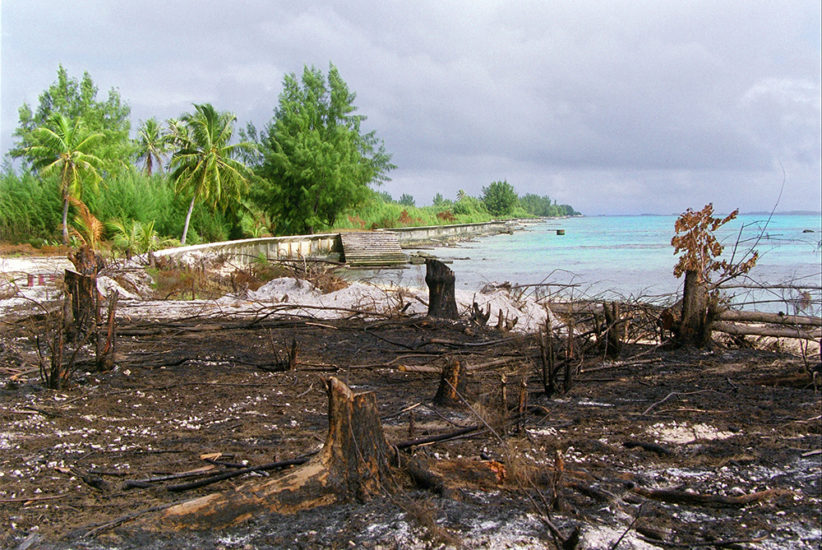 Article 6(2) of the TPNW aims to respond to an under-addressed humanitarian challenge: contamination from the use and testing of nuclear weapons. Radioactive materials from these activities have damaged ecosystems and had severe, often intergenerational, impacts on human health and human rights. The contaminants will persist for decades or even centuries to come. As is the case for victim assistance, however, no comprehensive overview yet exists of areas with ongoing contamination. Affected populations often do not even have access to knowledge about the level of threat, how to protect themselves, which areas not to enter, and which food types to avoid.

By addressing the root cause of the problem, environmental remediation serves to protect affected communities from harm and helps them realise their rights. It also benefits the environment by working to restore damaged ecosystems and promoting biodiversity.
1MSP
As is the case with victim assistance, most of the international progress on environmental remediation occurred in association with the First Meeting of States Parties to the TPNW (1MSP) in Vienna in June 2022. The Vienna Declaration specifically underscores states parties' duty to 'remediate environmental contamination'.1The Vienna Action Plan's commitments to create an implementation framework, discussed in the previous section, are as relevant to environmental remediation as they are to victim assistance.2 For example, affected states parties should assess the impacts of nuclear-weapons use and testing, in this case documenting environmental contamination, along with national capacities to address them. They should provide initial assessments of existing knowledge and updates on national plans, including budgets and timelines, by the Second Meeting of States Parties (2MSP) in December 2023. States parties' focal points and national laws and policies should deal with environmental remediation as well as victim assistance.2
The principles outlined in the Action Plan also apply to environmental remediation. Including affected communities at all stages of the environmental remediation process is essential because these groups bring unique expertise about the harm and how to address it and have a right to be involved in decisions affecting their lives. States should engage with other relevant stakeholders, too. Accessibility, non-discrimination, and transparency in the implementation of environmental remediation programmes are also important. For example, state parties are called upon to develop voluntary reporting mechanisms, which provide information on nuclear-weapons contamination, progress in remediating the environment, and need for external support. Finally, states parties should regularly review and update their implementation framework as necessary.

In their interventions at the 1MSP, as discussed in the victim assistance section, states expressed widespread support for environmental remediation.

An informal intersessional working group established by the 1MSP and co-chaired by Kazakhstan and Kiribati is addressing environmental remediation along with victim assistance and international cooperation and assistance. It will submit recommendations on all three topics to the 2MSP.
Other international disarmament forums
Environmental remediation saw increased attention during 2022 also in the NPT Review Conference and the First Committee of the UN General Assembly. Numerous states raised the issue of environmental remediation during the disarmament discussions in both forums, and as mentioned above, the unadopted draft final document of the conference welcomed 'the increased attention in the last review cycle on … environmental remediation following nuclear use and testing'.3
Attention to this theme in 2022 again indicates how the TPNW and steps to implement its positive obligations are already influencing the agenda in forums beyond the TPNW. This influence in turn could have a broader normative and practical impact on how to address the effects of nuclear weapons.
National developments
States parties to the TPNW that are affected by nuclear-weapons testing did not report any significant developments in their existing national environmental remediation programmes over the past year. For an overview of environmental remediation programmes in states parties Kazakhstan and Kiribati, as well as signatory Algeria, see the 2021 edition of the Nuclear Weapons Ban Monitor. An update on the situation in Kazakhstan is provided below.

As discussed under the section on victim assistance above, the nine nuclear-armed states have not yet adhered to the TPNW and are therefore not legally bound by the Treaty's obligations for environmental remediation or victim assistance. Nevertheless, these states have moral duties, as well as obligations under national and international law, which for the most part have not been fulfilled. In 2022, there were some encouraging, albeit still tentative, signs that efforts were being made to address environmental remediation outside of the TPNW.
Kazakhstan
Although Kazakhstan, site of almost 500 Soviet nuclear tests, did not report any new developments, Sergey Berezin from the National Nuclear Center gave a presentation on the history and status of the country's environmental remediation measures to the TPNW's informal intersessional working group on the positive obligations in December 2022. Specifically, he addressed efforts 'to bring the former Semipalatinsk Test Site [STS] to a safe condition', conducted in partnership with the United States and the Russian Federation. Semipalatinsk was renamed Semey in 2007. Environmental remediation falls under the center's responsibilities for 'Radiation Safety and Ecology' and 'Nonproliferation Support'. The presentation outlined three phases of environmental remediation in the STS site, which covers a total area of some 18,300km2. The first phase, in 1996–2000, sought to dismantle test site infrastructure, focused in the areas of Degelen and Balapan. The second phase, in 2000–12, aimed to exclude access to 'residues of nuclear activity' through the installation of 'physical barriers', 'warning notices', and alarm systems.
Since 2013, the third phase has been 'nuclear testing consequences elimination'. It has included radiological surveys and remediation of sites where there was a 'high concentration of nuclear residues'. Removed waste was 'brought to a safe condition and placed for long-term storage in controlled conditions'. Where remediation was deemed infeasible, the project has built 'special protective structures to completely exclude unauthorized access to the object without industrial vehicles.'

In his presentation to the informal working group, Berezin stated that 'all significant areas of radioactive contamination, the main pathways and mechanisms of radioactive substances distribution at all STS testing sites have been identified'. However, further efforts were needed to 'rehabilitate certain areas, as well as examine the territories adjacent to the test site and affected by nuclear tests'.4
Marshall Islands
A major environmental issue for the Marshall Islands, which is not a state party to the TPNW, is the status of Runit Dome. In an effort in the 1970s to contain radiation after its nuclear-weapons tests in the Marshall Islands, the United States dumped contaminated soil from the atoll Enewetak into an unlined pit on a beach on Runit Island and covered it with the concrete. Rising tides due to climate change now threaten the integrity of the structure.15 A report by the US Department of Energy in 2020 concluded that Runit Dome 'is not in any immediate danger of collapse or failure'. It stated that the department is 'in the process of establishing a groundwater radiochemical analysis programme that is designed to provide scientifically substantiated data that can be used to determine what, if any, effects the dome contents are having, or will have, on the surrounding environment now and in the future'.16
In October 2022, the UN Human Rights Council adopted a resolution on the nuclear legacy in the Marshall Islands, which calls on 'States, relevant United Nations agencies and other stakeholders to support the Government of the Marshall Islands in its efforts to improve the health of its people and environment'. The resolution recognises the right of the Marshallese people to the 'enjoyment of a clean, healthy and sustainable environment' and particularly highlights 'concerns regarding the integrity of the concrete dome containing nuclear and toxic wastes on Runit Island'.17 In its statement to the Council, the Marshall Islands said, 'we put to you the dire human rights situation of a people whose only land was pulverized, with nuclear waste left behind. This legacy is beyond our capacity and we need technical assistance to help overcome the challenges and barriers to the full realization and enjoyment of the human rights of our people.'18
Implementing environmental remediation
A 2022 report by the Harvard Law School International Human Rights Clinic and the Conflict and Environment Observatory identified nineteen principles for remediating nuclear weapons contamination, which provide more in-depth guidance for implementing the TPNW's environmental remediation obligation over time. To start with, affected states parties should implement national assessments of the extent and nature of contamination and their capacity to address it, as well as of responses to date. They should also develop national plans, with budgets and time frames; appoint government focal points; and adopt relevant laws and policies. Such practical steps promote efficiency, coordination, and accountability. Throughout the process, they should conduct risk reduction education and limit access to contaminated sites, including by marking, fencing, and posting warning signs. Finally, they should treat and contain the contamination itself and engage in proper long-term site management.19
ARTICLE 6(2) INTERPRETATION
States parties are obligated to take 'necessary and appropriate measures' towards the remediation of any areas in territory under their jurisdiction or control that have been contaminated as a result of activities related to the testing or use of nuclear weapons or other nuclear explosive devices.
Given that nuclear fallout causes significant levels of contamination that spread across time and space, the TPNW recognises that environmental remediation is a long-term commitment. It is typically difficult, and often impossible, to return areas affected by nuclear weapons to their pre-detonation condition. Accordingly, Article 6(2) stipulates that affected states parties must take 'necessary and appropriate measures towards the environmental remediation of [contaminated] areas' [emphasis added]. Although they may never achieve complete remediation, they must work in good faith towards that goal.
Certain interim activities, such as risk education, marking of contaminated areas, and national planning, can be accomplished in the near term. An essential step in each case is for a state party to conduct an environmental remediation needs assessment.
Article 6(3) makes clear that the TPNW's environmental remediation obligations do not preclude affected states parties or individuals from seeking redress or assistance through other means, such as judicial measures or bilateral treaties with states not party.